I did not expect to do a follow up this soon from my previous article, but the market moves faster than ever these days. When it comes to the mREIT sector, things change from one day to the next depending on what the artificially created interest rate environment, by the Federal Reserve, actually affects.
I always look to the biggest players in this sector, Annaly Capital (NYSE:NLY) and American Capital (NASDAQ:AGNC),because both have the most effective management teams and are the big dogs in this sector. That being said, the share prices of both have gotten slaughtered.
Many of the more negative commenters on my articles point out that I have changed my mind too often on these stocks and this sector, to where my credibility has come into question. Of course I have changed my opinion on these stocks because of the nature of the interest rate environment that we live in right now. If one were to take a good look, I have been more often dead on accurate than not. Timing wise might never be perfect, but overall, anyone that actually followed my suggestions here would have been doing a lot better than they would admit.
Am I Ready To Change My Opinion?
Not quite yet...maybe.
The reason I say this is that I have been keeping a close watch on the interest rate movements as it relates to the share prices of both of these stocks. It is clear to me that when and if the interest rates stabilize and move SLOWLY upward, that both of these companies should have a good opportunity to adjust the leveraging, the hedging and the "inventory" each employ, to at some point be able to regain their footing, and increase profits from the yield curve spread again.
Of course mine is the simplistic viewpoint and I never claimed to be an expert, but my thesis on these stocks have served me quite well.
The next part of this "equation" is the dividend cuts. Now we know what they will be for the next quarter for both Annaly and American. What I am looking at is the correlation to the announcement of the cuts to the movement of the share price, in concert with interest rate fluctuations.
Let me offer this chart to help me explain: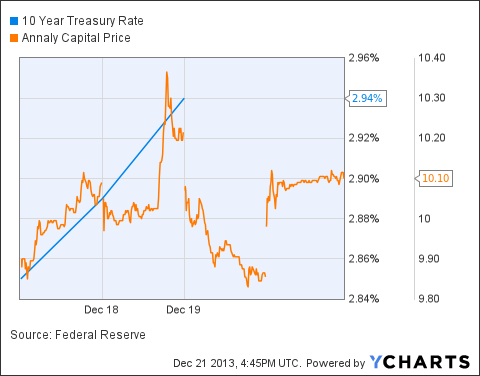 The Annaly share price moved nicely after the Fed decided to limit tapering . When the dividend cut of 14% was announced, the share price dropped back down. Now that both of these previously unknowns are now known it appears the share price might be settling in.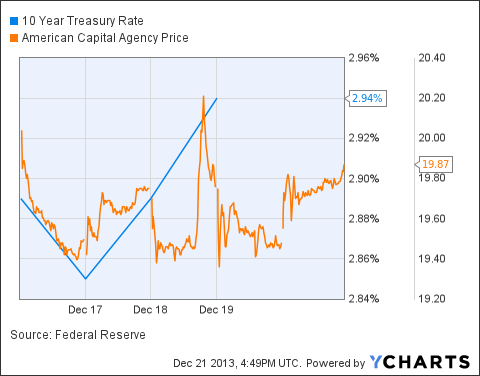 Virtually the identical movement of the stock can be seen in this chart for American Capital; up, down and sideways.
My key takeaways are as follows:
The Fed has now begun tapering in a very slow manner which might last for an extended period and was left open for adjustments along the way... in either direction. This will eventually give the interest rate environment more stability, and while I do believe the 10 year will go to between 3.25%-3.50% in 2014, I think if it goes much higher the Fed will pull back the tapering.
The Fed clearly announced once again, that the short-term rates will stay exceedingly low (zero interest rate policy) until at least late 2015. That means to me that as long as there is stability in the longer term rates and ZIRP is in place, both Annaly and American can work well between the spread and begin to make greater profits.
With mortgage rates rising, prepayments and refinances will slow further in my opinion and that will place less stress on the SOP of each of these companies. Another good sign.
Mortgage applications will continue to increase as the economy heals and that will mean new mortgages at higher rates, with banks also willing to lend since they can now make more profits.
I feel that the agency backed mREITs will fare better than the non-agency backed REITs, simply because the amount of new business coming and going will be in that arena.
So, if I see all of these positives, why not buy the shares of one of these or both right now? Well, I am now squarely in the camp of Jeffrey Gundlach who flip flopped on the mREIT sector about a week or so ago.
To be fair, the guy knows a thing or two about mortgage bonds, which he owns plenty of, and the mREIT topic came up in response to a direct question during the Q&A part of the presentation. The questioner said Gundlach had said he liked NLY back when it was trading in the $11 range, and asked his thoughts now that it's at $10.20. Gundlach responded that he still thinks NLY is "fine if you're a long-term holder" and that the company is "very well run," adding that "insider buying of something that is rather opaque versus other types of companies is a good thing," referring to recent management purchases of NLY shares.

However: "I don't own Annaly," Gundlach said, and "I don't think there's any hurry to buy because I think the dividend is going to be cut….
This happens to be a far cry from his previous comments as outlined in this Seeking Alpha Market Current of November 30th. Less than two weeks before, he made the above comments.
The see "freaking out" in a picture, check out the price charts of the mortgage REITs, particularly the two proxies for riding the long end of the curve - Annaly and American Capital Agency. Gundlach: "You can take advantage of pockets of opportunity in what people don't want ... If you're willing to take the interest-rate [risk], you can get yields of 11% in the agency mortgage market."
If you followed his advice back then, you would already be one year's worth of dividends underwater. Now he has backtracked and obviously sees what I do. I find that interesting since he is the "expert" and I am just an average guy.
So Here Is What I Think, For What It's Worth
I found this article quite interesting actually. Not only does it echo my opinions but also adds this:
While it seems unlikely that the Fed would need to revert back to full-tilt quantitative easing, the mention of such a possibility can only have a calming effect upon the sector, something that is sorely needed right now. The Fed's taper timeline also gives mREITs a full year to plan for the eventual demise of QE3, which will likely continue to be wound down slowly, since the Fed is trying its level best to avoid spooking the markets.

Keeping an eye on how Annaly handles the commencement of the taper will be particularly instructive, considering the senior status it holds among mREITs, and its historically conservative business approach. Peers American Capital Agency and Armour took steps this week to calm investors, with the former announcing that it has repurchased 43 million shares within the past year and the latter setting its dividend at $0.05 per share for the next 12 months. After Uncle Ben's speech, however, keeping investors relaxed should be quite a bit easier.
I expect there to be more volatility as the 10 year rates find their way, but at this point I would say that a share price of $10 or less for Annaly, and $19.50 or less for American are reasonable to assume some of the risks, for the rewards.
I would place no more than a 2-4% allocation in total right now.
Disclaimer: The opinions of the author are not recommendations to either buy or sell any security. Please remember to do your own research prior to making any investment decision.
Disclosure: I have no positions in any stocks mentioned, and no plans to initiate any positions within the next 72 hours. I wrote this article myself, and it expresses my own opinions. I am not receiving compensation for it (other than from Seeking Alpha). I have no business relationship with any company whose stock is mentioned in this article.
Additional disclosure: I will be watching interest rates stabilize and then look forward to buying some shares of NLY.