"Inflation can be pursued only so long as the public still does not believe it will continue. Once the people generally realize that the inflation will be continued on and on and that the value of the monetary unit will decline more and more, then the fate of the money is sealed. Only the belief, that the inflation will come to a stop, maintains the value of the notes."
– Ludwig von Mises
Somebody print this and stick it somewhere safe: this recession/depression will be the metric for all future crashes, economic collapses, and currency failures. It will create global unrest on a level never before seen, and the world order is going to transform as though the whole thing had been thrown in a blender. I predict that, within ten years, Austrian theory will be the basis of all economic and financial curricula in the world. And I believe Keynesian theory will be taught as an obscure history course.
Here's an interesting little tidbit that came to my attention this week (courtesy of Bill Gillam) regarding the Ponzi scheme Washington has labeled "stimulus." According to the Congressional Budget Office (no less), the so-called American Recovery and Reinvestment Act (ARRA) — whose primary purpose has been to stimulate the economy in order to create jobs — failed miserably at its purported task. Indeed, "five programs accounted for more than 80% of the outlays from ARRA in 2009: Medicaid, unemployment compensation, Social Security … grants to state and local governments … and student aid."
Do you know what this means? It means the money used to create jobs actually funded programs for people who weren't working. Now how does that create incentive to find a job? Why would you work when the government is handing you a big fat check? Further, if you did get a job, the government would just take your money away from you to give to the people who aren't working. Duh. Why would you do that? That would be stupid.
Man, three cheers for stimulus. If Frederick Bastiat saw what was happening today, he'd put down his pen, get a pilot's license, and fly a plane into the nearest IRS office building.
I think the thing that cracks me up most is the defenders of these moronic policies. One reader sent me a scathing note last week saying, "You may think the people in Washington are stupid, but they're a lot smarter than you. That's why they're in Washington and you're not. Diet Coke came out my nose when I read that. Clearly, my incompetence keeps me out of Washington.
A little history please…
The government is like a bunch of drunk three-year-olds driving bumper cars. Why anyone defends Keynes, Obama, John Galbraith, Robert Reich, George Soros, Paul Krugman, or any of the other contemporary buffoons affecting global monetary and fiscal policy is simply stupefying. Do you really think prosperity, innovation, and higher standard of living came from the government? Do you really believe that this gaggle of egomaniacal vote-jockeys are capable of creating the conditions, technological advancements, and financial security you crave?
Have you been to the post office lately? Or better yet, do you remember the Soviet Union? Remember how well their little experiment worked? People couldn't even get toilet paper in the U.S.S.R unless their last name was Khruschchev, or Breshnev, or something else with far too many consonants. Does anybody really believe in this crap? Listen! You hear that distant sound? The one that sounds like an alarm clock? You know what that is? It is an alarm clock! Wake up! The world is truly falling apart! And it isn't Chicken Little this time. We've got some real issues we need to address.
We've seen the cracks in Treasuries starting to develop. We know the Chinese are buying gold and spurning long-term U.S. debt (just like I told you they would. Over, and over, and over). So who, exactly, is going to buy U.S. debt at current yields? Or at any yield, for that matter?
Of course, the dollar continues to get hammered, because nobody's really that stupid, and even the silly people waving their Keynesian flags like a pride of overzealous marines who just took their first hill know that you can't print and ease like this without some horrible consequences down the road. Unemployment rages, and nobody really believes the government figures anymore; we know it's a lot higher than the nonsense they're trying to spoon-feed us. The long end of our yield curve is climbing, and gold is bouncing around at its twenty-year highs.
I'm sitting at my computer chuckling, trying to figure out what people are thinking. There's a huge disconnect. People know in their hearts that printing money is inflationary. The dollar has been sliding for years. These policies simply don't work. I'm trying very hard not to sound arrogant, or even overly self-confident; I could be wrong, and if I am, I want to know why, and I want to know soon!
Nonetheless, the Fed is printing trillions of dollars, and the Treasury is going to try to auction off trillions more dollars worth of debt in the foreseeable future, further flooding the market. Americans manufacture very little, and yet we consume at a gluttonous rate. Have you seen how fat our population is? We're like giant heard of bloated walruses, wallowing around in Wal-Marts (WMT) and McDonald's (MCD) all over the continent. Asians and Europeans laugh at our obesity. I laugh too, but it's a bittersweet chortle of utter disgust. I'm embarrassed by what we've become. This is not the United States Jefferson envisioned and tried to create. I doubt even 1% of the U.S. population even knows who John Locke and John Stuart Mill were, much less knows what they said in their seminal works.
I digress…
How much to raise? Or do we raise? Or do we keep rates low? What do we do? Tell us! What do we do?
We've already seen some dramatic moves in yields over the last few weeks, but it's just the tip of the iceberg. I can't restate this enough: the Fed can increase the money supply all it wants to, but that is inflation! And sure, if people don't spend, then we won't see an increase in prices and interest rates right away. And yet, yields keep climbing. Again, why?
Here's the problem: yes, banks and consumers are hoarding cash. And the Fed, in all its infinite wisdom, keeps printing. But the day will come when the dam can't stand the strain any longer. And it will burst. Oh yes. People will spend. And spend. And spend. And then what will the Fed do? How are they going to know the precise moment to reverse course?
Well, not too long ago, Big Bad Ben and his Merry Men thought they did know, and they raised rates a quarter-poing. But guess what? The chances of them being precisely correct in their timing is almost nil, and any misjudgment is going to cost us, big time. In fact, market reaction since the hike has defied the Fed completely. Remember, just because an economy has started a recovery does not mean that it feels like it has turned. People will still be reeling from the pain. So even if the Fed times its policies perfectly — and believe me, nobody with half a brain really believes they can — does that mean they're going to have the political courage to move forward with their policies and continue to raise rates? I doubt it. Ben is Barack's little lackey, and Barack wants to inflate like crazy. You think Ben is going to dissent? He almost lost his job a few weeks ago. No, he's going to tow the company line — I promise.
So what's the Fed to do?
If the Fed doesn't raise rates, how are they going to soak up all those dollars floating around? Let's back up. The Fed is printing money to re-ignite the economy. Once that happens, they're going to have to reclaim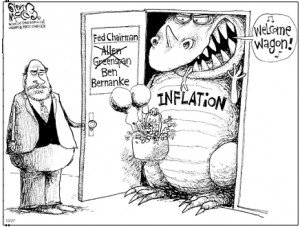 those dollars to stave off inflationary price and interest rate increases. But to do that, they're going to have to use something to get those dollars out of the economy, and that instrument will be Treasuries: the Fed will sell its stockpile of Treasuries, and take dollars in exchange, thus pulling currency out of the economy.
But this presents yet another problem: if the Fed is selling massive amounts of Treasuries in an environment where rates and prices are rising, they're going to have to offer higher yields (or lower relative prices) on the Treasuries they're selling. Are you starting to see how much trouble we're in right now? Remember, we went into the Great Depression with almost no debt, and we issued debt to help get out of the situation! Now I'm not saying that was smart, because it wasn't, but if you think about where we are right now — with more debt than ever before in history — well, how the hell are we going to create more debt to try to get us out of our predicament? How long do you really think the Chinese, the Japanese, and the Saudis are going to keep lending us money?
At some point — and I think we're already there — our default risk becomes too great, and they have to stop lending to us. And when you add into this equation the fact that the U.S. is paying less than 5% on 30-year debt… my God! It just doesn't make any sense!
What will inflation mean for you?
But there's another aspect to this. People are stupid, but they're not that stupid. Everyone knows what the Fed is doing. Everyone knows that if you print money, it results in rising prices and interest rates. It's like we're sitting at the top of the roller coaster, hovering, not moving up, but not moving down. And yet, the momentum is there… the anticipation is building, and we know we're going down…
All it's going to take is a little push, and the whole thing will fall apart. It's not enough to say that printing money is inflationary. No. It's the fact that everyone knows that printing money is inflationary; this is a self-fulfilling prophesy. If the expectation and anticipation is for higher prices and interest rates, then people are more than likely already preparing for the inevitable. The yield curve is steepening, and this is only the beginning.
We got through the 70s and 80s by the skin of our teeth. But we were a creditor nation, and most of our consumer debt was at fixed rates. Today, we're a debtor nation, and a huge portion of our consumer debt is variable. Once rates begin to move higher, consumers are going to get crushed.
In the 1980s, mortgage interest rates went to 15% or higher, but to my knowledge, there was no such thing as an adjustable rate mortgage. If you borrowed at 15%, it was fixed, but at least you knew what you were getting into. More importantly, if you had borrowed at, say, 7% in the 1960s, your rate stayed at 7%. So you actually benefited from rising rates and prices!
Let's say, however, you borrowed at 7%, but your mortgage was adjustable. Then what would your mortgage look like as rates rocketed over 15%? Well, that's where we're headed. And it's not only adjustable rate mortgages.
Yeah, you have great credit! And your credit card company knows that! So they gave you a credit card at prime-plus-one, and you're paying right around 5.25% APR (or something along those lines) on that baby. Enjoy it while it lasts, because credit card default is about to be the next mother-of-all-issues, and you, the consumer, are going to get hit from all sides. Here's the other terrifying variable in the coming credit card catastrophe:
The government recently made it illegal for credit card companies to price for risk, starting in 2010. This means no more teaser rates, and no more retroactive penalties, among other things. That actually probably sounds great on the surface, doesn't it? Well, like most things the government hands us, no matter how good it looks on paper, it's not.
As interest rates and prices increase, so will credit card defaults. And because credit card companies are going to be scared of more defaults, and because they know that they're going to be prohibited from re-pricing for risk going forward, they're going to punish all of us very soon. In fact, they already are punishing us. Me, in particular.
Here's a true story. several months ago, I was carrying a hefty balance on one of my cards at 7%. With no warning, my credit card company raised my rate to 24.6% in one billing cycle. Fortunately, I had the cash to pay it off, but somehow I just don't think I'm representative of the rest of the the consuming U.S. public. This is only the beginning. As prices and rates rise — along with defaults — credit card companies will protect themselves.
I know there are a lot of people out there who don't want to believe what I'm saying. I get called all sorts of names, including (but not limited to), "dumbass," "idiot," "boner", "commie," and "liar." One guy even called me a "corn flipper" yesterday. I don't know what that is, but it sounds positively horrid.
And then there are those who call me a conspiracy theorist. Look, you can call me anything you like, but I'm no conspiracy theorist. I am a libertarian, but I refuse to go to meetings, because some libertarians tend to be kind of loonie, and they freak me out. Of course, if you must know, I feel the same way about Democrats and Republicans. Nonetheless, I vote libertarian, but that's about as close as I get to being a conspiracy theorist. More than anything, I am an Austrian, and I am stunned by the accuracy with which the school's founders predicted the economic maelstrom we now find ourselves in.
Just to further establish how much I'm not a conspiracy theorist, let's talk about gold — because everyone knows how much conspiracy theorists love gold. Now everyone knows I've been touting gold, but you might be surprised to hear me say that, over the extreme long term, I don't think gold is really that good an investment. I mean, when the dollar collapses, gold will certainly be the anticipated "equal and opposite reaction" — and then some. But it isn't going to offer investors any sort of meaningful return over decades. In fact, if you do an Internet search, it's not hard to find a 600-year chart of gold that shows, in real dollars, just how bad an investment it has been.
I'll say the same thing about oil, and that might surprise you too. Its demand is a function of its utility, and I truly believe that sometime in the next century, humans will invent a technology that obviates oil in the global economy. But in the short-term? Pffft. When the middle-classes of Brazil, Russia, India, and China finally find their legs, oil is going to go into the stratosphere.
For now, however, the intermediate-term return on gold, oil, and all commodities is going to be astronomical — as is the return on shorting Treasuries. And that's where my money is.
A side note on ETFs…
My father, who is also my editor, rightly castigated me for not identifying, in an earlier article, the source of the abbreviation ETF (Exchange Traded Fund), so I want to do that now for anyone who doesn't understand exactly why ETFs exist, or what they do. I've defined ETFs more throughly on the The Bottom Violation FAQ, but basically, an ETF is an instrument that represents an underlying commodity or index, and yet trades like a stock — thereby allowing anyone with access to a brokerage account to participate in price movements of asset-classes that were unavailable until the advent of ETFs. The reason I'm bringing this up here is that many of my articles focus on buying commodities or shorting Treasuries, and I want to make clear that — unless you have $100 million or so lying around — there are essentially only two ways of doing this:
1. You can use futures contracts. Futures, however, are highly leveraged instruments and tend to be very liquid — which means they are risky and volatile, sometimes experience fast, erratic price-swings.
2. You can use ETFs, which allow for less volatility and more accessibility by the average investor.
I currently own two ETFs: TBT — a short long-end Treasury instrument — and UCO, which allows me to participate in the upward movement of oil.
If you're interested, do a little research, because ETFs are an excellent way to participate in just about any market you can imagine.
Disclosure: Long TBT and UCO