When I read articles about the metals, almost all authors will tell me what the metals have done over the last week or two. They will then include some old news events that they think explains, in hindsight, why the market did what it did. They will then attempt to guess about what news "may" happen in the future, and then prognosticate what they think the metals will do based upon that "news."
Well, I have always pushed those that read my articles to think out of the box, and not fall into the same trap in which others seem to fall. If you notice, I will never discuss news events with you, as I do not view it as important in telling me where this market is going, although I know I am in the minority in that perspective. But, then again, I have been in the minority in determining where the metals were topping in 2011, and where it has been going since. So, I guess I must be doing something right!?
But, for those that try to use news to follow the metals, I have two questions for you to ponder. First, in performing analysis on metals, aren't you left initially guessing what the "news" will be? It would almost seem you will have to do so in order to then determine what the metals will do based upon that news. And, do you really think you can guess news events accurately? But, it then brings me to my second question. Not only do you have to correctly guess what the news will be, don't you also have to accurately guess how the market will react to that news? Therefore, you are left guessing about your "indicator" and the manner in which the market will react to that indicator. And, we wonder why the accuracy of the majority of analysts leaves a lot to be desired?
As an example of the futile nature of this endeavor, which is an example I have used in the past, let's use the Fed statements over the last several years. We have seen the metals spike up on the Fed "news," and other times we have seen the metals spike down. Even in cases where the Fed pronouncement was exactly the same each time (not even a word was changed in some of them), and even assuming you were able to guess correctly what the news would have been, the metals still moved in opposite directions, which was completely counterintuitive to those expecting the news to provide directional cues for the metals.
Now, when you look at it this way, does it shed some light upon why so many have been fooled by what the metals would do over the last few years? And, as always, I strongly urge the readership at Seeking Alpha to leave all your predispositions behind, and read articles with a very critical eye. Remember, markets are not moved by logic, so why would a logical argument sway you into an investment perspective? If that were the case, gold would be over $5,000 and silver would be over $100. (And, no, I am not forgetting about you conspiracy theorists, as I know your arguments, but also know that they have not helped you one iota in gleaning the correct direction of the metals, so why bother!?)
So, this brings us to the question of what the heck are the metals going to do, yes, irrespective of any news. It seems that the metals gave us the goldilocks approach based upon the analysis I provided you last week. It did not make an immediate marginal new low, and it did not take out last week's high. But, the manner in which it did move up early last week gave us a clear indication that we were setting up for a nice drop. And, as I noted last week, the important thing to keep the immediate downside pressure in place was not exceeding the prior week's high, which we did not do.
In fact, early in the week, I sent out a Wave Alert, when GLD was around 120.70, showing the set up to take us to a minimum target of 115, which was expected to be seen quite quickly. We proceeded to hit that target within the next two days. So, for those of you that thought that it was the "taper" event that "caused" the metals to drop, the set up was there several days before that event ever was known to the public. As I have said many times, the news falls within the cycles and does not cause them.
Now, with regard to how this will play out into the future, there is a pattern in place that has the potential to grind the GLD down to the 100 region by the end of the first quarter of 2014. The key to this pattern is for the GLD to remain below 118 at ALL times until then. If you take a look at the attached chart, I have set up a proposed path that GLD may follow down to the 110 region. Now, if GLD should take out 118 over the next week or so, I may change my perspective, and re-assess the potential that we may be going to the 136-140 region before seeing those new lows. But, if we remain below 118, we can see really nice short set ups over the next few months, giving us many profitable, low-risk trades.
In silver, the ultimate target I still have is the 16.50-17.75 region. However, if that level should break as support, we could see a reactive "panic" decline down to the 11-14 region. But, such a drop would set up an even stronger snap back rally, which will ultimately take silver well beyond $100.
But, the question remains as to whether one should be buying the metals at these levels. Truth be told, I would probably wait a little bit longer before adding to your stash. I think once you see the 110 region in GLD, you should start considering adding more long-term positions, and if we can get down to the 90-100 region, as I suspect we will, then that would likely be a gift to precious metals investors. But, I think we are getting much closer to the point you want to consider adding to your longer term positions.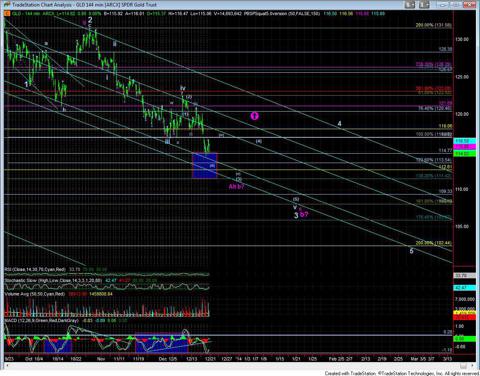 Click to enlarge
Disclosure: I am long SLV. I wrote this article myself, and it expresses my own opinions. I am not receiving compensation for it (other than from Seeking Alpha). I have no business relationship with any company whose stock is mentioned in this article.
Additional disclosure: I own SLV LEAPS, but have intermediate term GLD puts.