At times it is instructive to go back in time and read some of the seminal pieces which describe the mood of that day. Worst case, you get a reminding glimpse of the prevailing thoughts (and giggle at their naïveté), but if you are lucky, you uncover a long forgotten treasure that provides you with timeless insight.
I recently stumbled upon Krugman's 1994 piece, "The Myth of Asia's Miracle." Brushing aside the discussions surrounding the honesty of the statistics of the Eastern block, a perceivable faster growth rate in these economies was a worry to the West in the 1950s/1960s. Similarly, the contemporary thinkers were fretting about the Asian growth in the 1990s (when Krugman was writing). Yet one should not forget that it is the nature of production: the more inputs you throw at it, the more you will get out. Yet the basic law of economics, diminishing returns, start setting in. This means that there is a limit to input driven growth. On the other hand, we know that natural and sustainable growth path of per capita income is driven by a rise productivity.
As Krugman describes:
The immense Soviet efforts to mobilize economic resources were hardly news. Stalinist planners had moved millions of workers from farms to cities, pushed millions of women into the labor force and millions of men into longer hours, pursued massive programs of education, and above all plowed an ever-growing proportion of the country's industrial output back into the construction of new factories. Still, the big surprise was that once one had taken the effects of these more or less measurable inputs into account, there was nothing left to explain. The most shocking thing about Soviet growth was its comprehensibility.
At this point, it is instructive to dive into the slightly more technical paper of Alwyn Young, "A Tale of Two Cities." In this seminal paper, Young compares the growth rates achieved between Hong Kong and Singapore over a 30 year period. The striking observation is that thanks to several factors such as a more educated postwar population and a government that took a laissez-faire attitude, Hong Kong was able to achieve this growth primarily through increases in productivity growth, while Singapore's GDP growth came primarily through the increasing use of factors of production (for example, the employed share of population increased 2 fold to 51%, while investment as a percent of GDP rose to 40% - chart below):
click to enlarge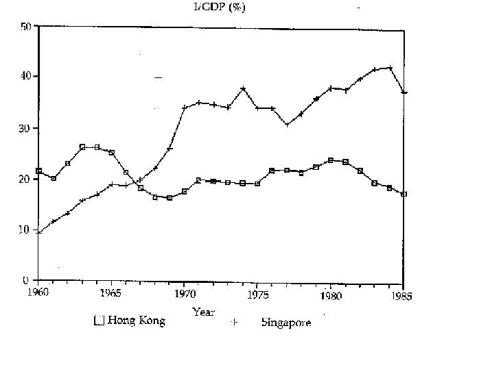 Yet throwing in factors of production under a state driven growth program (forced savings and massive surpluses being recycled into the economy) is not the most efficient way of achieving growth. Young argues that "driving the economy ahead of its learning maturity into the production of goods in which it has lower and lower productivity" is detrimental to the efficient growth of the economy. This is because "the costs of production are higher the further beyond the economy's cumulated learning experience one tries to move." The cost curve beyond the cumulated learning experience of the economy increases, which makes the new products increasingly costly and unprofitable to manufacture. To prove this point in real life, Young presents us with some striking data: a look at Singapore's real return on capital to be one of the lowest in the world!
And this is exactly what is happening now in China. By government decree/policy, China is aiming to become the "capital of electronics" or some other industry. But it is at the same time pushing itself beyond its learning maturity. A recent analysis by Thomas Mayer and Michael Biggs of Deutsche Bank shows this very clearly. What DB finds is that the growth in GDP achieved via massive investment in factors of production does not yield "good returns". They show this historically 1990-2009 and also what it would look like going forward: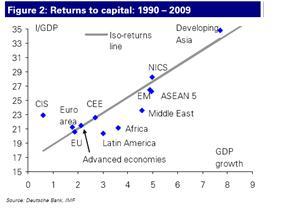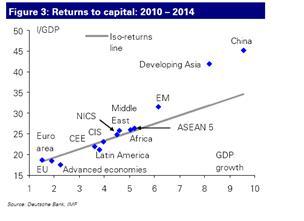 What we see in these charts is that Developing Asia (from 1990-2009) and both Developing Asia and China (in the next 5 years) have achieved lower return on invested capital than implied by the iso-returns line (which is merely showing the same returns to capital over different combinations of GDP and Investment as and of GDP. In the charts, all countries to the north of the line have lower returns to capital).
From the perspective of the investor it is the return on capital that matters. On the other hand if you can increase the level each period, you will have sequential growth, even though this is not an endogenously sustainable method (i.e. it is not the natural growth path of the economy if left on its own). But when level effects are so large, as was in the case of Singapore (and now in the case of China), you obviously have a political incentive to push that. But as per the argument above, this political push is detrimental to the return on capital.
In the end, it is the return that matters. By giving low adjusted return on capital, China and the Developing Asian countries are not creating as much value. One can, therefore, look at less sexy, non-growth developing countries for a "good" return on capital. This is like investing in a company that has a good yield but no top line growth, vs that which has good revenue growth but not generating return on capital. So the concentration of the argument should not necessarily be around GDP growth but on the return on invested capital.
So going forward, the issue is not whether China can sustain this growth level. It can achieve this by playing around with the level effects whereby they continue to increase factors of production given that they still have much to achieve on that front but as long as this does not come from a genuine increase in productivity, returns on invested capital will continue to disappoint.
Disclosure: None