Annaly Capital Management (NYSE:NLY) marked a series of new 52-week Lows during the second half of 2013 as shares of the company declined due to higher rate volatility and increased uncertainty in the mREIT sector. However, a focus just on the last twelve months doesn't do justice to the destruction of shareholder value that Annaly investors experienced. Annaly Capital Management also posted new two- and five-year Lows which attest to a higher degree of distress for Annaly and the mREIT sector in general. Annaly shares presently trade at $10.10 and are just quoting 4.6% above its latest 52-week Low at $9.66. The mREIT also trades a whopping 38% below its most recent 52-week High of $16.18. More importantly, I do not see any fundamental improvements in Annaly's financial performance or any sector developments that would suggest that the company is a Buy at this level. Quite to the contrary, I believe further 52-week Lows are in sight for Annaly as book value deterioration in the sector has not yet begun to ease.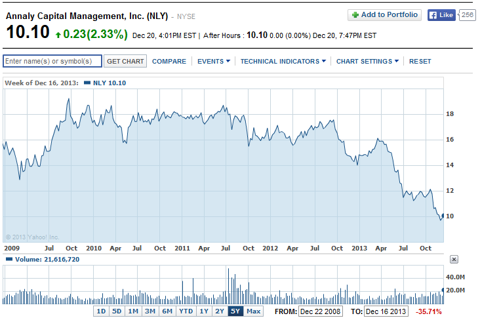 Click to enlarge
Annaly Capital Management is a sector darling and its balance sheet has skyrocketed as the Federal Reserve knocked off interest rates and favored leveraged business models and yield speculations. Annaly basically does what everybody else in the mortgage securities business is doing: Borrowing cheap short-term funds to finance the purchase of risky mortgage assets. A deterioration in portfolio values, however, induced by higher rate volatility, could quickly lead to a market sell-off with potentially disastrous effects for share prices of mREITs. A leveraged business relying on short-term debt with significant amounts of assets on its balance sheet clearly poses extraordinary risk.
In addition, Annaly's pay practices seem to reward management more than shareholders. Now that Annaly's book value per share has been gradually declining since Q3 2012 it will be of interest to see how Annaly's total 2013 and 2014 executive compensation is adjusted in order to reflect substantial value destruction measured both by a decline in book value and in share price. Annaly's most recent book value per share came in at $12.70 for the third quarter 2013 which compares to $13.03 in the second quarter 2013.
Executive compensation and corporate governance
Annaly's executive compensation is an area of concern that has increased in relevance over the last twelve months. Annaly has a history of overpaying its executive leadership often to the detriment of shareholders. Now CEO and Chairwoman Denahan raked in around $35 million as Chief Investment Officer in 2011 and about $26 million in 2012. A summary of historical compensation figures for the management of Annaly is presented below:

Click to enlarge
Former Chief Executive Officer Michael Farrell earned $35 million in 2011 and more than the CEOs of large-cap Wall Street banks. I find the level of compensation grotesque and the company rightfully earned a corporate governance risk rating for its compensation practices from GMI Ratings in the past.
Declining share price, book value and distributions
In addition to falling share prices and book values over the last year, Annaly's distributions have also contracted. In my article about Annaly's historical and estimated future distributions I have projected a Q4 dividend of $0.30 per share. As it turned out, Annaly reported on December 19, 2013 a dividend cut of 14.3% from $0.35 to $0.30 in order to reflect lower y-o-y earnings and a weaker profitability outlook. Annualized distributions are now standing at $1.20 and are down substantially from a full-year 2010 distribution of $2.65 (down 55%) per share. In the last four years, Annaly has always cut the fourth quarter dividend. The company also reduced its first quarter dividend in three out of the last four years. Consequently, I think that there is a 75% probability that Annaly will reduce its Q1 2014 distribution. I estimate that Annaly will pay a dividend of $0.28 per share in both Q1 and Q2 2014 which will subsequently be reduced to $0.25 in Q3 2014 and to $0.20 in Q4 2014.
The following table incorporates my 2014 dividend projections as well as highlights the immense variability of Annaly's dividends over the last interest cycle: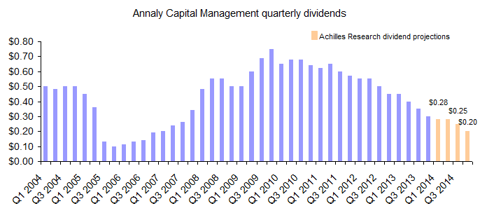 Click to enlarge
Conclusion
The mREIT sector as well as Annaly Capital Management as one of its largest constituents still have to prove that they can halt book value deterioration and stop shareholder value destruction. In the meantime, uncertainty over compensation practices, future profitability and potential cuts into book value are likely to further depress the share price of Annaly Capital Management and its peers American Capital Agency (NASDAQ:AGNC) and American Capital Mortgage Investment (NASDAQ:MTGE). Shares of Annaly presently trade at a 20% discount to book value which indicates that the market is highly anxious with respect to Annaly's ability to mitigate a more challenging interest rate environment.
The cyclical nature of distributions suggests that further dividend cuts wait down the road. The above estimates for Annaly's 2014 dividend payments are not unrealistically low. A look at Annaly's historical dividends shows that the company has paid annual distributions of around $1.00 a share in 2005 and 2007. I estimate Annaly's total 2014 dividend per share to come out at $1.01 which represents about a 16% decline from its current annualized distribution of $1.20. With a potential 16% dividend cut in 2014, Annaly shares could fall another 16% to $8.50 per share to offer investors the same 12% yield that is required to compensate them risk-appropriately. Short Annaly with a short-term price target of $8.50 per share.
Disclosure: I am short NLY, AGNC. I wrote this article myself, and it expresses my own opinions. I am not receiving compensation for it (other than from Seeking Alpha). I have no business relationship with any company whose stock is mentioned in this article.