Summary:
Dunkin' Donuts is the world's leading baked goods and coffee chain, serving more than 3 million customers per day. Dunkin' Donuts sells 52 varieties of donuts (plus manager's specials!) and more than a dozen coffee beverages as well as an array of bagels, breakfast sandwiches and other baked goods. There are approximately 10,400 stores nationwide. Baskin-Robbins ice cream with almost 7k stores is also under the umbrella of Dunkin Brands. Both Baskin-Robbins and Dunkin Donuts are subsidiaries of Dunkin' Brands, Inc. trading within the Nasdaq under the ticker DNKN with almost $9 billion annual sales.
Focus:
The primary focus of this article is not the products offered but rather the level of involvement that franchisees have within this corporation. Not only do they have a large financial commitment of the common three-store contract, they also have a hands-on approach. All franchise owners actually attend formal training on the products offered within the stores. The owners know exactly what they are getting into when committing and they have a thoroughly understood schema of what Dunkin' Brands can actually offer to the public. International effectiveness will also be discussed in comparison to Starbucks (NASDAQ:SBUX).
C-Suite:
Anyone considering on investing in the Dunkin' Brands needs to watch the Bloomberg special "C-Suite with Jeffery Hayzlett" aired originally on 10/07/13. This is perhaps the best look into this company that I have seen. After watching this special you cannot help but want to be involved somehow in this company. This special shows you how involved the company is with its brand and the level of dedication owners have.
Brand Advisory Council:
This forum of owners discusses every aspect of the company in a democratic way. From current and future products to expansion efforts in the western United States, specifically Seattle as of late, they all have the same understanding of what the brand has to offer. This understanding allows them to make more informed decisions than the majority of corporations like Starbucks can possibly do since every product that is offered is at one time or another made by the owners. By having everyone on the same "page" they have the ability to actually break down their ideas and see what issues may arise. They have the understanding that an individual store employee would have and what difficulties that may arise for them.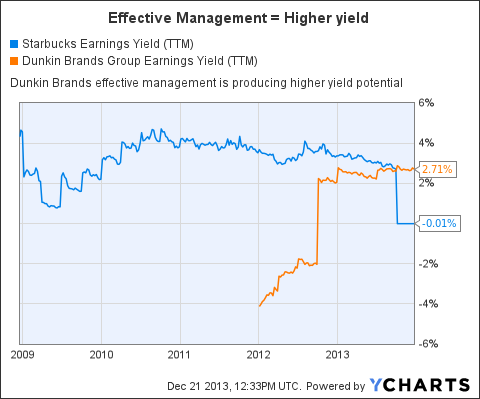 SBUX Earnings Yield (TTM) data by YCharts
Due to the unique requirements that franchisee owners must follow to be a part of this great organization, they have an understanding not present in many companies. They know what issues there are with the products, such as time to make, cost, and the like, and can relate this to the executives via the Brand Advisory Council. This forum consists of regional owners that have taken on even more involvement in the decision making process and get together usually every quarter. I do not believe there is another company that has similar requirements that are prevalent within DNKN affording them a huge advantage when compared to such rivals as Starbucks , who not have similar commitments of their boards due to very limited franchise opportunities.
International Exposure:
As of the annual report shown here, there were 3,068 international stores in 32 countries. It is true that Starbucks has more exposure at 5,500 coffeehouses in over 50 countries, but the primary difference is that the executives do not have the level of understanding that Dunkin decision makers do. Following the same domestic business model, international stores have the same advantage of informed owners of whom can bring this knowledge to the Brand Advisory Council meetings. This brings together the "whole picture" in order to make informed decisions that will have the most impact on operations. Starbucks does not have this unique insight and so does not have the ability to grow as efficiently as Dunkin' Brands. In this case, quantity is trumped by quality of decisions made by the owners from all parts of the world.
Conclusion:
I really like Dunkin' Brands for their effective management and I do consider this a great long-term holding. Share prices should slowly rise in the coming year with the normal ups and downs. I would watch, and when the stock comes within 5% of the 52-week low, then I will start a position.
Disclosure: I have no positions in any stocks mentioned, and no plans to initiate any positions within the next 72 hours. I wrote this article myself, and it expresses my own opinions. I am not receiving compensation for it (other than from Seeking Alpha). I have no business relationship with any company whose stock is mentioned in this article.