It's been 12 years since the introduction of the first iPod, six years since the first iPhone and just over three years after the original iPad. With Apple (NASDAQ:AAPL) it can be easy to forget that its current success is still very new, but it's only been three years since Apple took the No 1. spot in smartphone market share.
From the vantage point of today Apple's success seems to have been preordained. Yet I would argue that Apple's success has been built on differences with its competitors that are relatively minor.
Hubris comes before the fall
On October 22, 2013, during Apple's iPad Air launch, Tim Cook said something that I think he might regret saying:
Our competition is different. They're confused. They chased after net books. Now they're trying to make PCs into tablets and tablets into PCs. Who knows what they will do next?
It reminded me of Steve Ballmer's reaction to the iPhone launch at Apple's 2007 MacWorld conference:
Five hundred dollars fully subsidized with a plan! I said that is the most expensive phone in the world and it doesn't appeal to business customers because it doesn't have a keyboard, which makes it not a very good email machine.... I like our strategy. I like it a lot....Right now we're selling millions and millions and millions of phones a year, Apple is selling zero phones a year. In six months, they'll have the most expensive phone by far ever in the marketplace and let's see ... let's see how the competition goes.
The media has excoriated Steve Ballmer for those remarks, conveniently omitting the fact that the iPhone was reduced in price from $600 to $400 shortly after its launch (the iPhone was initially priced at $600, rather than $500 as Ballmer assumed in that quote).
Of course the iPhone would go onto to be a huge success but it wasn't easy to see that happening from the vantage point of 2007. As Ballmer noted, the iPhone wasn't a good phone from the point of view of business users - who typically are prepared to pay more for phones and computing devices generally - and it was hard to imagine what consumers would do with it.
The power of small differences
It turns out that the success of the iPhone and subsequently the iPad would be the result of just two things:
The inclusion of an all encompassing capacitive touch screen on the iPhone, which allowed more screen acreage on the phone and was ideal for light tasks such as web browsing and email.
The App store.
Note that apps weren't something Apple innovated; the Symbian platform had allowed apps on a phone since the Erickson R380 in 2000. Nor were third party apps original to Apple, the Symbian platform had them too. Apple's achievement was to create an App store that made it easy for consumers to buy apps and for developers to put them on the App store.
This difference between Apple and Symbian was down to Apple owning and thus controlling its App store, whereas Symbian was an open platform - rather like Android today, but without Google's (NASDAQ:GOOG) dominating presence - split between various handset makers like Nokia (NYSE:NOK) and Ericsson.
The implication: if Apple success is the result of relatively minor innovations then similarly minor innovations from competitors can bring apple down too.
Now it's hard to be certain whether Microsoft's (NASDAQ:MSFT) strategy of combining tablet and laptop capabilities in one device will have a similar effect on Apple's tablet sales as Samsung did to Apple in smartphone market share. Microsoft bungled its launch of its Surface machines last year, by confusing consumers with two operating systems; poor battery life and missing features; and high prices. This year the Surface tablets got better reviews as did other Windows devices, including Nokia's 2520.
It's also difficult to predict what will end Apple's leading position in smartphones, but Samsung (OTC: OTC:SSNLF) has already done Apple a great deal of hurt. And bearing my point out, it accomplished this without offering much in the way of innovation or even significant differences compared to Apple:
Samsung realized that no one can patent shapes, much to Apple's chagrin.
Samsung offered a larger screen phone to consumers. Not the most profound innovation but something that consumers wanted and allowed Samsung to briefly topple Apple as top flagship smartphone seller.
It offered multiple devices. This is something other manufacturers have done, including Google with its Nexus line of phones and tablets. One should give some credit to Samsung for executing well on so many product lines.
You're only allowed to be top for so long
One thing you can be sure of is that no company can remain at the top for long. BlackBerry was top in smartphones for a few years, Nokia in all phones a bit longer than that.
Nokia doubled revenue in two years.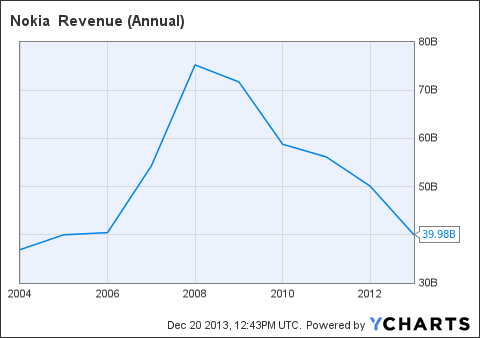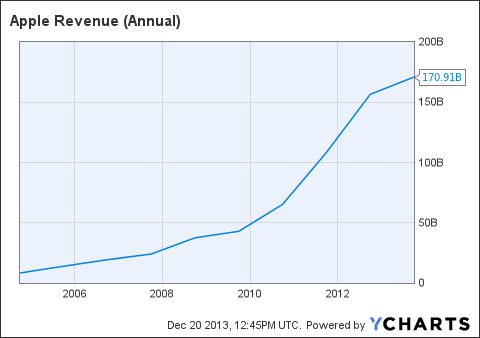 AAPL Revenue (Annual) data by YCharts
NOK Revenue (Annual) data by YCharts
Apple did the same and then did it again.
But that means there's a long way below. One of the astonishing things about Apple is that individual product lines are now bigger than entire technology companies. These are companies that in some cases have been around for decades and are significant in their own right:
At $4 billion in sales the iPod is already bigger than Netflix (NASDAQ:NFLX) and earns far more in profit.
The iPad may generate more revenue this year than the entirety of Google. Google for most of the last decade was thought of as the preeminent technology company.
The iPhone is bigger than Microsoft in both revenue and profits. Microsoft is the most important software company of all time and until very recently, considered the most important technology company of all time.
The Appstore/iTunes net revenue is equal to Facebook's (NASDAQ:FB) revenue.
This feast of superlatives is the reason why Apple bulls are so enthused about the company, but it's the very dazzling achievements of Apple that should make them nervous: inevitably, competition will eat away at Apple's profits.
Conclusion
Don't overestimate Apple. Right now it's hard to imagine it with half its revenue but that's not just possible but highly likely, if history is any guide. Also, don't underestimate the power of seemingly minor differences. Apple's success has been built on them and will almost certainly be the victim of them in the future.
Disclosure: I have no positions in any stocks mentioned, and no plans to initiate any positions within the next 72 hours. I wrote this article myself, and it expresses my own opinions. I am not receiving compensation for it (other than from Seeking Alpha). I have no business relationship with any company whose stock is mentioned in this article.