In a stunning statement that occurred on December 17, 2013, House Budget Committee Chairman Paul Ryan let the possibility of pressing the White House to approve the controversial Keystone XL pipeline as a condition to increase the debt ceiling. Ryan declared:
We want to make sure that we're taking steps in the direction of fiscal conservatism, of fiscal responsibility. I, for one, think we need to do more in the energy sector. I believe we need to approve Keystone pipeline.

We need to produce regulatory certainties to all this private capital that develops this energy boon. We could be an energy independent continent within a decade if we stop the government from stopping it from happening.
Ryan was discussing that a policy or regulatory change, such as the Keystone pipeline approval, was a more likely possibility than a structural change like the Medicare program, thus claiming that the White House will have to accept few conditions in exchange for a debt ceiling increase.
A Delayed Project Which Meets All Requirements
It is an open secret that TransCanada (NYSE:TRP) has a very hard time in order to get the regulatory approval from Obama's administration, the decision being constantly delayed since the U.S. State Department's Draft Supplemental Environmental Impact Statement concluded that Keystone XL will have no material impact on U.S. greenhouse gases, thus meeting President Obama's environmental standard.
Furthermore, an independent report from the IHS CERA, an autonomous organization delivering various analyzes on the energy industry, released its complete research last August, stating that the controversial pipeline wouldn't have any material impact on U.S. GHG emissions, and if Keystone XL was to be denied, alternative pipelines will likely be built to palliate the needs that Keystone would have filled.
The Keystone XL pipeline project is a proposed 1,179-mile, 36-inch-diameter crude oil pipeline, designed to start in Hardisty, Alberta, and extending south to Steele City, Nebraska.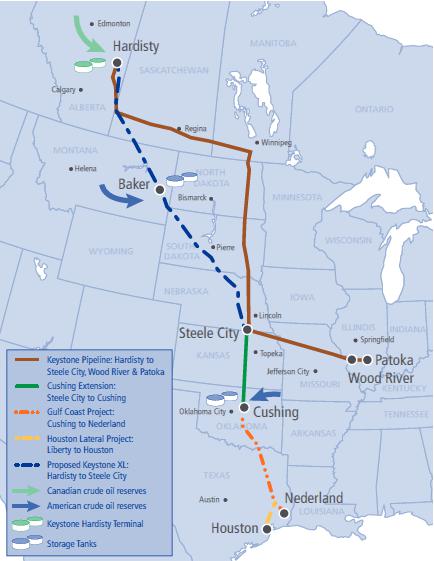 Source: TransCanada Corporation
The Turning Point
Initially, the Keystone XL project had a southern leg that would link Cushing, Oklahoma to Nederland, Texas. The company decided to separate this part of the pipeline from the Keystone project in order to skip the unnecessary delaying time since that part didn't need any regulatory approval, which led to the Gulf Coast pipeline project.
Consisting of 485 miles in length, the 36-inch crude oil pipeline started construction in August 2012 to serve the Gulf Coast marketplace. The company reported on December 9, 2013, that oil started to flow from its new pipeline.
On December 18, 2013, to put pressure on Obama's administration, TransCanada's President and CEO Russ Girling added in an interview, that if Keystone's imbroglio isn't put to an end, the company would consider building a rail bridge from Canada to Nebraska.
"... if we need to bridge with rail, we will bridge. I don't think we would ever stop pressing the pipeline option, but there is a point in time at which we would consider a rail option," said Girling.
With Ryan's push towards Keystone approval, the controversial pipeline could finally see an ending soon.
As you probably recall in last April, Canadian Federal Natural Resources Minister Joe Oliver said that Canada would accelerate its east and west oil pipeline plans if Keystone XL was to be rejected by the U.S. administration, stating:
Make no mistake, Canadian resource development and export, including from the oil sands, will continue, Keystone or no Keystone.
Well, Oliver couldn't be more right. As a matter of fact, TransCanada didn't wait that long and announced last August that a 2800-mile pipeline named Energy East would link Western Canadian refineries to export terminals in the eastern provinces of Quebec and New Brunswick, with a daily capacity of 1.1 million barrels of crude oil to reach new markets.
The Competition
Meanwhile, Seaway Crude Pipeline Company LLC, a 50/50 joint-venture between Enterprise Products Partners L.P. (NYSE:EPD) and Enbridge (NYSE:ENB), decided in February 2012 to move forward with the construction of a twin pipe for its Seaway pipeline, a 500-mile, 30-inch diameter pipeline linking Cushing, Oklahoma to Freeport, Texas.
The construction, which is designed to parallel the existing pipeline, is expected to more than double Seaway's capacity to 850 Mbbls/d following its completion. Commissioning has been scheduled for the first half of 2014.
Conclusion
According to Girling, between 400 Mbbls to 500 Mbbls of oil will move daily from Western Canada by rail next year, an amount that could increase to one million barrels per day by 2015.
However, Keystone XL is very much needed, both by Canada that needs to unclog its energy hubs from overstocked oil and U.S. refineries' access to much cheaper crude oil, thus reducing more environmentally damaging shipments of oil from Venezuela.
Notably, Republican Ryan's reference to Keystone approval in exchange for the debt ceiling increase makes a lot of sense because many benefits will be generated from that much needed project for the American economy.
As a matter of fact, according to the CERI (Canadian Economic Research Institute), a study from July 2012 estimated that Keystone XL would increase the U.S. GDP by no less than $141.6 billion over a 25-year period. Furthermore, more than 1.5 million jobs would either be preserved or created in the U.S.
Finally, as Ryan concluded on the topic:
If we just get the government out of the way, it could be a real renaissance of oil and gas exploration in America, lower our gas prices, stop sending this money to foreign countries. It helps us with our foreign policy.
Therefore, Keystone XL is still very much alive. However, its resurgence regarding the debt ceiling issue could be the last opportunity to push for its approval. It seems that the fate of Keystone could be sealed, linked to political influence from its proponents, probably for the last time ever.
Disclosure: I have no positions in any stocks mentioned, and no plans to initiate any positions within the next 72 hours. I wrote this article myself, and it expresses my own opinions. I am not receiving compensation for it (other than from Seeking Alpha). I have no business relationship with any company whose stock is mentioned in this article.