Apollo Commercial Real Estate Finance, Inc. (NYSE:ARI)
December 20, 2013 Stock Price: 18.51
Rating: Sell
Company Summary: (Company website)
ABR is an externally-managed commercial mortgage real estate company that is taxed as a real estate investment trust (REIT). The company originates, manages, and acquires performing senior and subordinate mortgage loans as well as commercial backed securities (NYSEARCA:CMBS). The company also holds investments in real estate property and other mortgage securities. There are currently 9 analysts that cover the firm.
"Our primary purpose is to create a diversified portfolio of performing commercial real estate mortgage loans and CMBS assets that will be held to maturity and which we expect will provide stable attractive cash flow yields for our stockholders." - ARI, Our Company.
Management:
Insider ownership is under 3%, and there have been no notable insider transactions recently. One large positive for the company is the huge transparency into the company's operations, with regards to numerous press releases and investor presentations, which give shareholders a good idea of what is happening. On a negative side, just like other MREITs, Apollo has refused to implement a share repurchase program. In my opinion no company can say their goal is shareholder returns when they refuse to initiate a buyback program with their price to book so low. Not to mention, they did a public offering back in March when they were trading between 80% and 90% of book. This is extremely destructive to shareholder value; I don't care what kind of pipeline you have. The nail in the coffin is that since then, the book value per share has only decreased, which is the same results as the public offering they issued last year.
Valuation: (Explanation of Graphs)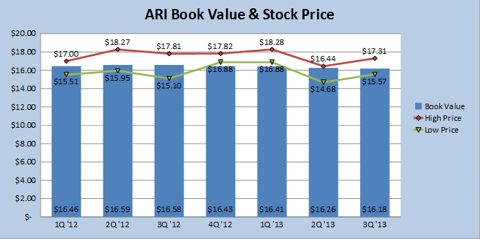 Depending on the book value reported in the fourth quarter earnings report, the company's share price could vary tremendously. With the recent uptrend in the REIT market in general since the announcement of fed tapering, ARI has been trending upward as well. This gives you a great opportunity to unload your shares. I foresee another decrease in book value being reported not to mention the possibility of another public offering.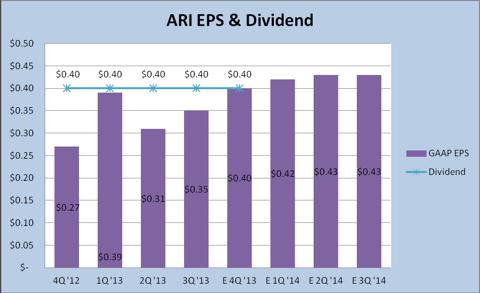 So far the GAAP EPS hasn't been covering the dividends being paid out. It is important to note that GAAP earnings are not a good representation of taxable income, however it is a good sign of whether the company will be increasing or decreasing dividends. Also something to note, companies who continually do public offerings without increasing book value are probably using these secondary offerings to cover the dividends. As there is no difference between "general corporate purposes" and paying dividends.
Rating:
Unless you get the opportunity to buy ARI shares at 75% of book for a short term speculation trade, stay out of the name. The company's blatant disregard for shareholder value infuriates me and I have never even owned the company's shares. This company is like so many others that are externally managed, trying to increase AUM to line their own pockets instead of trying to do the best thing for the shareholder. My rating is a Sell, which is the lowest rating.
Disclosure: I have no positions in any stocks mentioned, and no plans to initiate any positions within the next 72 hours. I wrote this article myself, and it expresses my own opinions. I am not receiving compensation for it (other than from Seeking Alpha). I have no business relationship with any company whose stock is mentioned in this article.
Additional disclosure: These ratings are my opinion only and shouldn't be construed as advice to buy or sell securities. Recommendations don't take into account individual reader's investment risk or return objectives and constraints. They are for information purposes and you are encouraged to do your own research before trading any equities. All information here in this article is accurate to my knowledge.