WPX Energy (WPX, or the company) is a 4 billion cap energy company specializing in the production of natural gas, natural gas liquids and oil. Year to date, the company has outperformed the market with gains of approximately 35%. I believe there are two reasons why this stock could do even better in 2014.
The Tulsa-based company, once a subsidiary of Williams, but independent since 2011, has operations in Colorado, New Mexico, North Dakota, Pennsylvania and Wyoming, as well as interests in Argentina and Colombia. Excluding the foreign interests, the company has approximately 80 million barrels of oil equivalent (MMboe) and 3900 billions of cubic feet equivalent (Bcfe) of natural gas in proven reserves.
Oil and Gas plays
Chart 1. Oil and Gas portfolio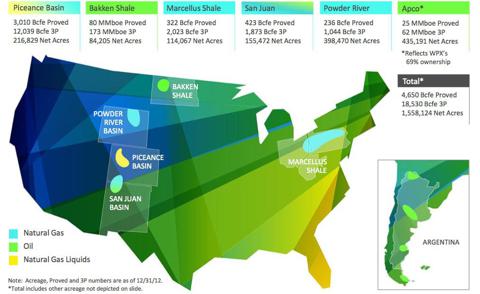 Source: WPX 3Q 2013 Operations update, p.19.
Piceance Basin- Colorado
In Colorado the company focuses on exploiting it's natural gas reserve base and related NGLs in the Piceance Basin where it has 4,100 wells on 216,000 acres. Currently WPX is operating 7 rigs in the area, which in Q3 spud 60 wells.
It was in the Piceance basin that WPX made a promising discovery in the Niobrara formation in the beginning of the year. According to early indications, the discovery has the potential to double the current 3P reserves. From the time of discovery to Q3 reporting, the discovery well has already produced 2Bcf of natural gas.
Bakken Shale - North Dakota
WPX is working on developing its positions in the Bakken Shale oil play. The company operates 100 wells on 84,000 acres. The basin is producing 14,000 barrels of oil per day and has 80 MMboe in proven reserves. WPX expects to reach its year-end target of 16,000 barrels of oil per day, as they complete more wells. Since 2012, the company has increased its proven reserve from 22.9 to 80 MMboe, a staggering 249% proved reserve growth.
Marcellus Shale - Pennsylvania.
The Marcellus Shale natural gas play consists of 100 wells on 114,000 net acres. The company only has one rig running but has still increased production with about 40% year over year.
San Juan Basin - New Mexico
WPX has been in the San Juan Basin over 31 years and currently operates 880 wells and holds joint interest in another 2,400. The company has recently added wells in the Gallup Sandstone (Mancos) formation, these wells, once completed are estimated to contribute to 3,400 barrels of oil equivalent per day. The basin consists of 159,000 acres including 31,000 net acres for the Gallup Sandstone development.
Powder River Basin - Wyoming
WPX operates 2,200 wells and holds joint-ownership interests in 2,900 wells. The basin consists of 398,000 acres and has proven reserves of 235 Bcfe.
Apco Oil and Gas International, Inc (Apco).
WPX holds a 69% controlling ownership interest in Apco, which is publicly traded (NYSE: APAGF). Apco has a 640 million market cap with 586,279 total net acres, including 555,872 undeveloped net acres and about 44.3 MMboe net proved reserves with 333 net producing wells.
Disappointing financials
Chart 2. Daily Production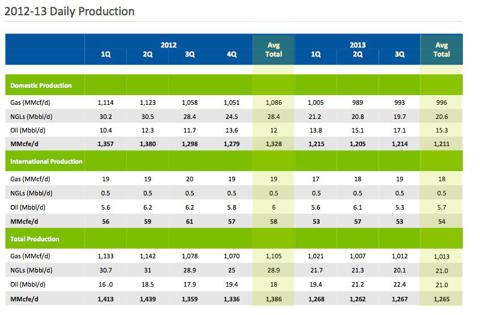 Source: WPX 3Q 2013 Operations update, p.21.
WPX reported a $114 million net loss for its third quarter and has had numerous unprofitable quarters since going public. In Q3 production was down approximately 7% on a quarter-to-quarter comparison. Oil revenues increased due to 46% higher crude volumes and 19% higher prices. Natural gas revenues were down 79%, contributed to a 6% lower production volume but also to the fact that last years revenues were derivatives hedged favorably. Natural gas liquid revenues were also lower on quarter-to-quarter basis, primarily related to a 31% decrease in sales volumes.
Chart 3. Consolidated Statement of Operations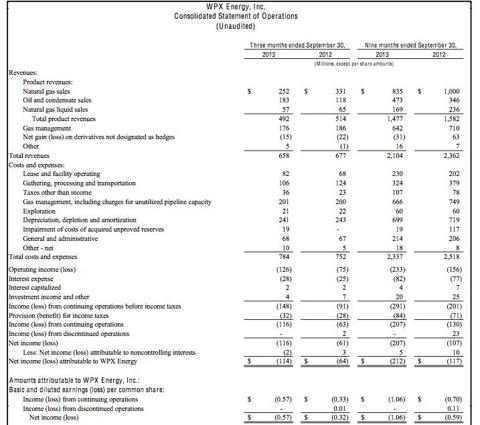 Source: WPX 3Q 2013 Financial statements, p.1.
Furthermore, third quarter results were affected by a $19 million impairment to probable reserves, a $7 million litigation accrual, and a $6 million impact related to changes in Argentine tax law, which affected the investment in Apco Oil and Gas. Moreover, WPX recorded a $9 million increase in valuation allowance related to Pennsylvania deferred taxes.
Chart 4. Balance sheet.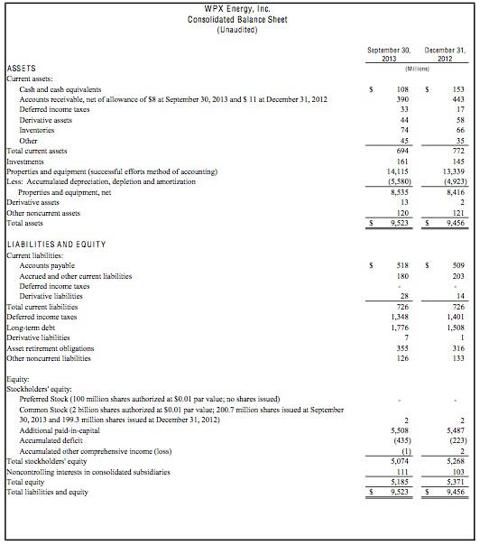 Source: WPX 3Q 2013 Financial statements, p.2.
WPX has a strong balance sheet with approximately $1.3 billion in liquidity. On a $4 billion market cap it trades at approximately 30% discount to book value. However, the discount can be explained by capex not being covered by operating cash flow and hence the company has been selling assets or increased debt to continue forward.
Value drivers
Possible MLP creation in 2014?
WPX has stated that they have a unique set of assets that they feel can be put into a MLP, particularly some assets in the Piceance Basin. A potential MLP creation could fund other growth opportunities and accelerate some capital into areas like Niobrara or Gallup Sandstone.
Activism and Leadership change
On the December 17, Ralph Hill, who has been CEO since the split off from Williams, stepped down as CEO. James J. Bender was appointed interim CEO effective Dec 31. A search committee consisting of four board members has been assigned the task of searching for the next CEO.
On the December 18, WPX reached an agreement with its second largest shareholder, Taconic Capital Advisors LP. As part of the agreement, WPX will increase the size of its board from 11 to 12 on or before Jan, 10.2014. The new board member will be suggested by Taconic and will be added to the existing search committee for a new CEO.
Investment thesis
WPX has not issued guidance for 2014 yet, but thus far analysts expect another year with negative earnings. The energy sector is hated at the moment, which makes for interesting opportunities when companies like this, with large proven reserves in both natural gas and oil, and with a strong balance sheet trade at a discount to book value.
Now, I could tell you about all the measures WPX have taken and implemented to increase efficiency or that they have excellent chances in making new discoveries but I won't. Instead, I'm going to underline this investment thesis by suggesting the possibility that a new CEO, handpicked by Taconic, may cut spending/assets and create an MLP, which could make the company profitable in 2014.
There is also the possibility of an upward price movement in natural gas prices, which would diminish the need to cut spending or assets. WPX boasts in the Q3 guidance that it is so well positioned, that is would be one of the first companies in the sector to take advantage if natural gas prices recover.
Chart 5.Q3 Operational Update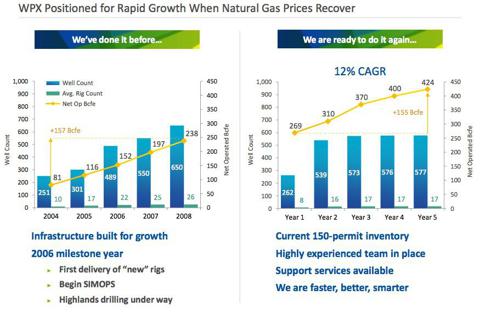 Source: WPX 3Q 2013 Operations update, p.30.
The way I see it, the balance sheet has an investment in WPX covered on the downside and on the upside, well, the upside will, either through cutting costs/assets or through a recovery in natural gas prices take care of itself.
Disclosure: I have no positions in any stocks mentioned, and no plans to initiate any positions within the next 72 hours. I wrote this article myself, and it expresses my own opinions. I am not receiving compensation for it (other than from Seeking Alpha). I have no business relationship with any company whose stock is mentioned in this article.