Marvell Technology Group Ltd. (NASDAQ:MRVL) could expand its LTE business in North America and China during fiscal 2015. This would act as a tailwind for the financial performance. Besides that, near term, the company beat FQ3 expectations and guided higher than expected. So there is momentum behind the valuations.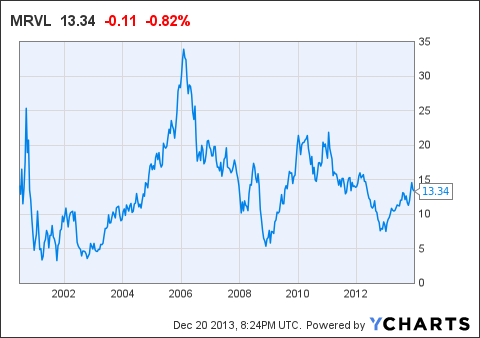 I question how competitive Marvell can be against the likes of Qualcomm (NASDAQ:QCOM) and Broadcom (BRCM) in mobile. But some design wins in the low-to-mid range portion of the market combined with roughly flat HDD and networking businesses should be enough to increase the share price.
I'm bullish on Marvell with an intrinsic value of $14.54 per share and a price target of $16 per share.
Fundamentals
In the October quarter, there was an increase in profitability because of a tax benefit. I view this as non-recurring or separate from core earnings. Also, there is just under $2B of cash; the liquidity position is excellent as the cash ratio is 2.38. Marvell's solvency position is solid with a financial leverage ratio of 1.2. For the first nine months of the fiscal year, free cash flow was just less than $300M. The dividend was about 30% of FCF and share repurchases were in excess of FCF. Management has excess liquidity to make acquisitions, develop solutions, and/or return capital.
The company is pursuing a growth through innovation strategy with R&D expenditure of over 30% of net revenue. This could result in substantial off-balance sheet assets but has an adverse impact on return on equity. A successful innovation-led growth strategy requires investment in talented people as well as the ability to execute the vision. The R&D expenditure could also be a lack of synergy emanating from the broad product portfolio.
The customer base, which is located almost exclusively in Asia, is concentrated; this leads me to believe that customers have bargaining power, which limits profitability. But there has been consolidation of semiconductor providers competing in the mobile and wireless communications markets. For example, Broadcom acquired NetLogic Microsystems and Texas Instruments (NYSE:TXN) acquired National Semiconductor. This should improve industry profitability as suppliers gain bargaining power, but the trend towards integrated platforms may limit gains.
Adoption of the company's LTE solution in North America and China during fiscal 2015 would be accretive to revenues. But management is expecting a lower gross margin as the company expands in the consumer market. This foray deeper into the consumer market risks destroying shareholder wealth. But an increase in aggregate profit could later be deployed in higher value ventures.
Two of the key competitors are Qualcomm and Broadcom. RIM selected Qualcomm as a processor supplier for many of its newer BlackBerry models, and Apple (NASDAQ:AAPL) replaced Marvell's Wi-Fi chip in its iPhone models. There is cause for concern about the strength of Marvell's mobile solutions portfolio.
There are structural changes occurring within the HDD industry that are well documented. Without rehashing the HDD and SSD debate, the change in preference from HDD to SSD impacts the results of operations.
Management is forecasting $880 to $920 million of net revenue next quarter. This is a 1%-6% sequential decline; all business segments are expected to decline at a similar pace. The low end of the forecast would be a 13.5% increase relative to the prior year.
Valuation
Using a discounted cash flow model, I place the intrinsic value at $14.54 per share. I view Marvell as having a 6% sustainable growth rate. Near-term profitability is being challenged by competitive dynamics. Also, reinvesting revenues is weighing on the abnormal profits of the firm. The market is mis-pricing the risk of the firm; specifically, equity capital is cheaper for Marvell than it is for Oracle and Microsoft. Consequently, I increased my discount rate.
Additionally, I view 1.5 times book value as fair with the P/E ratio getting a tailwind from revenues growth. But profitability could remain challenged as the firm attempts to gain share in consumer. That said, I think the near-term financial performance challenges are in the rear-view mirror.
Point being, I view HDD and networking as roughly flat with mobile providing a tailwind; thus, I'm bullish on Marvell with a price target of $16 per share.
Disclosure: I have no positions in any stocks mentioned, and no plans to initiate any positions within the next 72 hours. I wrote this article myself, and it expresses my own opinions. I am not receiving compensation for it (other than from Seeking Alpha). I have no business relationship with any company whose stock is mentioned in this article.