A couple of weeks ago, I detailed how ugly a picture we could see in the upcoming earnings report for BlackBerry (NASDAQ:BBRY). Revenues were set to plunge, the company was most likely going to report a loss, and the balance sheet (when excluding funds raised during the quarter) was going to get worse. Although I reiterated BlackBerry as a strong short candidate, I told investors they should be hedged through earnings. Now that earnings are behind us, it's time to look at BlackBerry again. Yes, things can get worse, and they surely did in Q3.
Third Quarter Results:
On Friday morning, BlackBerry reported fiscal third quarter results for the period ending in late November. Going into the report, analysts were looking for revenues of $1.59 billion, which would represent a drop of 41.5% from the $2.73 billion figure reached in the year ago period. After excluding one-time items, analysts were looking for an adjusted loss of $0.45 per share, more than double the $0.22 per share loss in the year ago period.
I warned investors that the report would be very ugly, and perhaps, I didn't warn them enough. BlackBerry revenues came in at less than $1.2 billion, a more than 56.2% decline from the year ago period. The adjusted loss per share was $0.67. On both the top and bottom line, BlackBerry came in well below estimates. This may not have been a surprise to many after a horrible Q2, in which BlackBerry was forced to warn prior to reporting results.
On a GAAP basis, BlackBerry lost $4.4 billion, or $8.37 per share. This huge loss was due to a couple of items. First, the company took a $2.7 billion non-cash charge against long-lived assets. Second, the company took a $1.6 billion primarily non-cash charge against inventory and supply commitments. The company also took a $266 million charge related to its ongoing restructuring program.
But perhaps the worst part of the report was the following statement:
During the third quarter, the Company recognized hardware revenue on approximately 1.9 million BlackBerry smartphones compared to approximately 3.7 million BlackBerry smartphones in the previous quarter. Most of the units recognized were BlackBerry 7 devices. During the quarter, approximately 4.3 million BlackBerry smartphones were sold through to end customers, which included shipments made and recognized prior to the third quarter and which reduced the Company's inventory in channel. Of the BlackBerry smartphones sold through to end customers in the third quarter, approximately 3.2 million were BlackBerry 7 devices.
In terms of revenue recognition, BlackBerry recorded barely more than half the sales of the previous quarter (Q2), which was horrible to begin with. Worse yet, most of the devices sold were BlackBerry 7 units! What happened to BlackBerry 10? What happened to the brand new line of devices that was supposed to be the savior of this company? BlackBerry 10, as most like myself figured, was not all it was cracked up to be. Revenues have completely fallen off a cliff, and I'll have more on that angle later.
Balance Sheet Update:
The huge charge on the impairment of assets led to some dramatic changes to BlackBerry's balance sheet in the quarter. Between fiscal Q2 and Q3, the asset base of the company went from $12.5 billion to $8.4 billion. BlackBerry also took some debt on during the quarter, which changed the balance sheet up a little as well. The following table shows BlackBerry's balance sheet going back to Q2 of last year, with dollar values in millions.

Click to enlarge
*Liabilities to assets ratio.
For some time, BlackBerry bulls have been raving about the company's cash and investments balance. This is one of the biggest positives for BlackBerry they say. Well, the company's cash and investments balance did rise in the quarter, but that is due to the nearly $1 billion in long term debt now on the balance sheet. Without the debt, the company's cash and investments balance, working capital, and current ratio would all be a bit lower. Remember, this is long term debt, so the short term ratios are helped by the debt, an addition to cash, but do not go against current liabilities. The long term debt did push up the debt (liabilities to assets) ratio a bit. BlackBerry as a company is not in any financial trouble, but some of the financial ratios have gotten worse. It doesn't appear that the company will need any more cash in the near future, but if it does, there is still a lot of room for BlackBerry to borrow. While the balance sheet is in worse shape than a year ago, it is not a major trouble point just yet.
Guidance / Foxconn deal:
BlackBerry has not been a company to give actual financial guidance in the past few years. Who could blame them though, as results are usually quite terrible. This is what the company stated in its "guidance" section, although it's not much.
In the fourth quarter, the Company anticipates maintaining its strong cash position and further reducing operating expenses as it continues to implement its previously-announced cost reduction program.
The other large piece of information was that BlackBerry announced a five year strategic partnership with Foxconn. Foxconn will manufacture products for BlackBerry at facilities in Indonesia and Mexico. BlackBerry will own all of its intellectual property and will perform product assurance on devices through the Foxconn partnership. This is something BlackBerry does with all third party manufacturers. The initial focus of the partnership will be a smartphone for Indonesia and other fast-growing markets targeting early 2014. We'll see how the timing actually works out, as BlackBerry has been known for being late with product launches.
The future looks bleak:
With another huge revenue and earnings miss, you can probably guess that analysts are going to take down their estimates. The following table shows how much estimates have come down just in the past couple of months. More importantly, look how much they have come down just in the past two weeks. Remember as well that these estimates are as of Sunday. It's only been two days since BlackBerry reported, so there are a lot of analysts who have not reworked their estimates yet. I expect these numbers to go down a bit more.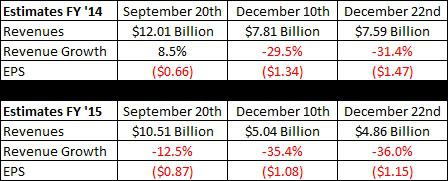 In fiscal 2011, BlackBerry had revenues of nearly $20 billion. Now, analysts are expecting less than $5 billion for fiscal 2015. If this doesn't tell you how bad this company is doing, I don't know what will.
Final thoughts:
It was another very ugly earnings report for BlackBerry, as the company widely missed revenue estimates. The company also announced a huge loss on write-downs, and even after excluding items it still missed tremendously on the bottom line. A deal with Foxconn seems to have propped the stock up, which probably was due to some short covering as well. BlackBerry is up nearly 33% from its recent 52-week low, and closed at its highest point since November 1st. However, this is still a company that has a tremendous revenue problem, and most of its sales in the latest quarter were older model phones. The balance sheet looks fine thanks to a huge debt deal, but the balance sheet is getting worse. I told investors to be hedged if they wanted to be short through earnings, and that idea worked well. However, the short case now seems to be back in full force. Can the new Foxconn deal save this struggling company? It's hard to tell at this point, but I wouldn't be surprised if this deal is another Hail Mary the bulls are hanging on to. It's been the same way since this stock was well over $20 when I first started covering it on this site, and the $70 or so shares fetched less than three years ago. When you hear analyst comments like "new management sounds better than old management" and that "old management" was the group supposed to turn this name around, you really have to take a step back. We heard the same theory last time around, but this is a stock that keeps making lower highs and lower lows.
Disclosure: I have no positions in any stocks mentioned, and no plans to initiate any positions within the next 72 hours. I wrote this article myself, and it expresses my own opinions. I am not receiving compensation for it (other than from Seeking Alpha). I have no business relationship with any company whose stock is mentioned in this article.
Additional disclosure: Investors are always reminded that before making any investment, you should do your own proper due diligence on any name directly or indirectly mentioned in this article. Investors should also consider seeking advice from a broker or financial adviser before making any investment decisions. Any material in this article should be considered general information, and not relied on as a formal investment recommendation.