By David Russell
Republic Airways (RJET) ripped higher on Friday, and the bulls think that it still has room to run.
optionMONSTER's Heat Seeker tracking system detected the purchase 3,650 August 5 calls for $1.50 and the sale of 3,650 August 10 calls for $0.10 and $0.05. Volume was more than 13 times open interest in both strikes.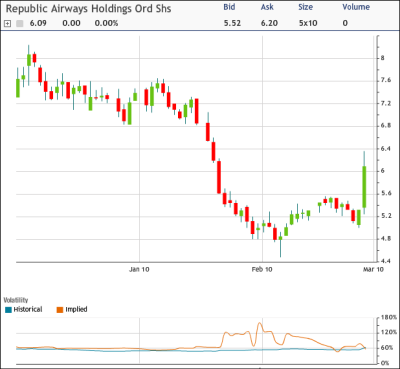 RJET rose 14 percent to $6.09 on Friday as it attempted to rebound from a seven-month low. The regional airline stock has been lagging its broader sector, losing 36 percent of its value in the last six months, compared with a 37 percent gain for the Claymore/NYSE Arca Airline (NYSEARCA:FAA) exchange-traded fund.
The bullish call spread cost a net $1.425 and will earn 251 percent if RJET closes at or above $10 on expiration. The shares peaked around $10 in October before heading lower, so the investor may expect them to rebound to that resistance level if they reverse to the upside.
The bullish activity came one session after the company reported results and said it would purchase up to 80 new aircraft.
Overall options volume in RJET was 59 times greater than average. Calls outnumbered puts by more than 600 to 1.

Disclosure: No positions