Orange (NYSE:ORAN) is the largest telecommunications group in France, and one of the largest in the world, with more than 232 million customers (a year-on-year increase of 2.1% at the end of September 2013) located in roughly 32 countries. The group's 3rd quarter results were announced on October 23, 2013. These results were less bad than previous quarters, confirming the slow stabilization of the company.
On the Road to Recovery?
Orange gained 1.1 million customers during the 3rd quarter, its revenues dropped by "only" 4% year-on-year (compared to 4.3% during 2nd quarter), and the EBITDA margin remained a healthy 33.1% (only 1.1% below the margin of 3rd quarter 2012). Compared to the record 50.4% EBITDA margin reported by Verizon Wireless in April 2013, this might sound tame, but it compares favorably to the 30% reported at the end of September by giant Vodafone. Revenues of Orange increased in Spain, Africa and the Middle-East. The ARPU --- average revenues per user --- continued its drop, at -12% year-on-year in France, but this was in line with expectations. No surprise here. The group headcount was decreased by 2.8% over 9 months, which helped reduce costs. Additionally, Orange pursued its 4G deployment, with 40% of French population expected to be covered by 4G wireless service before the end of this year. In short, 3rd quarter results were far from stellar, but they confirmed the slow improvement started during the 2nd quarter. That positive trend, and the hope that Orange will benefit from an improvement in the European Union economy, conspired to raise the share price by 32% (at the close of December 18), from its trough of July 2013, as can be seen in the following chart (from Google):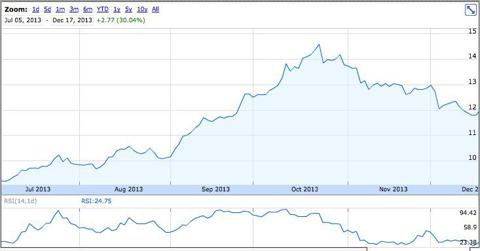 Coal in the Stocking
Still, a holiday celebration could be premature as the end of the year was spoiled last week by Iliad's announcement of new free 4G offers. Iliad is the latest French telecommunications group, and is known for dirt-cheap offers that started a mobile price war in France, decimating the historical operators (and responsible for the abysmal share price performance of Orange since early 2012). However, the three historical operators (Orange, SFR, and Bouygues Telecom) thought they had a weapon to get rid of their troublesome competitor: 4G wireless services. In France, the first 4G network was launched by Orange on November 22, 2012, in 4 cities. This is relatively late compared to the US, where MetroPCS launched a 4G LTE offer three years ago already. SFR (second telecommunications conglomerate in France and subsidiary of Vivendi) also launched its own 4G network at the end of 2012, later followed by third operator Bouygues Telecom. Since then, the three historical operators have actively deployed a 4G network as widespread as possible. Considering that customers are ready to pay a premium to access 4G services (this study by McKinsey quotes a willingness to pay 8 to 10 euros more a month), and considering that until recently Free Mobile (subsidiary of Iliad) was the only French operator without a 4G offer, the historical operators were already dreaming of reversing their drop in ARPU and the trend in customer loss.
Unfortunately, Free Mobile Does not Play Nice
On December 3, 2013, Orange and the two other large operators have been once again dragged into a costly mobile war: Free Mobile announced that it would add 4G services at no cost (for the subscribers to its monthly 19.99 euros offer). This started a race to the bottom to offer the lowest prices to French consumers. Within days, Bouygues Telecom offered free 4G services with its 19.99 euros-a-month subscription, thus matching Free's offer. Orange was forced to take a similar course of action and to provide free 4G with its Sosh offer at 24.99 euros (starting on January 9, 2014). SFR will do the same starting on January 14, with its Red offer at 25.99 euros a month.
Free's action prompted an outcry in the French government (the largest shareholder of Orange with 27% ownership), with the minister Arnaud Montebourg making not-so-subtle accusations against Xavier Niel, the CEO of Iliad. Nevertheless, there does not seem to be much that can legally be done to prevent Free from pursuing its plan. This 4G offer by Free Mobile is a very negative development for Orange and the other French mobile operators.
In my previous article on Orange I emphasized the recent progress made by the group. However I was advising caution for a few more quarters before buying shares, as there was quite a few swords of Damocles still hanging over the group's head. At that time, the CEO was under the threat of an investigation for fraud (still not resolved, and in fact Stephane Richard now faces a ruling in a French administrative court for his role as a government aide in a 2008 arbitration case), a big tax litigation issue (still unresolved), and the undue involvement of the French government in the sale of Dailymotion.
Already during 2nd quarter 2013, the impact of Iliad's entrance on the French market in January 2012 seemed to be finally receding, and the rapid deployment of a 4G network across France was a beacon of hope. Following the entrance of Iliad, all three historical telecom companies have been bleeding customers and money. As already mentioned, the last two quarters were finally showing signs of improvements, as the loss of customers was slowing down in France and it was speculated that new 4G services would allow Orange to charge customers more for their subscriptions. Unfortunately, Free Mobile decided to spoil the party and sent any hope of increasing Orange's ARPU down the drain. While the sale of its Dominican assets (Orange Dominicana) to Altice for $1.435 million announced at the end of November is a welcome development for Orange, 3rd quarter results were encouraging, and the dividend has been maintained at 0.80 euros a year (a 9% yield), there is no doubt that the future could be bleak for the group. Indeed 4G service is a significant part of the group's strategy for growth in the coming years, as the CEO stated in the quarterly result announcement: "Finally, I would like to highlight our investment initiatives, especially in 4G and fiber, which place Orange in an ideal position in these crucial growth sectors." Looks like any increase in ARPU expected from 4G service could be but a distant dream.
Another Threat: Battleground Moving to the Internet
Another negative development is the attempt by Bouygues Telecom to replicate Free Mobile's success, but in the fixed-line internet segment. Indeed, Bouygues plans to offer internet plans at a reduced cost to its customers as early as next year. Basically, with the 4G wireless services proving not to be the boon long expected due to the Free Mobile offensive, Bouygues will try to provide low-cost offers on its fixed-line internet services. It might force Orange to also reduce its prices.
Still, There Might Be a Silver Lining To This Story
Ilida's announcement of free-of-charge 4G wireless service spawned a war of words between Stephane Richard, the CEO of Orange, and Xavier Niel, the CEO of Iliad. Stephane Richard seems intent on counter-attacking. Indeed, on Tuesday December 17, 2013, he threatened not to sign a 4G roaming agreement with Free Mobile, despite the fact that both companies currently have a 2G /3G agreement that allows Free to use Orange's network. This roaming agreement can be cancelled in 2016 and is one of the reason for Free's astounding success, as it allowed the company not to spend as much as its rivals to expand its network. Without a 4G agreement with Orange or one of the other historical operators, it is doubtful that Free will be able to provide as widespread and reliable a 4G wireless service as claimed anytime soon. Indeed, Free Mobile is planning to offer 4G based on 700 4G masts in 1,000 areas. This is far from the 3879 masts of Orange (as of December 1, 2013), the 5392 masts of Bouygues Telecom, and the 1013 masts of SFR. It is likely that Free Mobile will try to sign an agreement with either SFR or Bouygues Telecom should the attempt with Orange prove unfruitful.
The current 2G/3G roaming agreement between Free and Orange did bring about 1 billion euros worth of revenues to Orange, so not renewing it in the upcoming years and outright rejecting a new 4G agreement could financially hurt Orange in the medium term. However, on March 11 of this year the French competition authority called for a gradual termination of the current roaming agreement and encouraged Free Mobile to acquire proper frequencies on its own: it seems clear that if Orange were to refuse to sign a 4G agreement, it could at least count on the French government's cooperation. The government probably realizes that it shot itself in the foot when it granted a license to Free Mobile: the increased competition might have been great for French customers, but it proved deadly for employment in the telecom industry (sparking layoffs) and the dividend of Orange (on which the French government relies as the main shareholder).
Conclusion
In summary, the situation of Orange is murky as of mid-December 2013. Difficult to say whether a new mobile price war has just started that will result in further loss of revenues, customers, and a likely cut in the dividend, or if Free Mobile has overreached and will find itself isolated when no other operator accepts to sign a roaming agreement covering 4G services. In the absence of such an agreement, the 4G network of Free is likely to prove subpar which might encourage some customers to transition from Free Mobile to a better service provider, like Orange. Yes, the Orange share is cheap right now and there might be more upside potential than downside. Especially with the economic recovery in Europe. Still, considering the current lack of visibility, I would personally stay on the sidelines for a few more weeks/months before initiating a position in Orange, as the threat of an escalating mobile price war resulting from Free Mobile's 4G offer is all too real. Orange may refuse to sign a 4G roaming agreement with Iliad, but there is a (small) risk that SFR or Bouygues Telecom will. And if not, Free Mobile may just decide to spend more in the development of its own infrastructure. Moreover, there is also the possibility of a price war in the fixed-line internet segment: Orange currently has a 40.8% estimated market share in the fixed broadband internet service in France (and it increased its customer count by 190,000 year-on-year during 3rd quarter): this activity is a significant part of the group's revenues (at about 1 billion euros, i.e. slightly less than 10% of the total revenues), and a price war would have a very negative impact.
Disclosure: I have no positions in any stocks mentioned, and no plans to initiate any positions within the next 72 hours. I wrote this article myself, and it expresses my own opinions. I am not receiving compensation for it (other than from Seeking Alpha). I have no business relationship with any company whose stock is mentioned in this article.