An interesting take in the Wall Street Journal on a company I've been looking at the past 2-3 months, as I've noticed the strength in pawn shops [Dec 16, 2009: Pawn Shops Breaking Out]. While not a pawn shop or check cashing operation, World Acceptance (WRLD) is loosely associated in that it serves a similar customer.
World Acceptance Corporation engages in small-loan consumer finance business. It offers short-term small loans, medium-term larger loans, related credit insurance, and ancillary products and services, as well as loans standardized by amount and maturity.
The company posted a fantastic quarter in January, which had me gnashing my teeth for not getting in 4-5 weeks earlier. With a very stressed US consumer, and less access to easy credit from banks, a company with expertise in lending to the higher risk market appears to be in the sweet spot. That said, it's certainly not a business sector that one feels great dealing with - but they do serve a needed niche, I suppose.
World Acceptance Corporation today reported record results for the third quarter of fiscal 2010, including a 64.8% increase in diluted earnings per share, a 13.9% increase in gross loan balances, and a 13.3% increase in revenues for the quarter ended

December 31, 2009

, compared with the corresponding quarter of the prior fiscal year.
When I first started sniffing around mid-December, the chart was an outlier to the upside - and it's only gone from the low $30s to low $40s since. It seems to have some resistance here near $42 and I certainly feel I've missed the boat. Short interest is quite high in the name as well... even with the big run the stock sports a PE of only about 10ish. (Click to enlarge)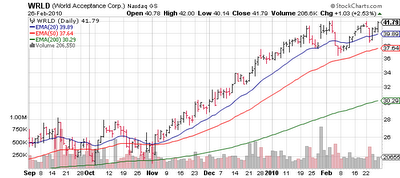 Via The Wall Street Journal: (My comments in parenthesis)
Call it a lender in a parallel universe. World Acceptance appears to have proved that subprime lending works. The question is how long it can last. The consumer-finance company expanded straight through the financial crisis and recession, providing loans to low-income borrowers without bank accounts or credit cards.
Thanks to a credit line from banks including Bank of America (NYSE:BAC) and J.P. Morgan Chase (NYSE:JPM), World Acceptance has had plenty of cash. Revenue rose to $394 million in fiscal 2009 ending in March from $243 million in 2006, with higher profits every year.
World Acceptance's golden goose is refinancing loans of existing customers, which accounts for about 75% of new borrowing. Refinancings are important because World Acceptance makes borrowers commit to repaying both principal and interest due over the loan term. Nonpayment or prepayment are penalized. In contrast, with a credit card, borrowers can maintain a balance and service the interest, or pay off principal when they please.
Being subprime borrowers, many end up refinancing loans rather than sticking to the original schedule. If they do, World Acceptance uses an arcane technique called the rule of 78s to claim some of the unpaid future interest and wrap it into the new loan. Essentially, World Acceptance extends a fresh loan for more than the outstanding principal. The borrower uses it to pay down the original loan and the extra charge for future interest, while still having some extra cash in his pocket.
There are signs that World Acceptance's repeat borrowers are making little progress to pay down principal. In fiscal 2006, the average loan balance was $804, but rose to $917 in 2009. Meanwhile, World Acceptance's average new loan has increased from $754 in 2005 to $1,011 in 2009.
True, World Acceptance's net charge-offs have stayed fairly consistent at about 15% of average loans receivable. But without aggressive loan expansion, largely to existing customers, the rate could rise quickly.
As a non-bank, World Acceptance doesn't fall under traditional federal bank regulators. And while state usury laws restrict interest rates, World Acceptance has chosen locations where it can charge annual percentage rates ranging from 25% to 215%. Any comprehensive lending overhauls stop the music. (That was the big fear when Obama first came into presidency and the check cashing stocks were crushed - but thus far nothing really has come of it.)
Disclosure: No position