Over the past five years, as shown by the chart below, Dillard's (NYSE:DDS) has quietly risen by more than 2,400%. DDS has far outperformed the well-known retail success stories of the past five years such as Amazon (NASDAQ:AMZN) and Lululemon (NASDAQ:LULU).
How Has Dillard's Done It?
Reduction of Expenses
As shown by the chart below, DDS has reduced annual expenses by more than $1 billion. The reduction in expenses has led to a direct benefit for DDS earnings.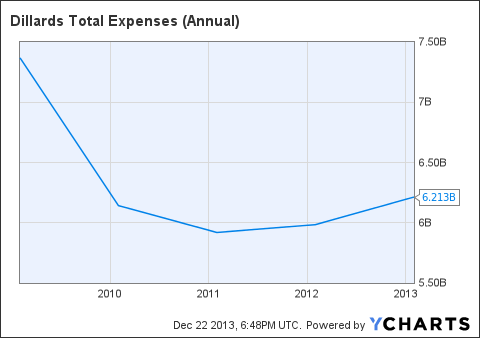 Closing Weak Stores
DDS management has smartly realized that the department store business is now in decline thanks to increasing competition from traditional retailers as well as increasing competition from online retailers. In response, instead of trying to overhaul its business, a strategy that J.C. Penney (NYSE:JCP) attempted which nearly drove the company out of existence, DDS management has decided to close struggling stores and focus only on profitable locations.
Stock Buybacks
DDS has aggressively been buying back its own stock. The result, as shown by the chart below, has been a dramatic shrink in the number of shares outstanding. This has led to increased EPS despite a lack of revenue growth.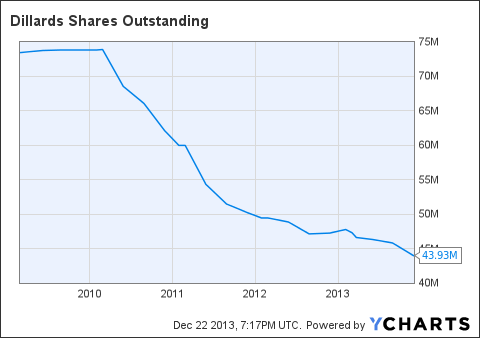 DDS Shares Outstanding data by YCharts
Valuation
DDS trades at just under 13 times forward earnings. Comparably, Macy's (NYSE:M) and Kohl's (NYSE:KSS) trade at about the same valuation. Certainly this valuation does not price in major expectations for growth. This is important because I do not believe it is likely that DDS will be able to grow revenues substantially going forward. Furthermore, I believe the current valuation means that DDS shares can move significantly higher without becoming expensive. Current annual EPS for DDS is close to $8 per share. If DDS sees multiple expansion from 13 times forward earnings to 15 times forward earnings, the share price would see a $16 increase.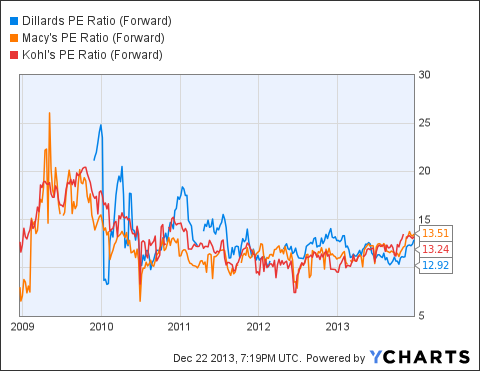 DDS PE Ratio (Forward) data by YCharts
Share Price vs Revenue Growth
The chart below shows how DDS shares have been able to rally despite a considerable drop in revenues. This chart is indicative of the smart strategy that DDS management (the Dillard family) has implemented. DDS has not pursued aggressive expansion plans or store overhaul plans. Rather, DDS has accepted the reality of the situation and implemented a strategy that has worked quite well. DDS has cut expenses, closed underperforming stores, and bought back a significant amount of stock. The result has been DDS shares trading at all-time highs.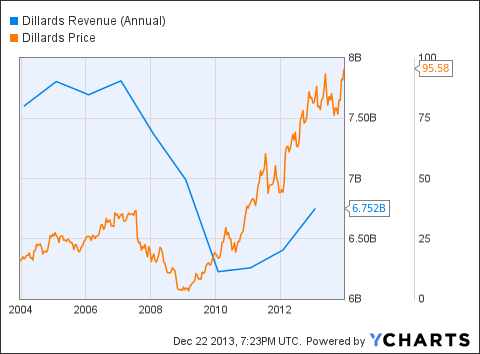 DDS Revenue (Annual) data by YCharts
Increased Buyback
DDS recently announced a $250 million increase in its stock buyback program. This indicates that the company will continue to pursue the same strategy that has led to a 2,400% increase in the stock over the past five years.
Short Interest
Short interest in DDS currently stands at 3.83 million shares or 14% of the float. This is evidence that big investors are still skeptical about the prospects of DDS. The short sellers are likely focusing on the difficult business outlook for department stores in general and DDS in particular. However, DDS is not about increasing revenues. DDS is about increasing operating margins and a reduction in shares outstanding. Any positive results have the potential to send DDS shares surging as shorts will look to cover.
Next Five Years Won't Be As Strong As Past Five
I believe DDS shares will continue to move higher from current levels. However, I do not believe DDS is capable of surging 2,400% or anything close to that over the next five years. The company has already reduced the easy expenses and will find it difficult to cut costs much from current levels. DDS has closed its worst performing stores and future closings will not give the company the same improvement in overall results. DDS's buyback will also be somewhat less effective given the high stock price. Under the previous buyback program, DDS was able to significantly reduce the share count because the stock price was low. The recently authorized $250 million buyback will not have the same impact.
How To Trade Dillard's
Medium-term investors with a 1-3 year time horizon should consider buying a core position at current levels. I would then trade around a DDS stock position by looking to reduce position sizes into any major rallies on improved sales and buy on dips related to declining sales. The reason why I believe this strategy is prudent for DDS is the fact that the company, unlike most retailers, is not really a revenue story. Traders who decide to buy or sell DDS shares based a weak or strong quarter fail to understand the company's strategy, the one that has been behind the 2,400% increase over the past five years. This is what makes DDS such an interesting risk/reward trade. If DDS sales disappoint, I believe the downside at current levels is relatively limited. However, if DDS sales results beat estimates I believe shares will be bid aggressively higher.
Conclusion
DDS has quietly been one of the best performing stocks over the past five years. DDS has been a quiet gainer because the company has not been doing exciting things that would tend to attract interest from Wall Street or retail investors. DDS is not pursuing a growth strategy; DDS is not looking to sell the company; DDS is not overhauling its stores. Instead, DDS has been focusing on cutting costs, closing underperforming stores, and buying back stock. DDS is executing a specific strategy quite well. I believe the company is likely to continue executing the same strategy going forward and will quietly continue to rise.
Disclosure: I have no positions in any stocks mentioned, but may initiate a long position in DDS over the next 72 hours. I wrote this article myself, and it expresses my own opinions. I am not receiving compensation for it (other than from Seeking Alpha). I have no business relationship with any company whose stock is mentioned in this article.