Chesapeake Utilities Corp (NYSE:CPK) has a rich history dating back to 1859 with the founding of the Dover Gas Light Company in Dover, Delaware. Similar to many other small, local gas utility firms, Chesapeake Utilities has its roots in providing natural gas for street lamps over 150 years ago, as depicted in the picture below. Based on organic growth and acquisitions, CPK is now a profitable small-cap natural gas distribution utility serving the Mid-Atlantic and Florida markets.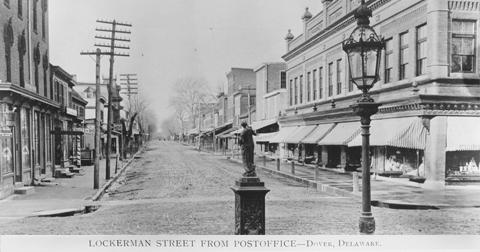 Click to enlarge
Of interest to investors should be the inclusion of CPK in the elite club of S&P Equity ranking for 10-year consistency in earnings and dividend growth. S&P rates 3,700 companies in this important performance fundamental from A+ (highest) to B+ (average) to D (below average). There are a total of only 46 companies ranked A+ with one being a utility and 101 companies ranked A with only five from the utility sector. CPK is ranked in the A group. Of all the A+ and A rated utilities, CPK is the smallest with a market capitalization of $550 million.
CPK supplies electricity, natural gas and propane to 184,000 customers (115,000 regulated natural gas, 34,000 regulated electric, and 35,000 unregulated propane) in the following service territories: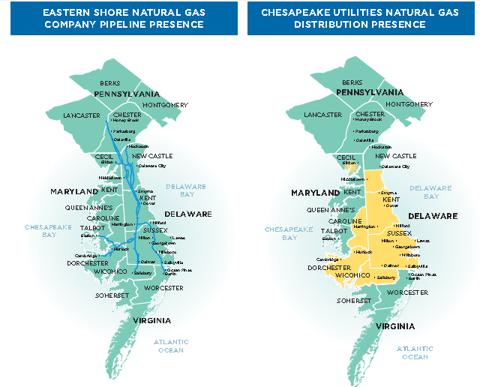 Click to enlarge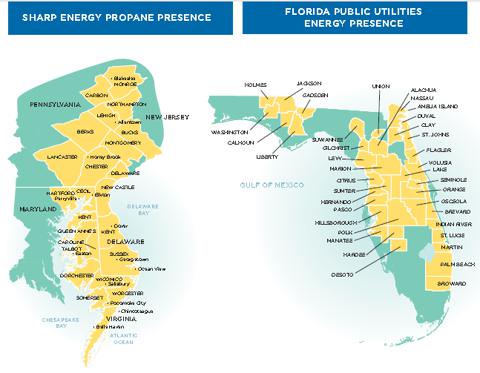 Click to enlarge
While a bit lengthy, the best description of CPK is found on Reuters.com
Chesapeake Utilities Corporation (Chesapeake), incorporated in 1947, is a utility company engaged in energy and other businesses. The Company operates in three segments: Regulated Energy, Unregulated Energy and Other.

The Company operates regulated energy businesses through its natural gas distribution divisions in Delaware, Maryland and Florida, natural gas and electric distribution operations in Florida through Florida Public Utilities Company (FPU), and natural gas transmission operations on the Delmarva Peninsula and Florida through its subsidiaries, Eastern Shore Natural Gas Company (Eastern Shore) and Peninsula Pipeline Company, Inc. (Peninsula Pipeline), respectively.

Its unregulated businesses include its natural gas marketing operation through Peninsula Energy Services Company, Inc. (PESCO); propane distribution operations through Sharp Energy, Inc. and its subsidiary Sharpgas, Inc. (collectively Sharp) and FPU's propane distribution subsidiary, Flo-Gas Corporation; and its propane wholesale marketing operation through Xeron, Inc. (Xeron). In February 2013, Florida Public Utilities Company, a subsidiary of the Company announced that its propane subsidiary, Flo-Gas Corporation, purchased the propane operating assets of Glades Gas Company. In June 2013, the Company acquired Eastern Shore Gas Company (NASDAQ:ESG) and Eastern Shore Propane Company (NYSEMKT:ESP). In June 2013, Chesapeake Utilities Corp announced that it has acquired the operating assets of Austin Cox Home Services, Inc.

The other segment consists of its advanced information services subsidiary, other unregulated subsidiaries, which own real estate leased to Chesapeake and its subsidiaries. Its advanced information services subsidiary, BravePoint, provides domestic and a range of international clients with information technology services and solutions for both enterprise and e-business applications.
According to the performance graph on Morningstar.com, CPK has outperformed both the S&P 500 and its peers in the regulated gas sector. In the 1-, 3-, 5-, 10-, and 15-year periods, CPK trailed the S&P and its peers only in the 5-yr timeframe by 15.5% vs. 17.8% and 15.5% vs. 16.3%, respectively.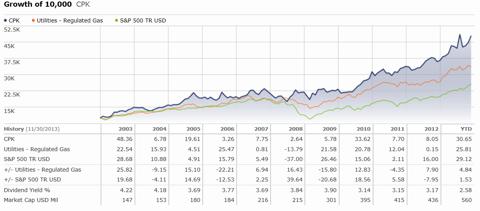 Click to enlarge
Dividend growth has followed suit. The dividend has grown from $1.10 in 2003 to a trailing 12-month of $1.50 and a forward dividend of $1.54. Dividend increases are usually announced with the June payment. The payout ratio has declined over the past decade from 62% to 44%, making both dividend sustainability and dividend growth comfortable for investors.
From reuters.com, below are a 1-, 3-, and 5-year growth rates for revenues, EPS and dividends: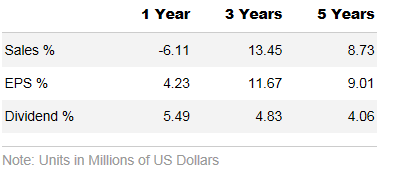 Driving earnings growth is above average return on invested capital due to lower debt and higher ROE than its peers. With a utility sector fundamental goal of a consistent 5% return on invested capital, CPK has historically outperformed this matrix. Over the past 15-years, CPK has fallen below this threshold only once, in 2002. Below is a fastgraph.com chart of ROIC since 1999: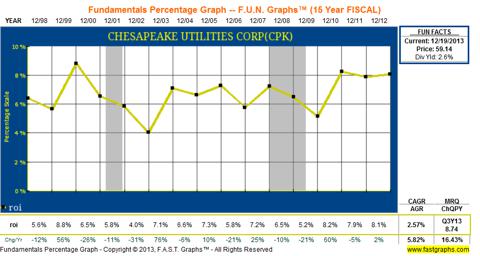 Click to enlarge
The relationship between higher return on equity and higher ROIC to higher earnings growth can be demonstrated by the following graph taken from CPK latest investor presentation (pdf). As shown, over the past 12-years, earnings per share have doubled as ROE has maintained its range of between 10% and 12%.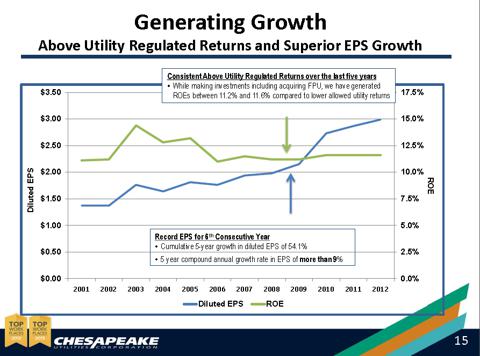 Click to enlarge
Even though total debt increased over the past 12 months from $148 million to $207 million, the firm's debt to equity ratio is still below most utilities at 0.43. The additional debt was used for acquisitions and capital expenditures. While TTM operating cash flow was $68 million, cap ex and other investments were $107 million, creating a $39 million shortfall.
Compared to its small-cap peers, CPK could be considered trading at a noteworthy discount. Based on eleven gas utility firms with market capitalization ranging from $84 million to $1.8 billion, the average PE ratio is 19.7 vs. CPK trailing 12-month of 16.9. If CPK would trade up to its peer's valuation, share prices could be as high as $70. Between 2004 and 2008, CPK traded at a PE range of between 13 and 21. Since 2009, the stock's PE range has been between 11 and 16.
Concerning the regulatory environment in the areas served by CPK, S&P ranks their coverage as a mixed bag. Florida is rated as positive at "More Credit Supportive" while Delaware and Maryland are negative at "Less Credit Supportive". Virginia is neutral at "Credit Supportive". Going forward, it would seem the regulatory environment overall should be considered as neutral/average. From an operational viewpoint, 73% of operating profit is derived from regulated activities while the balance is from unregulated businesses. While CPK has good exposure to non-regulated businesses, the bulk of its profits come from activities that are regulated.
Reviewing the P&F chart, CPK stock price has been quite bullish, especially since mid-November of this year. There has not been a pullback of consequence since reaching a bottom at $19 in 2009. However, watch for a negative Three-Box Reversal if share prices fall much below $57. Focusing on the previous declines since share prices were in the high $30s, each reversal was followed by a strong run higher.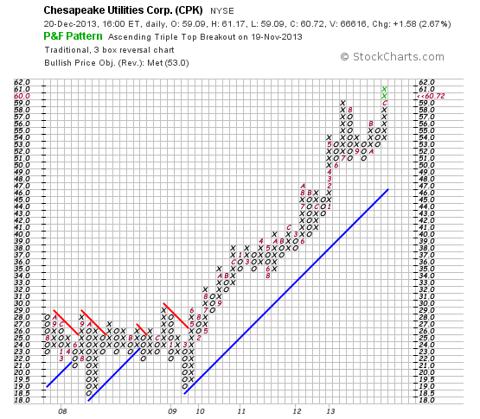 Click to enlarge
The company has a limited share count outstanding at 9.6 million shares, and is owned by an average number of institutions with a 50% ownership ratio. However, there are only a few Wall Street analysts that offer coverage. Out of the three that cover CPK, one has it rated as a buy, one as a buy/hold and one as a hold.
CPK carries a 3-yr beta of 0.45.
Third quarter's earnings press release is found here (pdf) and the November 3rd qtr. conference call transcript is found here:
Dividend growth investors looking for a solid, small cap utility to add to their portfolios should consider Chesapeake Utilities. While the stock has been strong this year, up by 31%, patient investors should be amply rewarded. With a beta at half the market risk, a decent current yield for a natural gas utility, strong historical growth fundamentals, a low payout ratio, and higher returns on invested capital, CPK could be in the category of a core dividend growth small-cap utility choice.
Author's Note: Please review important disclaimer in author's profile.
Disclosure: I have no positions in any stocks mentioned, and no plans to initiate any positions within the next 72 hours. I wrote this article myself, and it expresses my own opinions. I am not receiving compensation for it (other than from Seeking Alpha). I have no business relationship with any company whose stock is mentioned in this article.