Last week Constellation Energy (CEP) reported 2009 earnings. As expected, results were glum. Their focus was on consolidation, and paying down borrowings, which resulted in a 10% cutback in fixed assets.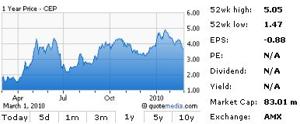 So far this year, that trend has continued, as CEP has reduced their debt by an additional $5 million. The distribution was suspended and a distribution in 2010 has essentially been ruled out.
However, dismal news brings encouraging side effects. The debts could have been foreclosed, but they weren't because the business model for MLPs (Master Limited Partnerships) remains favorable. There is a national priority to expand infrastructure for moving energy products around the US. Where there's life there is hope. The venturesome will follow future press releases for CEP looking for signs of recovery. If favorable, the units should rise (above $4) on expectations distributions will be resumed.
By last week's end, MLP news improved. Enbridge Energy (NYSE:EEP) offered $500 million of 5.2% notes due March 15, 2020, priced to yield 5.205% (only about 150 basis points above the yield on the 10-year Treasury bond). The offering will close on March 2. Proceeds will repay borrowings used to finance a portion of Enbridge Energy's capital expansion projects, including the Alberta Clipper project (expanding pipelines bringing oil shale from Alberta, Canada, to the upper Midwest of the US). Canada is the largest foreign supplier of oil to the US.
Adding to fixed assets (primarily pipelines and terminals), in a sense, is the main business of MLPs. Through the worst financial crisis since the great depression, financing has been available for MLPs (even the weakest). Last year MLPs raised billions of dollars through added borrowings and selling partnership units (equity). MLP owners should feel a sense of comfort when they are spared the financing problems that other companies must contend with.
Disclosure: No positions