Equities generally enjoyed a positive session in Asia and Europe on Friday. In Japan, we noted a much better than expected IP report for January (albeit with a downward revision to METI's forecast for February) and, more so, a much stronger than expected retail sales report for January.
European bourses were further comforted by both a slightly larger than expected revision to UK GDP (now 0.3% qoq). But US markets were essentially unchanged on Friday, with investors faced with some mixed news on both the corporate and economic fronts. The latter included a small upward revision to Q4 GDP growth (now 5.9% saar) that was accompanied by a downward revision to growth in final sales, a slight rise in the Chicago PMI that was accompanied by a decline in new orders, and an unexpected 7.2% mom decline in existing home sales in January despite the earlier stability seen in pending home sales. The University of Michigan home buying conditions index rose modestly in February but has generally moved sideways in recent months.
The Week Ahead
The initial focus this week may well be on developments in Greece with several media reports over the weekend (including the WSJ) suggesting that the German and French governments are presently pondering a plan to provide as much as EUR30bn of funding to Greece, likely via the sale of debt to French and German entities (likely state-owned banks), as well as the public markets. The timing of such a sale, should it go ahead, is unclear. However, German Chancellor Merkel has emphasized in a television interview that the current Greek consolidation plan is not yet sufficient – further measures seem likely to be announced by the Greek Government soon, with the EU commissioner in Athens today – and that at this stage "absolutely no decisions" have been taken to help Greece.
Putting Greece to one side, the diary items of note in Euroland this week include the ECB's rate decision & press conference is due on Thursday, updated PMI and Q4 GDP readings (Wednesday and Thursday respectively) and German factory orders. In the UK, we will have BoE rate setting meeting on Thursday and the manufacturing and services PMIs on Monday and Wednesday respectively.
As far as the US is concerned, markets will get their first taste of snowstorm-impacted data this week. We should see a 75k decline in the key non-farm payrolls on Friday, with risks weighted toward an even weaker number (Wednesday's ADP report will help analysts refine their forecast). Whatever the outcome, markets will have trouble dissecting the impact of the weather from any genuine strength or weakness. This should put additional emphasis on those data releases that are likely to be less impacted by the weather, such as today's manufacturing ISM (expected to be around the same reading as last month) and Wednesday's non-manufacturing sector ISM (expected to rise modestly). In my view the non-manufacturing ISM is actually the most important release this week as signs of gathering strength here would tend to indicate that the recovery is broadening beyond the inventory-reinforced rebound coming through in the manufacturing sector. The other report of note is Thursday's pending home sales report for January.
Today's Market Moving Stories
Lots of bearish news for Sterling news this morning has triggered stops and is pushing GBP significantly lower. It has been almost 3% lower versus USD, and 2% against the Euro. The embattled GBP has been very much centre stage today, hit by a weekend opinion poll that showed the Conservative lead over Labour has slumped to only 2% (consistent with Labour winning the election) .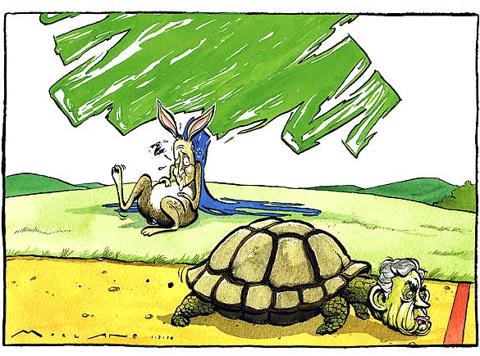 A YouGov survey on behalf of the Sunday Times places the Conservatives on 37%, as against 35% for Labour. This is the closest gap between the parties in more than two years. The paper notes that this means Labour is heading for a total of 317 seats, nine short of an overall majority, with the Tories on a total of just 263 MPs. The WSJ asks in an opinion piece: "As the Greek debt crisis rumbles on, is a sterling crisis next?" There was an announcement that Prudential (NYSE:PRU) is buying AIG's (NYSE:AIG) Asian business. This deal comprises $25bn of cash ($20 from a underwritten UK rights issue, $5bn from a debt issue) and $10.5 of shares. The perception of large GBP sales from this quarter could not have come at a worse time for GBP, as investors start to wrestle in earnest with the UK's deficit problem amid growing electoral uncertainty. And to cap it all the M4 data was revised lower (0.4A, 0.6P) which may worry the market that the BoE are more likely to increase QE. Post a more dovish BoE in the inflation report, this remains a GBP negative at a time where the Fed are slowly restoring normalcy to policy. The underlying numbers were not as negative but today, when all else is focused on the bad numbers, not much attention is paid to the intricate details.
Luxury-home prices in central London jumped 17% in February from a year earlier, the biggest gain in almost two years, as more buyers competed for a dwindling number of properties, Knight Frank said. The value of houses and apartments costing more than 1 million pounds rose 3.2% from January, the London-based property broker said in an e-mailed statement today. The annual increase was the largest since the market peaked in March 2008 and compares with an 11.5% advance in January. Prices are still 10% lower than the peak
Greek News
French Finance Minister Christine Lagarde tells radio Europe 1: "I have no doubts that Greece will succeed in refinancing itself through ways that we are exploring at the moment." She adds that the solutions being considered could include, "either private partners, or public partners — or both." An official close to the French government tells the WSJ: "We are ready to help Greece and to consider all appropriate measures depending on their acceptability to our euro-zone partners, notably Germany because we started this process bilaterally and we are keen to continue in the same way."
German Chancellor Angela Merkel tells television station ARD: "It now very important that we are aware that it is our joint currency but also that we get to the roots of the current difficulties. Therefore I am very grateful that the Greek government plans very courageous cost-saving and austerity measures against the deficit." She stresses that the European Union treaty doesn't allow for the bailout of states and notes: "This means that at the moment, the best way to help is to make it clear that Greece should do its homework." Confused ? You should be.
Since late Friday, a variety of stories have begun to emerge indicating that the German government is preparing to support a bailout package for Greece. Although the details vary from newswire to newswire, some common themes do emerge:
• Bloomberg quoted German lawmakers as saying that Germany is considering buying around EUR 5 Bn of Greek bonds through state-owned lender KfW Group. These purchases, would, in turn, be backed by German government guarantees. The newswire stated that these measures were part of a European plan to grant Greece as much as EUR 25 Bn in aid, "should the need arise."
• Greek newspaper Ta Nea provided slightly more detail, quoting unnamed banking and official sources as saying that KfW will either buy Greek government bonds directly or provide guarantees for other banks to buy them. It also reported that France's Caisse des Depots will be involved in the rescue. In return, the Greek government has reportedly agreed to introduce additional austerity measures worth some EUR 4 Bn. The paper also noted that EU Economic Affairs Commissioner Olli Rehn plans to use his visit to Athens to announce the aid plan.
• The FT provided support for the second option highlighted in Ta Nea's report. The paper stated that Germany's biggest banks are looking at a rescue plan under which they will buy Greek debt backed by financial guarantees from Berlin. Given that German banks' overall exposure to Greek debt is $43.2 billion, (according to the BIS) and the reluctance already expressed by the likes of Eurohypo to buy any more Greek paper, a guarantee from Berlin would be the only way to make such a plan work.
These developments have been given an added urgency and focus on the news that a team from ratings agency Standard & Poor's is on its way to Athens for talks Tuesday with government officials about the country's economy and ongoing efforts to reduce its public sector budget deficit, senior Greek officials and banking sources told Market News International. The visit comes only five days after S&P reaffirmed that Greece was still on negative credit watch and said further downgrades on the country's sovereign debt were possible within the month. A spokesman at S&P had no comment on the reported visit to Athens. But MNI has confirmed through other means that a senior S&P official in charge of monitoring Greece will be checking into an Athens hotel later today. The Greek sources said officials in Athens were initially reluctant to receive the S&P team this week. They preferred to wait until after March 16, when EU finance ministers are scheduled to meet in Brussels and render their judgement on Greece's deficit-cutting efforts –including new measures the government has announced recently in addition to its original "Stability and Growth" plan. The sources said the Greek government believes there will be a clearer picture on Greek budget figures for the first quarter after March 16. Senior Greek sources told MNI last week that under pressure from the Commission, ECB and IMF, Greece had agreed to an additional €3.5
billion in budget cuts and tax increases, but that it would not go beyond that. The European Commissioner for Economic and Monetary Affairs, Olli Rehn, is in Athens today for talks with Greek officials.
Commodities Corner
Copper jumped the most in 11 months after an earthquake in Chile cut production in the world's biggest producer. Stocks rose, oil climbed above $80 a barrel and currencies of commodity-supplying nations strengthened. The May-delivery copper contract gained as much as 20.3 cents, or 6.2%, to $3.4870 a pound, the largest intraday advance since April. Chile's 8.8 magnitude earthquake struck Feb. 27, disrupting mines a day after the U.S. reported the fastest economic growth in six years. In China, the world's biggest copper user, Premier Wen Jiabao said policy makers need to strike a balance between maintaining "stable and relatively fast" growth and inflation. Codelco, the world's largest copper producer, said it will meet supply contracts after power cuts caused by the temblor forced the company and Anglo American Plc (OTCPK:AAUKY) to halt operations at some mines. Copper for three-month delivery on the London.
Metal Exchange surged as much as 5.6% to a five-week high of $7,600 a metric ton and Jiangxi Copper Co. (JIAXF.PK), China's biggest maker of the metal, climbed 5.8% to HK$16.70 in Hong Kong.
George Soros is helping drive up gold prices by doubling his bet in a market even he considers a "bubble" as Goldman Sachs Group Inc., Barclays Capital and HSBC Holdings Plc predict more gains before it bursts. Soros Fund Management LLC, which manages about $25 billion, increased its investment in SPDR Gold Trust, the world's largest exchange-traded fund for the metal, by 152% in the fourth quarter, a Feb. 16 Securities and Exchange Commission filing shows. While prices have fallen 8.9% since reaching a record on Dec. 3, 15 of 22 analysts in a Bloomberg survey say gold will reach a new high, with the median forecast predicting a 16% advance to as much as $1,300 an ounce this year.
Company / Equity News
Chip stocks are leading the US market higher today after the Semiconductor Industry Association said chip sales in January rose more than 47% from the same month a year ago.
Vivendi (OTCPK:VIVEF) FY results were a touch better than expectations and the Group is guiding for EBITA growth for 2010. Q4 performance was relatively strong across most divisions with the Group growing profits in all divisions apart from SFR and Canal + Group with SFR struggling with additional taxes and the competitive environment in domestic operations. Overall, the main risks here remain legal (class action lawsuit) and M&A (despite the proceeds expected from the NBC disposal).
Pearson's (NYSE:PSO) adjusted operating profits were ahead of expectations and 13% up on the prior year (2% adjusting for acquisitions and currency impacts). The main commitment from the outlook statement was for another year of operating profits growth with the Group expecting a robust performance across its three main divisions.
Auto giant VW's (OTCPK:VLKAF) prelim results were slightly disappointing with operating profits of Euro 1.9Bn for the full year slightly behind expectation levels with the Group making a commitment to grow revenues and operating profits next year. Still at 70% down on 2008 and for a group of VW's global reach this remains a modest ambition in the context of decent market expectations outside of Europe.
Also reporting today was Tomkins (TKS), and whilst the Group's results were a headline miss against expectations due to one-offs and adjusted operating profits fell 35% year over year, Tomkins has still had a far better 2009 than could reasonably have been expected at the beginning of the year. Net debt fell sharply during the year reflecting a strong cash conversion of GBP 272M adjusted operating profits to USD 207M, c. 0.5x net debt to EBITDA.
Merck (NYSE:MRK) has gatecrashed Thermo Fisher's (NYSE:TMO) earlier offer for Millipore (MIL) (Ba1/BB+ positive/NR) by announcing that it has agreed to buy the US-based laboratory supplies and services provider for USD107/share. This is equivalent to an enterprise value of approximately USD7.2bn (EUR5.3bn), representing a punchy 15x EBITDA and a 50% premium on the share price before Thermo Fisher's USD6bn bid. The deal will enhance Merck's existing chemical operations, particularly the PLS division, and will be financed by a combination of existing cash (Merck has EUR2bn of cash and short term investments on balance sheet as at December 31) as well as a term loan which Merck subsequently plans to refinance through the issuance of bonds.
Prudential has confirmed that it is in advanced talks with AIG for PRU to buy the Asia business of AIG for an estimated USD35bn (c.GBP24bn). This is a huge buy and the acquisition risk is high, with the deal in sterling terms more than the size of Pru's entire market cap which is GBP15bn. According to the FT the AIG unit has USD2bn of operating profit. The stock is off 11% today.
HSBC Holdings (HBC.A) reported a 2% rise in its annual profit on a drop in taxes, missing analyst estimates (as $5.83bn versus expected $7.76bn so a BIG miss), with the group's Asia ex-Hong Kong business lagging. The stock is off 7% today.
Tullow (TUWLY.PK), together with its partners, has announced a light oil discovery on the Onal licence offshore Gabon. No guidance on recoverable volumes was given. The discovery is an incremental positive for Tullow, which has a 7.5% interest in the Onal licence. Tullow's cumulative interests in Gabon represent 4% of our group risk-weighted valuation.
Tesco (NASDAQ:TESO) is up % today after Warren Buffett's Berkshire Hathaway (NYSE:BRK.A) disclosed an increased stake. Berkshire said on Feb. 27 that its holding in the U.K.'s largest retailer rose 3.1% giving the Omaha, Nebraska-based company a 3% stake. Separately, JPMorgan Chase & Co. raised its rating on the shares to "neutral" from "underweight."
SanDisk Corp. (SNDK), the biggest maker of flash-memory cards for digital cameras and phones, increased its first-quarter sales forecast to between $925 million and $1 billion.

RESEARCH UPDATES

Bernstein upped Barclays (NYSE:BCS) to Outperform, from Marketperform, upped Deutsche Bank (NYSE:DB), Credit Suisse (NYSE:CS) to Marketperform, from Underperform, cut Societe Generale (OTCPK:SCGLY) to Marketperform, from Outperform; BofA/Merrill upped BP (NYSE:BP) to Buy, from Neutral, cut Total (NYSE:TOT) to Neutral, from Buy; Deutsche Bank upped Adidas (OTCQX:ADDDF) to Hold, from Sell; Credit Suisse cut Bayer to Neutral, from Outperform; RBS upped Carrefour (CRERY.PK) to Hold, from Sell; Morgan Stanley cut SBM Offshore (OTCPK:SBFFY) to Equalweight, from Overweight, UBS upped SBM to Buy from Neutral (SBM reported last Friday)
Royal Dutch Shell (NYSE:RDS.A) is selling assets including fields in the North Sea and its European liquefied petroleum gas business to help finance its $28 billion capital spending program this year, the Financial Times said, citing unidentified people involved in the proposed transactions.
AIB (AIB) is due to release results tomorrow, (expect: €2 billion operating profit, €5.3 billion in loans losses) we get our first look at a domestic banking player's performancei for 2009, before NAMA starts to radically impact the balance sheet shape.

And Finally


Disclosures: None