A week ago, I took partial (30-50% of position) profits in four stocks that were running hard and very extended, hoping to buy back on a dip. The 5th stock Rackspace Hosting (NYSE:RAX) was cut back (80% of stake) for a different reason: It had rallied from $17 to $20 in just over a week and was facing resistance at the 50-day moving average. At the time, the general market looked poised for more potential downside so the thought process was to lock in the gains and then re-assess based on the market and individual stock pattern.
The chart looked like this a week ago. [click to enlarge]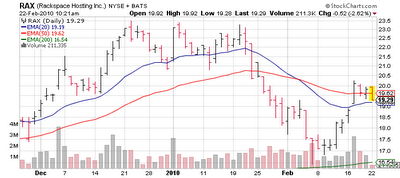 Now the stock has bumped over the 50-day, but has not joined the party with many other names. While that is a bit concerning, it could be consolidating the big move it already made and offers us a chance to buy some long exposure without chasing stocks that are nowhere near any support level. It also offers a measure of safety with clearly defined areas to stop out.
Therefore, for 50 cents more we can get back our position (plus more) and the stock looks in better shape on the chart. If we're wrong we can exit with contained losses. You can see through the last four sessions that RAX's intraday low has been almost to the penny at the 50-day exponential moving average. For those who use Technical Analysis course 301, they might also see what is called a "flag" here which has the potential to be bullish. The last potential positive is the 20-day, which could be about to move over the 50-day moving average in about 3-4 days if the stock can hold steady in price (or better yet, appreciate) - that is generally also bullish.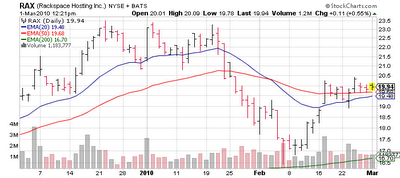 I am adding a 2% exposure around $19.90. I will give this one some leeway and place a stop loss below $19, or about a 4.5% maximum downside. Any move over $20.50 and I will strongly consider adding to the position as that would be a new recent high.
Other than that, most of my other positions have taken off like chickens with their heads cut off so it is difficult to chase after them, but we do have our new index positions to compensate for high cash levels if the market continues to run. Today was another day of "worse than expected" economic news (ISM Manufacturing came in low, income growth only 0.1%) that the market could care less about - following last week's pattern. Even Chinese PMI came in lower than expected. I guess analyzing economic data is once more for the chickens birds. As long as the squiggly lines on charts tell HAL9000 to buy, so must we.
Disclosure: Long Rackspace Holding in fund; no personal position