The age of stem cell acceptance has arrived. Last week shares of OncoMed Pharmaceuticals, Inc. (OMED) soared over 100%, moving from a $14.00 close on December 2nd to an intraday high of $32.39 on December 4th. The news that drove shares this high was a deal between OMED and Celgene Corporation (CELG). The companies announced an agreement to jointly develop and commercialize up to six anti-cancer stem cell (CSC) product candidates from OncoMed's pipeline.
Under the terms of the agreement, OncoMed will receive an upfront payment of $155 million, and Celgene will also purchase approximately $22.25 million in a private placement of newly issued shares of OncoMed's common stock at a price of $15.13 per share. Investors cheered the news calling it a big win at a cheap price for CELG. The key takeaway, however, was the valuation placed on this deal: upwards of one billion when all milestones and potential royalties are taken into account. What has us amazed at this deal, and should send investors scrambling to purchase other stem cell stocks, is that this money was paid for Preclinical and Phase 1 stem cell drugs. This is not a biotech field that has many players and thus, based on this deal, stem cell companies such as NeoStem, Inc. (NBS) should see their valuations increase rapidly in the near future.
NeoStem is a leader in the emerging cellular therapy industry. Cellular therapy is the process by which new cells are introduced into a tissue to prevent or treat disease, or to regenerate damaged or aged tissue.
NBS has four divisions:
Amorcyte - Focused on cardiovascular disease
Athelos - Focused on immune disorders
VSEL™ Technology - Focused on regenerative medicine
PCT (Progenitor Cell Therapy) - Focused on contract manufacturing and cell storage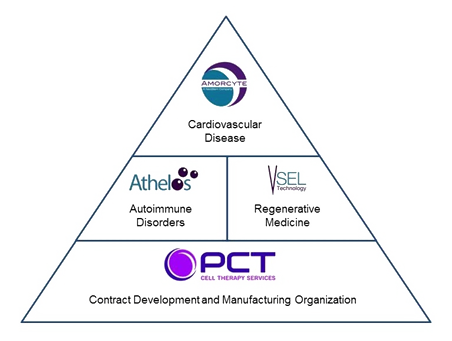 The star of the NBS pipeline and most advanced clinically is Amorcyte -- specifically its AMR-001 drug candidate in development for preserving heart muscle function after a severe heart attack. Enrollment for the PreSERVE Phase II clinical trial is on track for completion in 2013, and data read out is expected 6-8 months after the last patient is infused. The data Safety Monitoring Board (DSMB) recommended continuing this trial following a third interim data and safety review. This week NBS announced it had completed enrollment of the trial.
At the time of a heart attack, doctors rush to open up the coronary artery, usually using a stent. The first 5 to 11 days following the heart attack are believed to be the optimal time to administer AMR-001 via that same artery. With angiogenesis initiated in the peri-infarct zone (that is, the living tissue on the periphery of the dead tissue), the myocardium surrounding the site of the heart attack is preserved.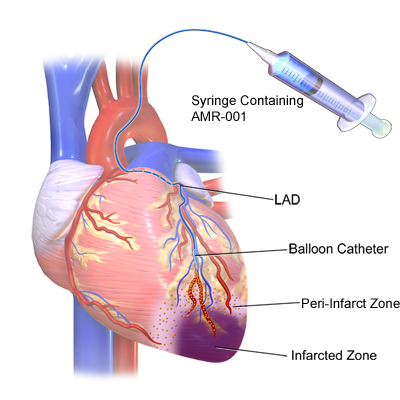 Athelos is the division looking to develop therapies using a person's own cells to treat disorders of the immune system. In collaboration with Becton, Dickinson and Company, a global medical technology company, Athelos' technology platform offers the potential to treat many diseases that result from an imbalance in the immune system when inflammatory cells go unchecked. Therapies using regulatory T cells, or "Tregs", represent a novel approach to restoring balance in the immune system. By enhancing Treg cell number and function to inhibit pathogenic immune responses, Treg therapies offer the potential to treat many autoimmune diseases. This trial is currently in Phase 1. The Athelos division also holds 21 issued patents.
VSEL™ Technology is probably the most intriguing of NeoStem's divisions. NeoStem has been engaged in research and development of new therapies and adult stem cell technology based on human very small embryonic-like stem cells, or VSELs, with the University of Louisville Research Foundation and other academic partners. Recently, research sponsored by NeoStem at the University of Michigan has demonstrated that VSEL stem cells can regenerate bone in a mouse model.
Potential Advantages of VSELs:
Adult cells without the ethical and moral dilemmas associated with the use of fetal cells
Avoids the potential negative biological effects associated with embryonic stem cells, such as their propensity to form tumors
Offers the advantage of using autologous stem cells (i.e., the patient's own cells) for therapy, as opposed to having to rely on donor cells that are susceptible to immune rejection
NBS expects to file an IND to begin human clinical trials soon.
The final division of NeoStem is PCT (Progenitor Cell Therapy), acquired by the company in 2011. PCT is a contract development and manufacturing organization with manufacturing, regulatory, and commercialization expertise for therapeutics development. A well know company that used PCT's services for manufacturing is Dendreon Corp. (DNDN) for its Provenge® cell therapy. NBS generates all its revenue from this division, $10.6 million for the first nine months of 2013. This revenue helps fund the NBS pipeline and aid in its cash flow needs.
NBS had a busy month, presenting at three investor conferences. The company is also presenting at another big conference on December 19th. Chairman and CEO Robin L. Smith will be presenting at the Wall Street Conference.
The last quarter was active for NBS. The company completed a 1 for 10 reverse split of its stock and moved its shares from the NYSE marketplace to the NASDAQ. The reverse split, coupled with the move to the NASDAQ, had brought much more investor interest into the stock and resulted in a dramatic increase in liquidity and institutional interest. Both of these are very bullish developments for the long-term investor.
Financials:
On October 9th NBS completed a $40 million financing, selling 5.75 million shares at a price of $7.00 per share.
NBS is now sitting on a cash hoard of $58 million per the earnings report on November 7th.
NBS has an average quarterly cash burn of $7 million. At this current burn rate the company is now fully funded for the next two years. The company's market cap is only $128 million, with almost 50% of that in cash.
NBS has a very nice chart breakout looming. A close above the 50-day moving average at $6.75 will set the stage for a retest of the year highs at $9.00+.
The age of stem cell drugs has arrived. The recent investment in OMED is just the start of a rush towards investment in the stem cell sector, a sector with only a few players. OMED now trades at a market cap of $750 million. NBS, with its advanced pipeline, appears to be undervalued at $128 million, with $56 million in cash. The partnership this past week for OMED will likely prompt more deals in the stem cell sector-- and NBS is a stem cell stock that should reap huge rewards from this renewed interest. The chart is also supportive of a sharp move higher soon.
Disclosure: I have no positions in any stocks mentioned, and no plans to initiate any positions within the next 72 hours. I wrote this article myself, and it expresses my own opinions. I am not receiving compensation for it (other than from Seeking Alpha). I have no business relationship with any company whose stock is mentioned in this article.