IAC/InterActiveCorp (IACI) is an internet information provider and owner of Match.com, OkCupid.com, Vimeo, CollegeHumor.com, and a variety of additional websites.
The company is chaired by Barry Diller, who is chairman of Expedia (NASDAQ:EXPE), and on the boards of Coca-Cola (NYSE:KO) and Graham Holdings (NYSE:GHC). In December 2012, Mr. Diller sold his stake in TripAdvisor (NASDAQ:TRIP) to Liberty Interactive (LINTA). Mr. Diller was formerly a visionary chairman and CEO of Paramount and Fox Inc. In the 1960's he helped introduce the idea of made-for-television-movies on ABC.
Currently IAC/InterActive corporate bonds, rated junk by Moody's and S&P, stand out on the secondary market. The IAC/InterActive bonds were issued June 18, 2013:
| | | | |
| --- | --- | --- | --- |
|   | credit rating | price | yield% |
| Iac Interactivecorp Sr Nt 4.75% 2022, Cond Put Change Of Control, Cont Call 12/15/17@102.38, Cond Call, Make Whole Call (cusip: 44919PAC6) | Ba1/BB+ | 93.75 | 5.64% |
| Mediacom Broadband LLC & Media Sr Nt 6.375% 2023, Cond Put Change Of Control, Cont Call 04/01/18@103.19, Cond Call, Make Whole Call (cusip: 58446VAG6) | B3/B- | 100.25 | 6.32C / 6.33% |
| Viacom Inc New Sr Deb 4.5% 2042, Cond Put Change Of Control, Make Whole Call (cusip: 92553PAL6) | Baa2/BBB | 88.04 | 5.32% |
I've added Mediacom and Viacom bonds, to place the IAC/InterActive bonds into perspective. Notice Mediacom is rated lower, and priced slightly over par. Viacom is rated investment grade, though this particular set matures in 2042 and is priced under par.
IAC/InterActive Restructuring
IAC/InterActive recently announced a transition, whereby current IAC/InterActive CEO, Greg Blatt, will become chairman of a group of subsidiaries including Match.com, Tutor.com and DailyBurn (an exercise / fitness website.) Mr. Blatt rose to the position of CEO after a stint leading the company's Match segment.
The transition is seen as a possible prelude to a spin-off. Though, one has not been announced, the news is speculation of importance to bond investors. Wells Fargo downgraded IAC/InterActive, to market perform, on the restructuring announcement and reportedly sees a spin-off as "likely."
The New Bonds
The IAC/InterActive bonds' prospectus shows they were issued as part of a $500M exchange for old IAC/InterActive bonds. The new prospectus details change of control as follows:
If we experience specific kinds of changes of control, we will be required to make an offer to purchase the exchange notes at a purchase price of 101% of the principal amount thereof, plus accrued and unpaid interest to the purchase date
The prospectus clarifies the reason for an exchange:
... the offer and sale of the exchange notes will have been registered under the Securities Act, and thus the exchange notes generally will not be subject to the restrictions on transfer applicable to the old notes or bear restrictive legends...
The prospectus also details the structure of the old notes versus the new ones:
... These restrictions on transfer exist because we issued the old notes pursuant to an exemption from the registration requirements of the Securities Act and applicable state securities laws. Generally, the old notes that are not exchanged for exchange notes will remain restricted securities. Accordingly, those old notes may not be offered or sold, unless registered under the Securities Act and applicable state securities laws, except pursuant to an exemption from, or in a transaction not subject to, the Securities Act and applicable state securities laws.
In light of the news Match.com could be a step closer to a spin-off, bond investors are left to wonder: How strong would the remainder company be? Given the fact a significant source of revenue could be removed from IAC/InterActive, the development may be viewed negatively by bond investors.
Match Revenue = 26.5% Of Total, Q3 2013
Match.com's recently reported revenue and operating income show:
| | | | |
| --- | --- | --- | --- |
|   | Q3 2013 | Q3 2012 | Growth |
| Match, Revenue | $201.1M | 178.2M | 13% |
| Match, Operating Income | $64.8M | $56.1M | 16% |
| IAC/InterActive Total Revenue | $756.9M | $714.5M | 6% |
| IAC/InterActive Total Operating Income | $122M | $78M | 56% |
Both, IAC/InterActive and Match, had a good year.
It is important to emphasize the IAC/InterActive bonds are rated below investment grade. While they are one notch below investment grade, if a spin-off occurs, the credit rating would certainly be reviewed. There would also be potential for a downgrade; conversely, any one of a number of scenarios could play out.
Moody's only recently upgraded IAC/InterActive's debt, from Ba2 to Ba1, in December 2012. Municipal bonds known as Liberty Bonds, issued by New York City for IAC/InterActive, were upgraded to Baa3 at that time. New York City issued these types of bonds to several recipients to revitalize after September 11th 2001, some have been successful, while some have not been.
Going back further; it was news of IAC/InterActive's spin-offs, in November 2007, which prompted a downgrade to Ba2 in August 2008. Therefore investors must contemplate whether history will repeat itself.
IAC/InterActive Spin-Offs
IAC/InterActive spun-off Tree.com (NASDAQ:TREE), Home Shopping Network (NASDAQ:HSNI) and Interval Leisure (IILG) in 2008. Mr. Diller retired as CEO of IAC/InterActive in 2010, and continued as chairman.
Let's look to see how IAC/InterActive compares to a few of the companies spun-off. To do this I look to net income over time, to gain a sense of profitability.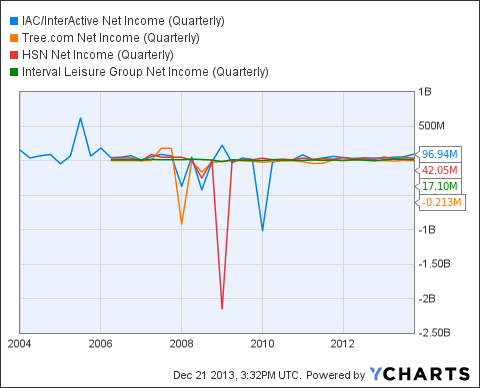 IACI Net Income (Quarterly) data by YCharts
Now, let's look closer, during the past two years:
IACI Net Income (Quarterly) data by YCharts
Now, let's look at total long-term debt: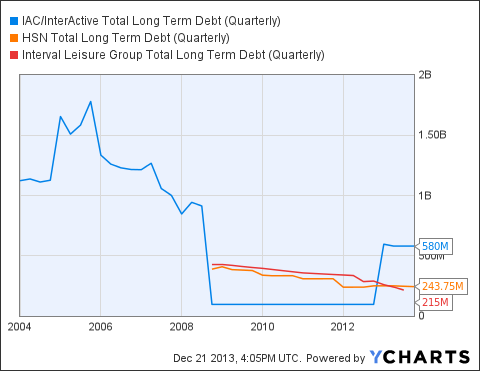 IACI Total Long Term Debt (Quarterly) data by YCharts
My first reaction is: IAC/InterActive has previously been able to manage its debt. The spin-offs have created a network of smaller companies, perhaps beneficial to original stockholders, and possibly less attractive to bond investors.
IAC/InterActive Debt to Equity Ratio
Take a look at the company's debt to equity ratio, compared to Coca-Cola and Berkshire (NYSE:BRK.A); both considerably larger companies: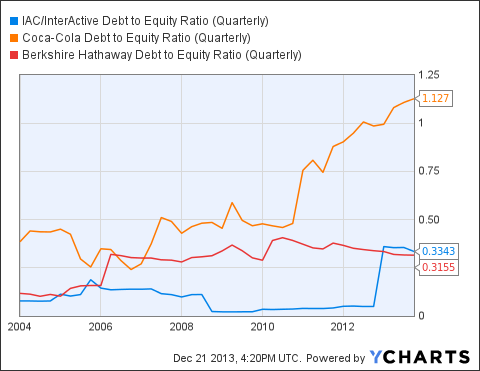 IACI Debt to Equity Ratio (Quarterly) data by YCharts
IAC/InterActive brings in less than $100M net income quarterly compared to these Goliaths. Berkshire currently brings in about $4.5B net income a quarter.
One of IAC/InterActive's board members, Donald Keough, was president of Coca-Cola from 1981 to 1993, and serves on the board of Berkshire Hathaway. Mr. Keough was also chairman of Columbia Pictures in the mid-1980s, as well as chairman of Notre Dame's board of trustees and a major benefactor.
While Mr. Diller and Mr. Keough are superlative businessmen, investors must look down the road.
Web Rankings / Time On Site
One competitor to IAC/Interactive's dating websites is eHarmony, a private company based out of Santa Monica, California. eHarmony was founded by Neil Clark Warren, a Princeton Theological Seminary PhD recipient. Though, you will see, currently eHarmony is not nearly as popular.
IAC/InterActive has several strong brands; though, most certainly Ask.com and About.com (recently purchased from New York Times (NYSE:NYT)) are dwarfed by the non-profit Wikipedia.org.
Here is a list of current global rankings and time spent on average per user. I will add a few other sites to this list, to provide perspective:
| | | |
| --- | --- | --- |
|   | global rank | time on site |
| Google (NASDAQ:GOOG) | 1 | 18:56 |
| Facebook (NASDAQ:FB) | 2 | 29:53 |
| YouTube | 3 | 17:42 |
| Yahoo (NASDAQ:YHOO) | 4 | 8:16 |
| Wikipedia | 6 | 4:27 |
| Twitter (NYSE:TWTR) | 11 | 9:02 |
| Ask | 31 | 3:09 |
| About | 85 | 2:15 |
| Vimeo | 102 | 3:42 |
| NYTimes | 116 | 3:39 |
| Match | 431 | 9:42 |
| Seeking Alpha | 913 | 4:18 |
| CollegeHumor | 2,438 | 3:22 |
| eHarmony | 3,364 | 6:52 |
While Ask.com, About.com and Vimeo.com are ranked well globally, currently their average time on site, per user, is considerably lower than the competition. Match.com, on the other hand, boasts the most time spent, by users, of an IAC/InterActive company in this comparison.
Will Success Beget Success?
IAC/InterActive has done well in its own right; the company's headquarters are something of an architectural landmark in New York City. The building was built using proceeds of an $80M Liberty Bond issuance in 2005 (cusip: 64971PCN3). They are due in 2035 and callable beginning September 2015. The Liberty Bonds issued for IAC/InterActive's headquarters currently trade with an approximate 5.15% yield on the secondary market.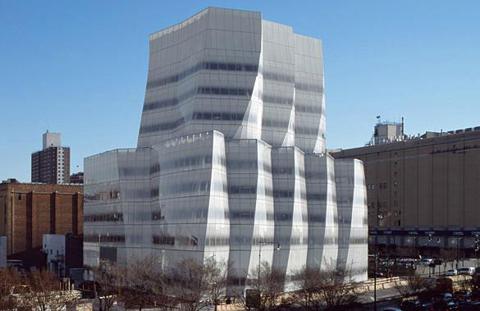 Clearly Barry Diller has forged a series of strong business endeavors; though, Expedia and IAC/InterActive have not risen to the heights of an Amazon (NASDAQ:AMZN) or Google. IAC/InterActive has found a few successful niches.
One of IAC/InterActive's strong suits is a diverse portfolio of services, relative to a company like eHarmony. Clearly Match.com is one cornerstone of IAC/InterActive's business. To gain a sense for the divisions of IAC/InterActive, check out their five main business categories:
The most important question to weigh is whether IAC/InterActive will spin-off subsidiaries. The fact the company has not announced plans to fill Mr. Blatt's role as CEO of IAC/InterActive is questionable. Shares of the company's stock soared over 15% on the news; however, have since withdrawn slightly.
Will Match Spin-Off?
Until the question of a spin-off is resolved, IAC/InterActive's bonds should be viewed cautiously. Bond investors searching for a company that builds strength and retains it might avoid IAC/InterActive bonds, because of the history of spinning off companies.
Investors searching for yield, and junk bonds priced at slight discounts should keep an eye on the new IAC/InterActive bonds. Morningstar (NASDAQ:MORN) shows Vanguard High-Yield Corporate Fund (VWEHX) is a top holder of IAC/InterActive bonds, this mutual fund closed last year; however, has reportedly reopened.
"The fund was closed to reduce cash flow, with the aim of preserving the advisors' ability to implement their investment strategy and produce competitive long-term returns," Mr. McNabb said. "Cash flow to the fund has subsided, which, along with a change in market conditions, has enabled us to reopen the fund."
VWEHX is 90% invested in bonds / 0% in stocks, whereas second top IAC/InterActive bond holder, Fidelity Capital and Income (FAGIX) is 80% in bonds / 15% in stocks, which could make it more compelling.
Vanguard shows a 5.7% distribution yield on VWEHX, and a 4.35% SEC yield. Vanguard defines SEC yield as follows:
The SEC yield for a bond, balanced, or stock fund is based on a formula mandated by the Securities and Exchange Commission (SEC) that calculates a fund's hypothetical annualized income as a percentage of its assets...
Vanguard also notes:
Investors should be cautious in evaluating Vanguard High-Yield Corporate Fund's current yield. This yield, while accurate, includes a risk premium to compensate investors for a potential loss of capital and income. Since the fund invests in lower-grade bonds, it incurs a higher risk of default on its bond holdings than investment-grade portfolios.
Given uncertainty surrounding IAC/InterActive, I am more inclined to consider mutual fund exposure, over direct exposure. The company stands out for a strong reputation, and strong leadership; though, interest rates appear to be very sensitive currently.
It is unclear whether Mr. Diller is wiling to go back down the road to Ba2 or lower. This would make it more expensive to borrow in the future; though, the company was able to take advantage of the recent credit rating upgrade and lower interest rates. While the company's corporate and muni bonds suggest a certain longevity and staying power, the restructuring and potential for lessened revenue increases possible risk. Given the strength of Mr. Diller's leadership; however, I also see the potential for durability.
If you have any thoughts on IAC/InterActive please leave a comment below.
Disclosure: I am long BRK.B, FB, KO, NYT, TWTR, YHOO. I wrote this article myself, and it expresses my own opinions. I am not receiving compensation for it (other than from Seeking Alpha). I have no business relationship with any company whose stock is mentioned in this article.
Additional disclosure: I am considering the IAC/Interactive junk bonds, however, will likely wait until clear direction on the company's Match subsidiary. I am considering Vanguard High-Yield Corporate Fund, I am not considering Fidelity Capital & Income. I am long University of Notre Dame corporate bonds and income funds specifically for exposure to NYC Liberty Bonds. This article is not a recommendation to buy or sell. Please consult a financial adviser to determine proper allocations, if any.