My last few articles have focused on a set of 15 biotechnology companies acquired from FINVIZ's screener using my PIC criteria. The three articles presented so far have focused on biotech bargains, revenue-growth biotechs, and pick-and-shovel biotechs. There are two companies left on my list - Biogen Idec, Inc. (NASDAQ:BIIB) and Gilead Sciences, Inc. (NASDAQ:GILD) that have yet to be mentioned. The title above should give a clue as to which company I intend to write about here, which may be somewhat ironic in light of the fact that Gilead has lost the "numbers game" and no longer qualifies to be on my "PIC" list.
And so it goes...
Gilead Sciences, Inc.
Gilead was founded in 1987 with an avowed focus on finding treatments for serious viral diseases. Headquartered in Foster City, California, the company has had a global perspective from the outset, its first drug approval - AmBisome - being achieved in Europe in 1990.
From the years 1999 through 2013 Gilead engaged in an aggressive series of acquisitions, ultimately buying 12 companies, giving it access to commercial products, research pipelines, and international markets as well as possession of production facilities. The following is a list of acquisitions:
The cost of these transactions tops $17 billion,[1] an amount that secured a solid foothold in the global pharmaceutical marketplace.
As mentioned above, Gilead has been primarily focused on serious viral infectious diseases, and the bulk of its products to date attest to that commitment:
Clearly, Gilead has a dominating line of drugs on the market, and the timing of their introduction seems optimal to assure lucrative exclusivity income to 2020 and beyond. Sustainability of that income flow needs a viable and vital pipeline to back it up, however. In this regard, Gilead brings a lot to the table, as it has developed and purchased an enviable pipeline:
At present, Gilead has the following drugs awaiting approval:
Cobicistat (HIV/AIDS) - EU approved (as Tybost); awaiting US approval;
Elvitegravir (HIV/AIDS) - EU approved (as Vitekta); awaiting US approval;
Sofosbuvir (Hepatitis C) - US approved (as Sovaldi); awaiting EU approval;
Idelalisib (Indolent non-Hodgkin's Leukemia) - awaiting US approval.
The following drugs are currently in Phase III of their clinical trials:
Single-Tablet Regimen w/ elvitegravir (HIVAIDS);
Sofosbuvir and ledipasvir fixed dose (Hepatitis C);
Ranolazine (Cardiovascular, Incomplete Revascularization);
Ranolazine (Cardiovascular, Coronary Artery Disease in Type 2 Diabetes);
Idelalisib (Oncology, Lymphocytic Leukemia);
Momelotinib (Oncology, Myelofibrosis).
Clinical trials at Phase II are being conducted for these drugs:
Single-Tablet Regimen w/darunavir (HIV/AIDS);
Sofosbuvir and GS-5816 fixed dose (Hepatitis C);
GS-9451 (Hepatitis C);
GS-9669 (Hepatitis C);
Tenofovir Alafenamide (Hepatitis B);
GS-4774 (Hepatitis B);
Simtuzumab (Liver Fibrosis);
Ranolazine (Cardiovascular, Paroxysmal Atrial Fibrillation);
Simtuzumab (Idiopathic Pulmonary Fibrosis);
GS-5806 (Respiratory Syncytial Virus);
Simtuzumab (Oncology, Myelofibrosis);
Simtuzumab (Pancreatic Cancer);
Simtuzumab (Colorectal Cancer);
GS-9973 (Oncology, Hematological Malignancies);
GS-9820 (Oncology, Lymphoid Malignancies).
Finally, Phase I trials are being conducted for the following drug candidates:
GS-9620 (Hepatitis C);
GS-9620 (Hepatitis B);
GS-5745 (Ulcerative Colitis);
GS-5745 (Solid Tumors).
The 29 trials and submissions listed above constitute a formidable lineup that should provide the sustainability Gilead would need to take it well past 2020 and provide it with the means for pursuing other avenues of growth.
Another consideration worth pointing out is the diversification Gilead has added to its pipeline. An initial focus on HIV (six of its first nine drugs, nine of its first 18) has become a pipeline seeking treatment for over 17 indications; at the same time, their attention to HIV has not been sacrificed.
Why Gilead "Lost Out"
The original list of biotech companies I have been writing about was screened in late October, with the list checked and finalized in mid-November. At that time, I scored each of the companies on the list according to how they ranked in each of 12 measures - this would make the lowest score attainable to be 12 (first place in each measure) and the highest score 180 (placing 15th in each of the measures) - the lowest score being "better." The actual lowest score was 59 [Questcor Pharmaceuticals, Inc. (QCOR)], with the highest score being 140 (Illumina, Inc. (NASDAQ:ILMN)).
Gilead scored 106, finishing in 11th place (interestingly enough, Biogen Idec - the only other company not to be discussed yet - scored 100, placing 10th). Score/placement did not figure into the selection of companies for any of the three articles written from this list. What is interesting is that Gilead, which was selected by the filters used, ought not to be included in the list if the screener were run today.[2]
For a brief refresher on the core elements of the PIC:
EBIT, EBITDA, or Operating Margin > 15%
Return on Assets (ROA) must be positive (> 0)
Return on Equity (ROE) must be positive
Return on Investment (ROI) must be positive
Debt/Equity < 1
Quick Ratio > 1
Dividend Cover [EPS / Dividend] > 100%
Performance [ttm or mrq] must be positive
Dividend cover reflects the degree to which earnings cover dividend payments, with the ideal being that the earnings more than cover dividends; since Gilead does not pay dividends, this is a moot point. Clearly, Gilead's EBITDA (for Gilead's data, see table below) satisfies the first condition, and the next three conditions (returns) are all satisfied as well. Its debt-to-equity ratio is 70% - higher than the 50% preferred by some, but adequate. Gilead also satisfies the final condition (performance) on the basis of its own performance, increasing by 105% to $74.66 as of this writing, up from $36.39 on December 21, 2012.
Where Gilead falls short is with its quick ratio of 0.84, a development that must have occurred recently, as it had a quick ratio of exactly 1.00 when the list was formulated. In principle, one has a choice of using either the quick ratio or the current ratio, but the quick ratio is the more demanding of the two, in that it does not count inventory as part of the total current assets since inventories typically do not display the same liquidity as the other elements of current assets - it is for this reason that the quick ratio is considered the acid test of liquidity for a company and is why I opted for quick, rather than current, ratio as a filter for PIC. [3]
In my opinion, a company should be able to show that it can readily meet its obligations - through cash on hand, easily liquidated investments, etc. Inventory is subject to demand - something over which a company has minimal influence, thus limiting the liquidity of goods on hand. The illiquidity of inventory excludes it from consideration in the acid test.
Examining Gilead Sciences More Closely
While its quick ratio is the reason Gilead would no longer be selected by PIC, it is not the only concern I have about the company. While most of the data reflected in the table indicate a very strong, vibrant, company those data involving book value ("book" or "BV") are troublesome; specifically, the fact that its BV is negative gives me great pause - for all intents and purposes, a book value of zero or less means a company is (materially) without value.
Clearly, a company that brings in approximately $10 billion per year is not worthless, so it would seem natural to wonder where the problem lay.
There are various ways to calculate the book value of a company, but all focus on one particular idea: if a company were to cease operations, what would it be worth to its shareholders?[4] The basic calculation involves subtracting total liabilities from total assets, with the remainder constituting the book value; the amount of money left to be distributed among shareholders.
What becomes an issue - and for Gilead the issue - is the matter of intangible assets, that is, those assets having no physical presence or material value. Such assets include immaterial concepts such as patents and copyrights, as well as abstract concepts such as "intellectual property" and "goodwill."
Intangible assets do not, strictly speaking, have a concrete dollar value, although they do enable the company using them to derive value from them; any reputed dollar worth intangible assets may have is based on value that has been realized through their development and use.[5] As a result of this, perhaps, there has been an ongoing debate over whether and how they should be treated in SEC filings[6]; since it is apparently typical to ignore intangible value, companies that rely heavily on patents, intellectual property and copyrights tend to trade significantly higher than their book value.[7]
There are several ways to compute book value, three of which are:
BV = (Total Assets - Total Liabilities)
BV = (Total Assets - (Total Liabilities + Intangible Assets))
BV = ((Cash and Equivalents + Receivables + Other Assets) - Total Liabilities)
The first method leaves intangibles as part of the Total Assets; the second explicitly subtracts intangibles from assets; the third ignores intangibles by not including them among assets being counted. The method I use on my spreadsheet subtracts intangibles from total assets and then subtracts liabilities from the difference, or:
BV = (Total Assets - Intangible Assets) - Total Liabilities.
In the case of Gilead, based on their 10-Q for the third quarter of 2013, the formula would be:
BV(in millions) = (($22,468.43 - $12,034.46) - $11,275.96),
giving us
BV(in millions) = $10,433.97 (tangible assets) - $11,275.96 (liabilities) = - $841.99.
That is to say, Gilead Sciences had a book value of - $841.99 million, as of 3Q13.
A Tangible Effect of an Intangible Asset
It is beyond the scope of this article to enter into the debate of how to deal with intangible assets. However, as I examined Gilead's data I encountered what may be a correlation worth sharing - specifically the relationship between intangible assets and returns on assets. The discussion will be easier if we have a few companies to compare with Gilead, and to that end I thought it best to use those companies that already have a set of characteristics in common - namely, the other companies in my PIC list. They are:
Questcor Pharmaceuticals, Inc.
China Biologic Products, Inc. (NASDAQ:CBPO)
Jazz Pharmaceuticals plc (NASDAQ:JAZZ)
Santarus, Inc. (NASDAQ:SNTS)
Regeneron Pharmaceuticals, Inc. (NASDAQ:REGN)
Repligen Corporation (NASDAQ:RGEN)
Techne Corp. (NASDAQ:TECH)
BioSpecifics Technologies Corp. (NASDAQ:BSTC)
Anika Therapeutics Inc. (NASDAQ:ANIK)
Biogen Idec Inc.
Celgene Corporation (NASDAQ:CELG)
Charles River Laboratories International, Inc. (NYSE:CRL)
Alexion Pharmaceuticals, Inc. (NASDAQ:ALXN)
Illumina Inc.
A company can acquire a BV of zero or less if, and only if, the combination of total liabilities and intangible assets is equal to or greater than the total assets of the company. As described in the preceding section, Gilead's total liabilities were just over half the total assets of the company. What pushes Gilead into the negative book range is the fact that its intangible assets have been assigned a value greater than the value of the tangible assets. Of the 15 biotech companies I have been considering, Gilead is the only company for which this is true.
Now, a company with negative BV need not have intangible assets that are valued more highly than the company's tangible assets - indeed, intangible assets become a matter of significance mainly when total liabilities are lower than total assets. The following table illustrates the return on assets (ROA) for each of the companies along with the intangible asset-to-total asset proportion (I/A):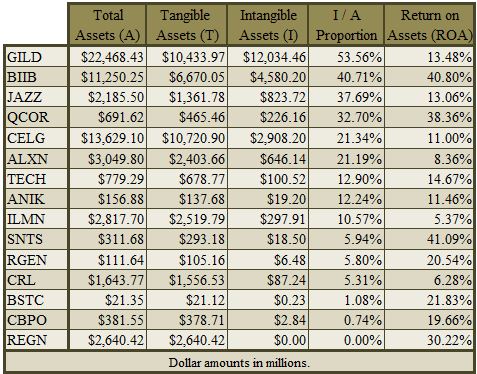 To illustrate the point I wish to make, I have transferred the table above to the graph below:
What the table and the associated graph show is that the proportion of intangible assets to total assets (I/A) is almost inversely related to the return the companies receive on their assets (ROA). The two are not inversely proportional as that would require that as the one increased (or decreased) the other would decrease (or increase) in some more or less precise fashion. Neither are they completely inversely related, as changes in the one are not always followed by an opposite change in the other.
We come a bit closer to the ideal of an inverse relation if we shift focus from the proportion of intangible contents of total assets (I/A) to the direct relation of intangible assets to tangible assets (I/T), as reflected in the following graph:
This graph does seem to illustrate an important point: increasing emphasis on intangible assets does not necessarily result in an increase in revenue, and may in fact adversely affect net profits.
Why the Above Considerations Matter
It is clear that the flurry of acquisitions in which Gilead has engaged has purchased it key elements to sustainability; however, it seems that much of this has been along the vein of intangible asset acquisition, albeit with some additions to the tangible side of the ledger, as well. Token additions to production capacity will not serve it well if Gilead overburdens itself with products, but inadequate facilities prevent it from putting those products to market.
The entire discussion of the fact that Gilead currently has more value tied into intangible assets than tangible ones is meant to underscore a concern investors should have - and which Gilead itself should have - that Gilead take steps to insure that the prodigious pipeline they have has adequate facilities to bring the candidates to market without risking shortages of the important drugs they are developing.
It is incumbent upon Gilead to display to shareholders, both present and potential, an awareness of the need for adequate production capacity, either through the acquisition of appropriate physical facilities or through the formulation of strategic alliances with companies able to accommodate Gilead's needs.
Gilead has displayed its willingness to pursue the acquisition of facilities, as demonstrated above. Furthermore, Gilead has shown its ability to craft collaborative agreements with other biopharmaceutical firms on a global basis. In recent years alone, Gilead has entered into arrangements with other pharmaceutical giants such as Bristol-Myers Squibb Company (NYSE:BMY), Merck & Co., Inc. (NYSE:MRK) and GlaxoSmithKline (NYSE:GSK). Internationally, the company has collaborated with South Korea's LG Life Sciences, Ltd. (LGLS), Germany's Boehringer Ingelheim, India's Ranbaxy Laboratories Limited and Strides Arcolab Limited, as well as Mylan Laboratories, Ltd. (NASDAQ:MYL).
Initial Assessment
I think it is unfortunate that Gilead Sciences, Inc. would no longer be chosen by my screen filters - although I am happy that FINVIZ let it through. As a long-term prospect, I believe that Gilead would make a fine growth-oriented holding once their price has settled, and therein lays the problem.
Gilead's performance over the past two years has been exceptional, rising 291% from 20 December, 2011 through 20 December, 2013 - to $74.66 up from $19.08. Most of the gain seen in the past two years has come since 20 December, 2012, moving upwards by 103%, from $36.83.[8]
Given the high level of performance by Gilead over the past two years, I would be inclined to think that a "cooling off" period is on the horizon, and this is bolstered by the stock's activity during the past three quarters, where there are pronounced drops in stock performance, as shown in the close-up graph covering the period from 1 April to present:
Gilead's stock now seems to be following what I refer to as a "pop-and-drop" pattern - a cycle where favorable information incites a "pop" in the stock price which is followed by a "drop" in price which may be either dramatic or gradual.
Gilead's Recent Pops and Drops
To illustrate the above, I would like to focus on two events that have occurred in the past month. First is the "positive opinion" of Gilead's Sovaldi issued by the European Committee for Medicinal Products for Human Use (CHMP) of the European Medicines Agency. The opinion, issued on 22 November, 2013, will be reviewed by the European Commission for its final approval. The news resulted in a 3.7% pop on the day the news was released - to $74.27 from $71.63 - ultimately moving to $74.81 on 29 November before it moved to $72.42 on 3 December - a drop of 3.2%.
The second event is the FDA's approval of Sovaldi issued on 6 December (a Friday). The result of the approval was a pop of 2.7% - to $75.19 on 9 December from $73.19 on 5 December. Somewhat more dramatic was the subsequent drop of 6.5%, to $70.27 on 12 December.[9] The following graphs show market reaction to the two announcements[10]:
As listed earlier, Gilead is awaiting four approvals between the EU and the FDA, with the presumed approval of Sovaldi by the EU imminent. There would seem to be, then, several opportunities for "pop and drop" activity in the near future.
Longer-Term Prospects
Revenues for Gilead would appear secure - Barrons reports that analysts expect Sovaldi to bring in as much as $1.6 billion in 2014 and $4.5 billion in 2015, although its high price may limit its market. Given the drug's exclusivity, as well as its potential for extensions, it should prove to enable Gilead to maintain revenue growths well into the 2020's.
My concern, described above, is that Gilead may be overextending itself in allowing its intangible assets to outweigh its tangible holdings. If this state of affairs is an indication that the company is allowing its research and development to outpace its ability to produce, this would put pressure on Gilead to pursue strategic alliances which might adversely affect potential earnings.
It would seem incumbent upon Gilead that they proceed on a course of building their infrastructure. New and/or improved production facilities would go a long way towards enabling the company to rely on itself to a greater degree, alleviating the need to subsist on royalty payments.
It would not surprise me to see Gilead slip into a flat-line or even slight decline in performance as 2014 progresses. Investment opportunities in the company, in that case, would depend on the investor's ability to anticipate and act on the "pop-and-drop" cycles that will punctuate the company's near future.
End Notes:

1 Expenditures listed on Wikipedia and confirmed by company press releases.
2 FINVIZ still shows Gilead with a quick ratio of 1.00. My data is direct from the applicable SEC filings, leading me to believe that my data is more accurate.
3 I should point out that while a company may pass through my filters, it does so based on the data used by the screener. When I discuss that company in an article, it is most frequently after I have examined the appropriate data based on the company's 10-K's and 10-Q's; all focus companies are presented with data verified by me to the best of my ability.
4 This is the second sense of the definition provided by Investopedia.com, and is the focus of the subsequent discussion.
5 Wikipedia presents an accessible account of the process of value acquisition. They also point out that the vagaries of the concept have lent the concept something of a negative reputation as being a vehicle for manipulating financial reporting.
6 A discussion of the debate and its impact can be found in Accounting for Intangible Assets, by the Center for Excellence in Accounting and Security Analysis.
7 Companies focused on research and those involved in software development tend to fall into this category.
8 By way of comparison, the company's price moved up only 4% from 21 December, 2010 to 20 December, 2011 - up to $19.08 from $18.28.
9 According to Barrons, the approval by the FDA was fully expected, making the pop something of a surprise to analysts.
10 A third event occurred on 18 December, but this was part of a general rally by stocks in light of the announcement by the Fed to begin tapering QE3.
Disclosure: I have no positions in any stocks mentioned, and no plans to initiate any positions within the next 72 hours. I wrote this article myself, and it expresses my own opinions. I am not receiving compensation for it (other than from Seeking Alpha). I have no business relationship with any company whose stock is mentioned in this article.