We are slated to receive February's auto sales tomorrow, and it will definitely be a month of two extremes.
On the one hand, we have Ford (NYSE:F) and General Motors, which are expected to post strong monthly sales. We have modeled for sales of Ford to be up approximately 27%, with sales from GM to be up approximately 22%. These figures should be taken with a grain of salt, as during February of 2009 GM and Chrysler were teetering on the edge of bankruptcy and auto sales continued to tank as Armageddon feelings were all around the auto market.
On the other hand, we have Toyota (NYSE:TM) and Chrysler. Toyota's past six weeks have been mired by recall after recall, apologies, and what amounted to a public tar and feathering. Due to the sales and production halt of many of the Company's most popular vehicles, sales are expected to decline dramatically. We have modeled for sales to drop below the 100,000 mark for only the second time since 1999, and to fall approximately 10% from last month's figure (98,796). Chrysler is expected to report another decline. Our forecast is for Chrysler's monthly sales to fall more than 10% compared to February of 2009, however we do expect to see a significant sequential improvement.
We have ratcheted our expectations down for the month as the winter storms rocked the nation. The Midwest, Northeast, and even the south were hit with storm after storm, which definitely pressured sales.
Ford and General Motors are going to be two of the biggest winners from this Toyota debacle, but Honda (NYSE:HMC), Hyundai (OTC:HYMLF), Nissan (OTCPK:NSANY), and to a lesser extent Chrysler will also benefit. This jump is only temporary as eventually Toyota will rebound.
Toyota has spent much of the past 50 years growing its market share, and while there have been reports about a massive decline in Toyota's market share, we are not that convinced. We have spoken to a few Toyota dealerships around the country, and most are saying the same thing: customers still love their Toyotas, and maybe even more now as many dealerships are staying open 24-7 to fix all these vehicles. There is no doubt that the news will push some of the fence sitters over to another auto maker, but Toyota's customers are extremely loyal. Additionally, once all these recalls are in the past (i.e. a few months from now), it is shaping up to be one of the best times to purchase a Toyota. Quality is again at the Company's forefront, so you know the models that are produced over the next few months are going to have a quality stamp of approval. Couple that with the expected incentives, and Toyotas could be the best bang for the buck.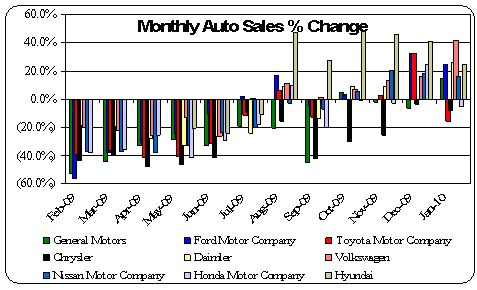 General Motors Making a Comeback
There was an interesting article in Barron's over the weekend about a potential IPO for General Motors, and while some of the estimates seem a bit on the high side for me, there is no denying that the once struggling giant is headed in the right direction. The Company was once saddled with billions dollars of debt, a cost structure that didn't allow it to make money in North America and an industry that was moving toward more fuel efficiency. Now GM has shed more than half of its brands - production of Saturn and Pontiac has stopped, the Company sold the Saab brand and until last week had plans to offload its Hummer brand to a Chinese heavy truck maker. That deal has since fallen apart, and GM says it will now wind down the Hummer brand.
Let's take a look at what could possibly fuel a strong IPO for the Company. First, the Company is one of the market leaders in North America with almost a 20% market share. If GM is able to make vehicles profitably in North America, it bodes well for the rest of the world. Brazil and Russia are two emerging markets that GM holds a strong position in, while in China (through its various joint ventures) it is among the market leaders. Volkswagen (OTCPK:VLKAF) holds the number one spot in China, but both Chevy and Buick are in the top 10 in terms of market share in what has become the largest auto market in the world. CEO Ed Whitacre is matching supply with demand (seems like a no-brainer), which is causing inventories to remain low and resale values to improve. Probably the biggest positive the Company has going for it is the fact that it finally has attractive cars that people are looking to buy. The Malibu hasn't been the success story that the Company was hoping for, but it is far from a bust; the Equinox is among the leaders in the crossover segment; the Camaro is beating the Mustang; the new Cadillac SRX SUV was second only behind the Lexus RX 350; and, even though Tiger is no longer its spokesperson, Buick is making a resurgence with its LaCrosse.
Mr. Whitacre hopes to pay back the U.S. and Canadian governments by June and, while no word has been given about a potential IPO, rumors are hopeful for a mid-2010 offering. We have targeted the beginning of 2011 for an IPO, with a beginning market value of approximately $35-$40 billion (below the estimates from Barron's of a $50 billion IPO). That won't pay the American tax payer back, but it definitely is a step in the right direction.
The following is a table of our expectations for the individual companies' monthly auto sales figures. (Click to enlarge)


Disclosure: Long Ford