By David Russell
Monster Worldwide (NYSE:MWW) is attempting to rally today, and some traders are selling into the strength.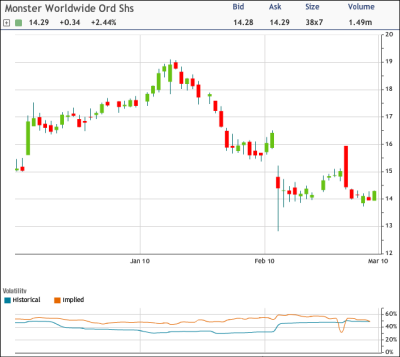 optionMONSTER's tracking programs detected heavy selling of the March 15 calls, with most of the large trades pricing for $0.30 to $0.35. Some 4,761 contracts traded against open interest of 1,717, pushing overall options volume in the employment agency to 15 times greater than average.

MWW rose 2.44 percent to $14.29 in afternoon trading but is down 18 percent so far this year. The stock gapped lower on Feb. 4 after the company reported worse-than-expected results. At least one analyst also downgraded the stock because of its plan to buy HotJobs from Yahoo.

The shares opened as high as $15.94 on Feb. 22 before finishing the day lower, and haven't yet returned to that level. Some chart watchers may interpret the price action as evidence of selling pressure in the stock and look to bet against rallies such as today's.

The call sellers will make money as long as MWW closes below $15.35 by expiration.
There was also selling in the April 15 calls, which traded for about $0.60, and the April 17.50 calls, which changed hands for $0.10 to $0.15. Volume was more than 20 times open interest in both strikes.
(Chart courtesy of tradeMONSTER)