Is Advanced Micro Devices (NYSE:AMD) an over-hyped and over-pumped story, or are its game console and other growth drivers legitimate enough to warrant buying shares below the $4 level? In short, we think the bias on AMD shares is for them to grind higher - towards $5 - in a two-steps forward and one-step backward type of manner, depending on the magnitude of ongoing PC deterioration, and whether AMD can get its game console or other gross margins back up. Below we look at a few critical factors.
Some background. It is well known that AMD has won both the PS4 and Xbox APU designs away from fierce competitor NVIDIA, and is seeing solid revenue gains from initial sales of these chips. For background, AMD is selling an integrated 28nm-based APU containing an eight core Jaguar CPU and a Radeon GPU, with a die size that iSuppli estimated at a very large 350 square millimeters. While iSuppli estimates a $100 ASP for this chip, AMD's CFO noted a $60-$100 ASP for this chip over the life of the contract (next four years or so), with optimized smaller-die variants coming in future quarters.
Game console shipments estimated at 11-19 million units in 2014; AMD has all that business. Market and equity research analysts are generally forecasting 11-19 million combined PS4 an Xbox 1 console sales next year, with AMD supplying all of the integrated APUs into these devices. Sony is expected to sell roughly 3 million units in 2013, and another 2 million units in the Mar'14 quarter, seemingly putting Sony on pace to sell roughly 10-11 million units next year. With Microsoft's Xbox 1 priced higher than Sony for similar hardware specifications, 7-8 million units seems like a reasonable bogey for Xbox shipments in 2014. In total, we estimate game console shipments closer to the high-end of the range at about 18 million units or so. Assuming a $79 chip ASP for 2014, AMD should generate about $1.46 billion in console revenues next year, a solid contributor.
Gaming chips' impact on AMD's 2014 financials is meaningful due to ongoing decline of PC business. In some ways, AMD is catching quite a break with the ramp timing of these game console chips. Per below, we see that AMD's core PC APU and GPU businesses have not performed well in recent years, with CPU/APU sales falling by 20% in 2012 and another 20% in 2013, and with GPU sales falling by roughly 9% in 2012 and tracking flat this year. While nobody knows whether PC sales will stabilize in 2014 (as Intel optimistically predicts), or will fall another 5%-15% as consumers increasingly rely on ARM-based tablets and smartphones. So, turning on the Game Console chip spigot in 3Q13, and riding this into 2016, is clearly having a positive offset to declining PC sales and should help stabilize AMD's ability to invest in future R&D to some degree, and depending on the magnitude of PC sales declines.
Figure 1. AMD's Segment Revenues Show Solid Game Console Contribution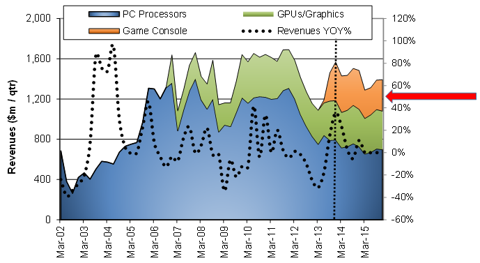 Source: Pinnacle One Research
But, 2014 is likely peak year for AMD's game console chips, a likely negative late next year. While investors were right to get excited about $300 million per quarter in new revenues turning on from the game console designs, we note that 2014 is likely to be the peak year for AMD's chip revenues, with 2015 game console chip sales likely to decline by about 20% as chip price declines of about 17% YOY and roughly flattish unit growth (though its still anyone's guess) play out in the market. We do note that chip pricing trends usually border on brutal for fast ramping and high volume game consoles, which we have seen play out in the past couple console generations with a variety of suppliers.
Figure 2. AMD's Game Console Revenues Likely to Peak in 2014 and Fall in 2015 on Price Cuts

Source: Pinnacle One Research
And AMD's gaming chip gross margins of 20%-25% are not attractive. While investors were right to get excited about $300 million per quarter in new revenues turning on from the game console designs, nobody was really expecting that game console chip gross margins would be 20% at the start of this endeavor. While cost reduced versions of these game console chips will launch in coming quarters, we still forecast somewhat modest game console chip gross margins of 25% in 2014 and 30% in 2015, not exactly stellar rates of pay (though given the somewhat high revenue mark for this business it is what it is). Importantly, we again forecast peak gross profit contribution to hit in 2014, though the fall off from here is relatively modest in 2015 and 2016 as compared to the more meaningful 15%-20% forecasted decline in revenues as gross margins do improve. We estimate game console chip gross margins will top out in the 32%-35% range as chip ASPs track towards $50-$60.
Figure 3. But AMD's Game Console Gross Profit Contribution Should Be Stable

Source: Pinnacle One Research
Strategic positive negative implications of AMD's game console business. In short there are some positives and some negatives around the console business, but at this point they are mainly negatives. First, we do not like that most of AMD's game console revenues are in its financial model already by 4Q13, with quarterly run rates forecasted to reach an all-time peak only a few points higher than 4Q13 one year later in 4Q14. Investors may begin to wonder when additional growth will materialize, when really revenues have likely topped due to chip price declines and a lack of initial channel fill. Second, we do not like the low gross margin structure of these chips, and while gross margins will improve, and gross profit contribution is likely to be steady in 2015 and 2016 versus 2014, we do not think this makes for an exciting growth story. Third, we do not like that this business is, to some degree, here today and gone tomorrow. Its not sustainable, it goes through cycles, up and down volume trends, and socket losses to competitors through the years. It was only the last console cycle that NVIDIA was taking victory laps. For the positives, clearly the solid 2H13 revenue growth AMD has put up here did get investors more excited, and, importantly, helped to offset the declining PC APU and GPU businesses, headwinds that we expect AMD to continue to face. Indeed, $375 million of newly found annual gross profit contribution is nothing to sneeze at! That said, we do not think this business is large enough or sustainable enough to drive a profitable turnaround at AMD in 2014 or through our forecast horizon.
Reminder, the reason we can talk about Game Console impacts anyways is because cash balance is not a concern for now. Just to bring some perspective to this discussion, the reasons investors can focus on the impacts of the game console business, or AMD's microserver efforts is because we do not have to have the conversation about its cash balances. With AMD getting its cost structure down (to operating expenses of $450 million per quarter), selling its Austin headquarters building, and ramping the game console business, cash balances are actually forecasted to grow by roughly $400 million over the next two years. It was only last year in 2012 that AMD's 'house was on fire' as cash on hand drastically fell from $1.6 billion to $1.0 billion in three quarters as its PC business plummeted. So this discussion is a welcome change from that dynamic.
Figure 4. AMD's Gross Cash Balances Have Stabilized Again Following 2012-2013 Burn

Source: Pinnacle One Research
Valuation insights suggest AMD shares have more upside than downside right now, depending on PC sluggishness. Looking at an EV/Sales valuation analysis below shows AMD shares likely sport more upside than downside right now, depending upon the magnitude of PC weakness and game console chip gross margin improvements in coming quarters. We think a normalized EV/Sales valuation range on AMD shares is 0.5x-1.0x, which equates to a normalized AMD target price range of $2.50-$6.50. With shares having fallen somewhat precipitously upon last quarter's earnings report, due to the very low game console chip margins, some of the wind has been taken out of AMD's sails already. Thus, AMD's share price looks somewhat attractive on a risk/reward basis near-term.
Figure 5. AMD Valuation Multiples Suggest More Upside than Downside Right Now

Source: Pinnacle One Research
Net conclusion: AMD share are biased higher towards $5, as long as PC trends do not deteriorate too much further. AMD is a complicated story and a complicated stock, with no clear answers. That said, based on the above analysis, and its recent stock chart, we think the bias on AMD shares is for them to grind higher - towards $5 - in a two-steps forward and one-step backward type of manner. Hope does spring eternal, and with the bad news gross margins out of the way on game consoles, with analysts' expectations around AMD's PC business somewhat muted, and with AMD set to put together some break-even to profitable quarters in 2014, shares could fill the gap versus other break-even profitability peers towards 0.9x EV/Sales or roughly $5 per share.
AMD remains a trading stock, not an investment. Beyond this near-term dynamic of game console shipments ramping and filling in a shrinking PC business, we note that AMD has cut both R&D and SG&A expenditures dramatically in recent quarters (boding ill for future product development), still remains materially exposed to PCs (~75% of revenues), is ramping a somewhat transitive business in game consoles, and has a material debt balance of $2.0 billion. As such, shares will remain a trading vehicle in this normalized target price range of $2.50-$6.50, depending on hype and market conditions, until meaningful and sustainable profitability emerges.
Disclosure: I have no positions in any stocks mentioned, and no plans to initiate any positions within the next 72 hours.
Business relationship disclosure: Business relationship disclosure: The article has been written by Pinnacle One Research's Director of Research. Pinnacle One Research is not receiving compensation for it (other than from Seeking Alpha). Pinnacle One Research has no business relationship with any company whose stock is mentioned in this article.