Intel Corp (NASDAQ:INTC) shares likely on their way to $27-$28 near-term; but risks are to the downside and investors should be weary. Intel Corporation has been riding a back and forth motion for at least the past couple of years, with its latest stock push higher and breaking above $25, seemingly on its way to $27-$28 in coming weeks (and while the markets have had a huge rally this year as Intel slightly under-participated). There is no shortage of commentary on this mega-cap stock, with both plenty of bulls and bears expressing their views. In short, we think there are far more downside risks for INTC shares than upside catalysts, and we advise investors to take profits at $27-$28 per share, or potentially consider initiating absolute or relative short positions in the name.
What matters most for INTC shares. In reading some of the many quality SeekingAlpha.com posts about INTC shares, we are surprised at the depth of technical commentary, roadmap assessment, and other technical analysis. But too many analysts and investors are seeing the trees and not the forest, that is not assessing the factors that matter most for INTC shares, including (1) PC to mobile cannibalization rates; (2) design win progress in mobile (which remains bleak); (3) gross margin trends and drivers; and (4) cash flow generation and dividend sustainability analyses.
INTC investment thesis is negatively biased given PC cannibalization and poor mobile execution. We are not constructive on INTC shares, especially above $27, as fundamentals could deteriorate further in coming years, and in ways that Intel's large fixed cost structure is not well-equipped to deal with. We have several specific concerns: (1) Intel's core client PC business continues to shrink (53% of revenues); (2) the firm is not executing well in its transition to mobile, and seriously lags behind Qualcomm in technical capability and market respect; (3) despite these factors, Intel is still making large capital expenditures, which are likely to increase 2014-2016 depreciation and weigh on gross margins; and (4) all of these factors together could, at some point, begin to threaten the firm's dividend payment. Net, net, INTC is largely a trading stock around the $18-$25 range, but is more likely to play out as a long-term decline story than an upside return story.
Why nobody is focused on depreciation (but should be!!). We are not going to assess all the above mentioned factors today, but rather want to dig into capital expenditures (which have been large), depreciation, and their impact on gross margins. Certainly, nobody really wants to talk about the boring old subject of depreciation…until it drives a core holding to depreciate by 20% (pun intended haha). Well Intel is now entering one of those periods where assessing depreciation trends makes a lot of sense, and could separate the winners from the losers.
Capital expenditure levels look elevated. What we see from the graph below is that Intel's capital expenditures are heightened compared to previous years, presenting depreciation and gross margin risks for the future. Indeed, we have never seen a sustained period of time when capital expenditures as a percentage of revenues were 20% or greater, and that should make all INTC holders nervous. Intel's capital expenditures have been elevated since Mar'11 because of: (1) the firm was exiting a period of relative under-investment, requiring some catch-up spending; (2) Intel was likely not expecting revenues to trend as bad as they have for the past couple years; (3) the firm is pressing bets in 14nm capabilities, FinFET, and others, and is likely building ahead capacity; (4) the firm integrated its chipset into the CPU (now APUs) moving GPUs and other functionality from N-1 process technology to N process technology, and requiring more bleeding edge capacity; and (5) the firm is spending ahead to ramp halls and walls for 450mm / 18-inch wafer ramp in coming years. Those facilities are not yet depreciating, and represent some 'delayed' depreciation. Nevertheless, the below graph is telling.
Figure 1. Intel's Capex Spending Trends are Elevated, a Risk to Depreciation and Gross Margins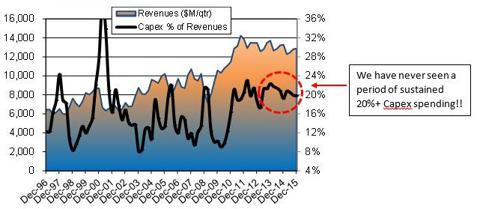 Source: Pinnacle One Research
Which leads us to believe deprecation will ramp higher and gross margins lower. We do forecast depreciation trends in a detailed and proprietary way. Here, we conclude that depreciation will rise somewhat materially in 2014 (+11% YOY) and 2015 (+7% YOY) due to capital expenditure decisions already made in years past. Further, we conclude that higher depreciation as a percentage of sales will drag gross margins down by 90 bps in 2014 and 180 bps in 2015, following 100 bps of drag in 2013. While this may not seem like much, each point of gross margin is very meaningful. By the way, all the technical analysis and roadmap commentary in the world will not change Intel's below-assessed depreciation reality, unless the firm can meaningfully get revenues growing again (something not seen in several years with PC shrinkage impacts).
Figure 2. Intel's Capex Spending Trends are Elevated, a Risk to Depreciation and Gross Margins

Source: Pinnacle One Research
And where gross margins go, so go INTC shares. Every experienced INTC investor knows 'its in the gross margins.' Thus, if we can figure out which way gross margins will trend, that will certainly help investors trade INTC more effectively. Here we look at almost 20 years (including the next two year forecast) of Intel's historical gross margin trends, and plotted versus its historical stock price (and held constant at $25 for the next two years). What we see is that the significant depreciation-driven gross margin risks discussed above will likely weigh on shares as gross margins decline. Indeed, falling gross margins are a risk to INTC bulls' investment thesis.
Figure 3. INTC Share Price vs. Gross Margin Trends; Risks Seemingly Building for 2014-2015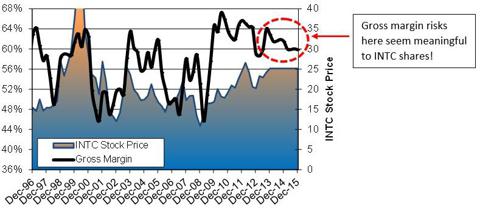 Source: Pinnacle One Research
Conclusion: A trading stock around $18-$25, with a long-term bias lower, but attractive to some value and income investors (for now). Net, net, INTC is largely a trading stock around the $18-$25 range, but is more likely to play out as a long-term decline story than an upside return story given the firm faces CPU market shrinkage risks, and is not making meaningful headway in the mobile processor business, in our view. Owning the stock seems particularly risky above $27. Intel does have some leadership in chip process technology, server technology, and scale to help stem the tide. Further, the stock's 4% dividend yield likely suggests a floor on the stock in the $18-$19 range (bad news), with the dividend seemingly safe for now, but with limited wiggle room for the firm should business shrink further. Given these factors, other stocks like Qualcomm (NASDAQ:QCOM) for mobile leadership or Broadcom (BRCM) for mobile growth and contrarian value are more appealing long investments, in our view.
More to come. We will examine other critical Intel topics in coming weeks, including PC cannibalization rates, and Intel's (lack of) progress in the mobile space). So please stay tuned.
Disclosure: I have no positions in any stocks mentioned, and no plans to initiate any positions within the next 72 hours.
Business relationship disclosure: Business relationship disclosure: The article has been written by Pinnacle One Research's Director of Research. Pinnacle One Research is not receiving compensation for it (other than from Seeking Alpha). Pinnacle One Research has no business relationship with any company whose stock is mentioned in this article.