What is ResMed?
ResMed, Inc. (NYSE:RMD), which was established in 1989 and is located in San Diego, develops, manufactures, and markets medical equipment for the treatment of sleep disordered breathing (SDB). The company's products include devices, masks, humidifiers, screening/diagnostics, and accessories. Essentially, the company sells products that help certain individuals sleep well at night.
Not only does the company have a strong product mix, but it also has a strong portfolio of patents to support and protect each product. Recently, ResMed has taken to aggressively pursuing those who are infringing on its patents. On November 20, the company announced it has won preliminary injunctions in Germany against patent infringing activities by competitors APEX Medical Corp. and BMC Medical Co. Furthermore, ResMed has also acquired Prague-based Unimedis, which distributes SDB equipment and will expand ResMed's presence in Czech Republic and Slovakia. As if the company's operations weren't aggressive enough, it also announced record financial results on September 30, 2013.
As I will unfold in this article, ResMed's strong historical and forecasted fundamentals, spurred by international growth, indicate that the stock is currently undervalued. While it trades at $45.90, I believe the fair value is somewhere closer to $54-56. Not only can ResMed help its end customers sleep well at night, but it can also help investors sleep well at night knowing the stock is undervalued and the company is being well managed.
Business Strategy
A company can decide to diversify and grow along three main axes -- product expansion, geographical expansion, or vertical integration. ResMed has publicly announced that it plans to expand via product and geographical expansion. But beyond mere operational expansion, ResMed has also committed to raising awareness of undiagnosed SDB.
In order to grow its product portfolio, the company has unfolded a three-part strategy (Annual Report, 2013). It begins with growing in the underpenetrated SDB market, using cash flows from the SDB products to expand into respiratory care (COPD, ALS, NMD, etc.), and finally using those cash flows to expand into cardiology and monitoring. The company has already made great strides in the SDB market, and recently, it has also shown great progress with COPD. It was awarded the first and only FDA-approved home device for treatment of patients with third and fourth degree COPD. The device is a non-invasive ventilation device.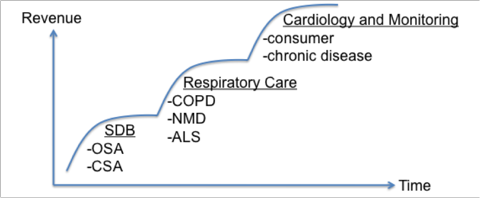 ResMed also has a strategy to proliferate across various geographic markets. Presently, the company markets its products in approximately 100 countries to sleep clinics, home healthcare dealers, and third-party payors, but it plans to expand further into European markets through its "global emerging market growth strategy." To that end, several acquisitions* have been undertaken -- Unimedis in Prague (Dec. 2, 2013), Umbian in Halifax, BiancaMed in Dublin, Laboratoires Narval in Lyon, Saime SA in Paris, and MAP Medizin-Technologie in Germany. Moreover, regulatory approval of its Stellar product is imminent in Brazil.
But the company is committed beyond expanding its business and bottom-line; it has also initiated a campaign to increase public awareness of both SDB and COPD. It is estimated that SDB affects about 20% of the adult population, but unfortunately, 90% who have obstructed sleep apnea (OSA) go undiagnosed and untreated. To address this issue, ResMed has established various foundations and funds primary care physician programs to educate doctors on SDB. The COPD market is also very large, with nearly 12 million Americans being diagnosed. But it is estimated that another 12 million may have the disease and are not diagnosed.
The bottom line: ResMed's relevant markets are greatly underpenetrated, and there is plenty of room to grow during the next 5-10 years. However, it is making great strides and has unfolded a great strategy for expansion.
*One key success factor of an acquisition is the multiples at which it was purchased. All of the acquisitions listed above were acquired at TV/EBITDA that were well below the industry average. None was higher than 10x EBITDA, while the industry average trades above 13x. Additionally, none was acquired above 2.8x sales. The industry average trades at 5.3x sales.
Industry Outlook
The present state of ResMed's industry is favorable, but fortunately, the future state of its industry looks even better. Presently, healthcare reform, technological advancements, and demographics are driving the medical device industry. Healthcare reform will increase the number of patients who can afford medical devices, thus increasing demand. Additionally, OSA occurs in over 50% of patients with Type II diabetes, which is on the rise, and research conducted by the National Sleep Foundation suggests that sleep disorders are linked to increased use of electronic devices (IBISWorld, 2013). The combination of all these factors will continue to stimulate growth into the future as well.
During the next 5 years, sleep disorder clinics are expected to grow by 4.7% per annum, which will stimulate demand for ResMed's products, and revenue in the medical device industry is forecasted to grow at 7% per annum for the next 5 years (IBISWorld Industry Report OD5312, 2013). Taken together, the present and future states of the company's industry look optimistic. As can be seen below in the Financials section, I forecast ResMed's annual revenue growth at a conservative 10% for the first 5 years and a steady state of 3.5% for years 5-10. Considering the aforementioned industry analysis, this is conservative.
Financials
For years, ResMed has seen strong, steady growth -- and with its new strategies to move forward, it is likely that revenue growth will continue to increase while operating margins and cash flow remain equally healthy.
Impressively, ResMed's top line has seen incredible growth during the past 10 years. In fact, it has seen YoY growth every year since 2004. This can be attributed to increased demand for sleep disorder treatments as well as increased penetration of the U.S. market. Operating income has also seen tremendous growth, climbing from $86 million in 2004 to an astounding $360 in 2013 at a CAGR of 17.2%. Following a similar trend, the company's operating cash flow has increased steadily from $77 million in 2004 to $403 million in 2013 at a CAGR of 20.2%. And last, but certainly not least, we can see that EPS has also grown from $0.41 per share in 2004 to $2.10 per share in 2013. Historically, ResMed has performed incredibly well. In addition to strong historical performance, ResMed is also slightly undervalued compared with its five year averages.
But strong historical performance does not necessarily imply strong future performance. One indication, however, that ResMed is poised for strong future growth is its new dividend, which was first announced on May 17, 2012 and yields 2.1% per year. This signals management's certitude that the company will continue to generate solid cash flow. It also makes ResMed a safer investment. Moreover, as was laid out above, the company has a clear picture of the future. It has developed an actionable strategy, a competitive advantage through its strategic partnerships and patents, and a roadmap for the foreseeable future. To demonstrate how undervalued the company is, I have constructed two discounted cash flows; one forecasts revenue and FCF, while the other forecasts OCF and FCF. The discounted cash flows make the following assumptions:
Revenue growth will be sustained at 10% per year for the first 5 years and then at a steady state of 3.5% per year for years 5-10.
Free cash flow as a percentage of revenue will remain at 21.5% of revenue for years 0-10.
Operating cash flow will begin growing at 19% but will exponentially decay to under 3% growth by year 10.
CapEx will be 16.3% of operating cash flow every year.
Accompanying these DCFs are sensitivity analyses that demonstrate how the stock price could be affected if the assumptions change. Interestingly, the sensitivity analyses show that in the both DCFs, there is between 60-70% chance that investing in ResMed now will result in profit. According to both models, there is upside; with the revenue forecasting model, RMD is undervalued by 7.8%, and with the OCF forecasting model, it is undervalued by under 1%. Keep in mind, these percentages represent how undervalued the company currently is -- not how much you can expect to earn from holding the stock.
DCF Using OCF less Capex


DCF Using FCF/Revenue


Conclusion
ResMed is a clear leader in its market with very few competitors, and what competitors it does face it has acquired. Moving forward, the company will likely experience strong revenue growth that will drive the stock's price higher. In addition, despite higher CapEx, ResMed will also probably see sustained operating cash flow growth due to its wide margins. Aggressive product expansion, patent protection, and business development will also contribute greatly to increases in the stock price. The risks of investing in ResMed, albeit small in the long term, include slowing growth during the next 2-3 quarters, but this should not pose a problem to any long-term, value investor who esteems strong cash flow. At its current price of $45.60 per share, ResMed offers tremendous upside and a good night's sleep.
Disclosure: I have no positions in any stocks mentioned, and no plans to initiate any positions within the next 72 hours. I wrote this article myself, and it expresses my own opinions. I am not receiving compensation for it (other than from Seeking Alpha). I have no business relationship with any company whose stock is mentioned in this article.