As a small capitalization investor in development phase pharmaceuticals I am less risk averse than many investors. Smaller, development-phase companies offer high rewards for fortunate and educated investors who have chosen wisely while unlucky or ill-prepared investors can see dramatic drops in share price with little chance of recovery. Heading into 2014, I have been perusing SEC filings, press releases and social media in search of candidates for consideration that may have sold off in December as investors take their gains or losses or exit such high-risk investments with market uncertainly ever present as indices breach new highs. Synergy Pharmaceuticals (NASDAQ:SGYP) had a great 2013 by virtually all accounts with clinical data pointing to a highly-marketable candidate in development while financials are looking solid with a $84.5 million offering at $5.50 per share closing on April 16th. With promising financials and clinicals behind the company, I have been anxiously awaiting a share price dip in December that would afford me a solid entry price. The dip was minimal, and I instead chose a good entry last week at $4.21. As I performed a bit more research into the company, I found what I believe to be a likely reason for shareholders' desires to hang onto shares through this period and offering little price dip as a result -- significant near-term catalysts. I wish to investigate these catalysts, the company's pipeline in development as well as its financials below as I present what I believe to be a solid investment candidate for 2014.
Syngergy's current pipeline focuses wholly on drugs treating gastrointestinal diseases and disorders. Its two drugs in development, plecanatide (SP-304) and SP-333, being developed for various indications, are both GC (guanylate cyclase) receptor agonists. These receptors, when activated, stimulate synthesis of cyclic fibrosis transmembrane conductance regulator (CFTR) which secretes Cl-, HCO3- and fluid into the intestinal tract. This secretion is necessary for digestion, and most notably normal excretory functions.
Synergy's lead product candidate is plecanatide, in a Phase III trial for the treatment of chronic idiopathic constipation (CIC). CIC is the most widespread digestive complaint worldwide and affects 45 million Americans. As evident by the term "idiopathic", the ailment is of an unknown origin and disproportionately affects women and the elderly. There are currently three FDA-approved therapies for CIC, tegaserod, linaclotide and lubiprostone. Novartis' (NYSE:NVS) tegaserod approval was withdrawn from the U.S. market in March of 2007 due to a statistically increased chance of heart attack, stroke, and worsening chest pain that may develop into a heart attack in patients treated with this medicine relative to placebo and may only be used now in emergency situations. Linaclotide is marketed by Ironwood Pharmaceuticals (NASDAQ:IRWD) and partner, Forest Laboratories (NYSE:FRX). It was recently approved on August of 2012 and had Q2, 2013 sales as reported by Forest of $28.8 million. Lubiprostone is marketed and manufactured under an agreement between Sucampo Pharmaceuticals (NASDAQ:SCMP) and Takeda Pharmaceuticals (OTCMKTS:TKPYY). With a large targeted indication, a significant piece of the CIC pie could be a large revenue generator as evidence by lubiprostone's Q4, 2012 U.S. sales of $74.6 million for the three combined indications of CIC, opioid induced constipation (NYSE:OIC) in adults with chronic, non-cancer pain and for irritable bowel syndrome with constipation (IBS-C). Interesting to note, although I could not find the individual breakdown of revenue for the three indications separately, Synergy is developing treatments for the three indications in Phase II and III trials and could ultimately compete for this revenue as indicated by the pipeline chart below.
The company's Phase III trial of plecanatide for CIC began enrollment on November 13th. The trial is set to enroll 1350 patients with CIC and is a randomized double-blind trial comparing a 12-week, dose-ranging regimen of plecanatide (3.0 and 6.0mg) against a placebo. With 180 clinical sites in the U.S. and Canada enrolling, an average of 7.5 patients per site being treated for this large U.S. indication of 45 million patients should enroll fairly quickly. Although the company has not indicated a targeted enrollment completion date, the clinicaltrials.gov website indicates a November 2014 primary completion date and a February 2015 study completion date. Trial enrollment updates should be forthcoming throughout 2014 and should be construed as significant catalysts for investors. Although Synergy presented more detailed Phase II data later in the year, a January 2nd press release gave a good summary of results with plecanatide being well tolerated (good safety profile) and key primary and secondary endpoints being met. The higher dose 3mg treatment patients had a 19% (p=0.009) overall response rate with a mean increase in complete spontaneous bowel movements (CSBMs) over the 12-week treatment period of 2.13 (p<0.001). An often troublesome side effect for constipation treatments, diarrhea incidence was observed to be 9.7% (vs. placebo incidence of 1.3%) at the 3 mg dosage.
Synergy's likely nearest-term catalyst will likely come from it Phase II trial evaluating plecanatide for IBS-C. According to the company's Q3 earnings filing, it should report topline data from this trial in Q1, 2014. Significant to note is that linaclotide and lubiprostone both had approvals for multiple constipation-related indications. Therapeutic mechanisms for both of the drugs were efficous for IB-C as well as CIC. Positive Phase II data for plecanatide treatment of IBS-C would likely help to validate the drug for CIC as well and greatly increase investor confidence in the upcoming Phase III data late in 2014 or early 2015.
Although SP-333 is a bit further back in development than plecanatide, the drug deepens Synergy's pipeline and is being evaluated to address the differing indications of opioid-induced constipation and ulcerative colitis (UC). The company announced enrollment initiation of SP-333 in a Phase II trial for the treatment of OIC in October and has not indicated when the 260 patient trial might complete. The clinicaltrials.gov website indicates a trial completion date of May 2014. Confirmation from the company of this likely study completion date is yet another catalyst investors should note. Phase I trial data evaluating the therapy's safety profile was successful with ascending dosages in healthy volunteers and paved the way for the Phase II trial now underway. OIC occurs in patients receiving opioid treatments to address pain. With about 12 million Americans taking chronic opioids and over 90% experiencing some form of diminished bowel frequency according to notations on press releases, the company is attempting to enter the market with only Sucampo's lubiprostone approved for the indication, although even it is not approved for the commonly used methadone induced constipation. Synergy has not yet announced enrollment initiation for the UC indication with the company website simply stating "Formulation development of SP-333 to treat UC is currently underway". Updates on this indication should be forthcoming, while the company may await other trial results before undertaking yet another clinical trial.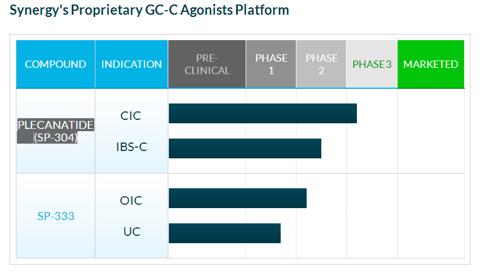 Synergy had cash and equivalents of $82.1 million as of September 30th following the $84.5 million stock offering that closed in April. With multiple trials underway, it is a bit difficult to ascertain current cash burn rate. Operating expenses for the 9 month period through September was $38.7 million with the net loss for the same period of $42.3 million. Depending on current cash burn rate, with one trial culminating in Q1 2014, the company appears to have ample cash through mid-2014. Friday's closing share price of $4.32 gives the company a current market capitalization of about $390 million. Comparable companies in the sector as mentioned above include Sucampo Pharmaceuticals with a $384 million market cap and Ironwood Pharmaceuticals with a $1.4 billion market capitalization.
With multiple 2014 catalysts approaching, investor interest should remain strong for Synergy Pharmaceuticals. With positive data thus far, additional promising data could be strong share price movers for the company as additional indications are included and perhaps even validated as most of the constipation-related indications seem to yield positive data once validated by other constipation-trial data. However, this is the pharmaceutical sector and such observations should be noted but not assumed as fact. Alternately, clinical failures in one constipation-related indication may or may not indicate failure or success in others. Interested investors are advised to perform much additional research into Synergy before making their investment decisions. SEC filings, clinical data, competitor analysis and corporate press releases should all be considered in the decision making process.
Disclosure: I am long SGYP. I wrote this article myself, and it expresses my own opinions. I am not receiving compensation for it (other than from Seeking Alpha). I have no business relationship with any company whose stock is mentioned in this article.