It seems like 100 years ago that I took my first basic finance course in college. Actually I am pretty sure it WAS 100 years ago (ok, it only feels that way). We discussed plenty of subjects, most of them I have long forgotten, but one mantra always seemed to stick with me.
When interest rates rise, it is not great for stocks. When interest rates fall, it is better for stocks.
Of course one topic that we did not get into was quantitative easing during a financial crises. We have all had to learn about the effects of that by actually living, and investing, through it. Now of course, the Fed is going to taper QE, although slowly. I believe that even if they decided not to, interest rates would begin to increase steadily anyway. Since the Fed is focusing its attention on the longer term rates, by now allowing them to move up somewhat faster, the question has become will this type of artificially induced interest rate environment really be bad for stocks and how should we invest?
My opinion of the unknown is that stocks will continue to rally unless they are highly sensitive to higher interest rates, like companies that need to borrow more (speculative stocks with little cash reserves for example, or perhaps emerging markets which always need to borrow) as this will impact the bottom line directly. I firmly believe that 2014 could be a breakout year for the huge mega cap blue chip stocks that have been socking away cash, such as Apple (AAPL) or Microsoft (NASDAQ:MSFT) and other huge S&P 500 stocks.
I believe that our two Team Alpha Portfolios will outperform the markets if not for growth than for the amount of cash available for each company, and less need to borrow.
The mix of stocks in both portfolios will give them an edge:
The Team Alpha Retirement Portfolio currently consists of Apple (NASDAQ:AAPL), AT&T (NYSE:T), Cisco (NASDAQ:CSCO), CSX Corp. (NYSE:CSX), Chevron (NYSE:CVX), Exxon Mobil (NYSE:XOM), Ford (NYSE:F), General Electric (NYSE:GE), Johnson & Johnson (NYSE:JNJ), Coca-Cola (NYSE:KO), McDonald's (NYSE:MCD), Procter & Gamble (NYSE:PG), Realty Income (NYSE:O), Wells Fargo (NYSE:WFC), Franklin Street Properties (NYSEMKT:FSP), Omega Healthcare Investments, Inc. (NYSE:OHI) and Microsoft.
The brand new Team Alpha Growth And Income Portfolio consists of Apple, Ambarella (AMBA), Cisco, CSX Corp., Chevron, Ford, Facebook (FB), Galena (GALE), General Electric (GE), Altria (MO), Johnson & Johnson, Coca-Cola, McDonald's, Realty Income, Procter & Gamble, AT&T, Wells Fargo, Exxon Mobil, Yahoo (YHOO), Mid-America Apartments (MAA) Franklin Street Properties, Omega Healthcare Investments, Inc. and Microsoft
Dividend Growth Investors Will Still Flourish
Obviously those same stocks that have all sorts of cash and assets on hand also happen to be great dividend payers, so 2014 could see even better results from those dividend champion stocks we have spoken so much about. Ironically, the dividend income stocks will probably do better than growth stocks in 2014 due to the amount of cash. That bodes well in our next phase of this bull market.
Take a look at this chart: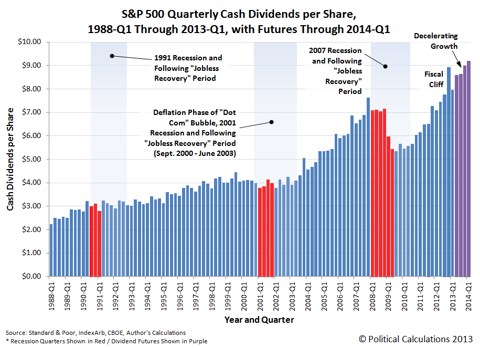 The chart shows decelerating growth but rising dividend payouts, which coincides with the Fed tapering and interest rates rising, as well as cash reserve levels at or near all time highs for the best stocks around.
These companies will use cash reserves not only to pay even greater dividends, but to ramp up even further their share buy-back programs, as noted in this report from back in late August.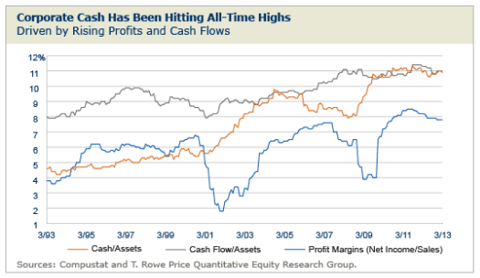 As this chart shows, cash and cash flow has risen even if EPS and margins have slipped. While everyone was questioning the "hoarding" of cash by many companies (including me) obviously they knew the day would come when they would need the cash rather than borrowing into a rising interest rate environment.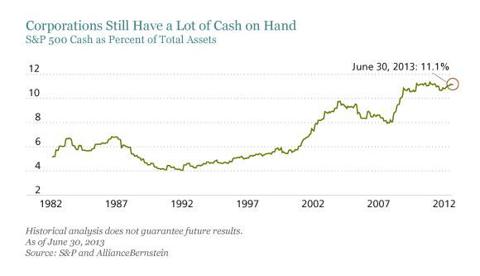 So, my thesis is that the dividend growth investor will do better than just growth stock investors. Between higher dividends and more share buybacks, the dividend growth investor should receive greater shareholder value.
A Word About Fixed Income
There is one area that we have been avoiding for the most part, and that is fixed income (bonds), which has been paying puny dividends. While this article is not about bonds or bond funds, I believe some folks are looking for places to park cash and deserves some mention.
The old mantra (which I also remember) was - as you age have a solid percentage allocated in fixed incomes, like bonds (a 60/40 split always seemed popular). Now we have the scenario that rates will probably rise, current bond holders will dump them, and while the value goes down the interest will rise. Since this has been artificially manipulated, we really cannot be that sure of anything.
I did find a few ways to invest in bonds now, however. I would not put 40% of my portfolio into it, but I will be putting roughly 10% into my own portfolio. The Fidelity Floating Rate High Income Fund (MUTF:FFRHX) is designed to deliver higher levels of current income by investing in B-BBB rated corporate bonds.
As Fidelity states here:
Floating-rate bond funds invest in loans that banks make to companies. The rates on the loans are tied to a short-term benchmark, such as the London Interbank Offered Rate, or LIBOR, and generally reset every 30 to 90 days. As a result, if interest rates go up, the loans adjust quickly, preserving their value. (For most other kinds of bonds, prices move in the opposite direction of interest rates.)
There are other funds that invest in more of a junk bond arena that have done well recently, but I think the Fidelity fund offers much less risk, a good yield (currently 2.56% for a 30 day period), dividends paid monthly, and a one year total return of 3.85%. Nothing exciting, but where have you been able to safely park some cash lately?
Fidelity states it this way:
Two good no-load options are Fidelity Floating Rate High Income (FFRHX) have 30-day yields of about 3%. They are also relatively cheap. The Fidelity fund's annual expense ratio is 0.71%; Price charges 0.86%. Over the past year, the funds returned 4.2% and 4.5%, respectively, compared with 5.9% for the average bank-loan fund. The underperformance in a strong market for bank-loan funds isn't surprising, because the Fidelity and Price funds focus on higher-quality loans and so take fewer risks than their typical rivals.
Since most of the portfolios I manage, including my own, are with Fidelity, I am partial to that fund.
The Bottom Line
2014 could turn out to be a breakthrough year for our mega cap blue chip dividend winning stocks. With huge cash levels, as well as a recovering economy, these firms will not require to borrow as much at higher rates, and while I believe dividends will grow more quickly, I can also see the potential for capital appreciation.
Disclaimer: The opinions of the author are not recommendations to either buy or sell any security. Please do your own research prior to making any investment decision.
Disclosure: I am long AAPL, AMBA, CSCO, CSX, CVX, F, FB, FSP, GALE, GE, JNJ, KO, MAA, MCD, MO, MSFT, O, OHI, T, WFC, XOM, YHOO. I wrote this article myself, and it expresses my own opinions. I am not receiving compensation for it (other than from Seeking Alpha). I have no business relationship with any company whose stock is mentioned in this article.