In my previous article, I cited a couple of reasons why it will be wise to go long on Micron Technology Inc (NASDAQ:MU). The company's key measures as revenues, stock price, and earnings per share have exhibited excellent growth and the company is wise enough not to give its investors something to worry about internally. These represent two of the key elements investors are looking for: stability and growth. However, macroeconomic pressures such as the Fed's stimulus package and the recent announcement of its competitor SK Hynix to build a new manufacturing plant pulled the stock price at $21 for two consecutive days. Friday, the stock price bounced back and closed at $22.17, still lower than the previous levels but is already on an upward trend. The price is also set at 200%+ higher compared to last year's.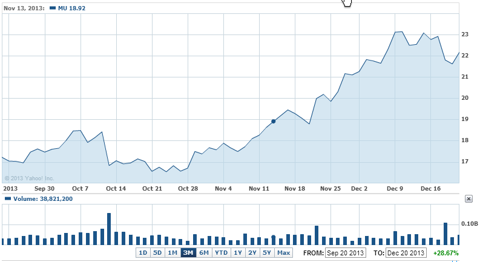 What the New Plant Means to Micron
Recall that a portion of Micron's profitability for the past quarter is driven by the inability of SK Hynix to produce following the fire which destroyed their plant in China last September. Customers will be willing to substitute products as long as they feel that the products are almost or exactly equal in terms of quality and price. That is true for products which are not highly specialized such DRAM units. We bank on this fact and made two critical assumptions. First, that the span of time during which SK Hynix will be unable to produce will be a window to "flood" the market with Micron's DRAM units. In that case, customers who have not been introduced to Micron's technology will get a taste of it. Secondly, that the span of time which SK Hynix will be unable to produce is long. The length of time is important as it should be long enough for customers to make the switch and to prefer Micron's products over its competitor.
Given these assumptions, the announcement of the $3.8 billion investment on the new plant should not worry investors. Our first assumption still holds as the acquisition of the Japanese manufacturer Elpida allows the company to produce 300MM more DRAM units. This means that the company has the capacity to supply the market in which SK Hynix operates. Our second assumption concerns timing. The reason for this is that it takes time to introduce products, even substitutes, to a new market. It also takes time for customers to prefer a new product over something which they have been using for quite some time. This is also not a problem since the new plant is expected to do mass production only in 2015 and will only be able to produce 60,000 to 80,000 units. This gives Micron an entire year to profit from favorable supply and demand dynamics and to acquire new customers which will contribute to increased profitability in the long run.
Creating Synergies and Innovative Technologies
The company's core business of providing DRAM, NAND, and NOR Flash memory solutions in itself puts it in a good business environment at this time as their product are widely used in almost all of the available computing devices worldwide. This means that customers already have a recognized need and the main objective for the company will be to create a competitive advantage over its competitors.
This proves to be not so hard for Micron as it announced its introduction of memory solutions which are specifically designed to improve system performance of the new Mac Pro systems. Customers will not anymore suffer slower performance when using programs requiring significant resources such as Adobe (NASDAQ:ADBE) Photoshop. We can recall that this synergy is made possible as well by the Elpida acquisition which has a stronger business relationship with Apple.
Another innovation solution which is being worked on Micron's pipeline is being made in partnership with Broadcom (BRCM). One of the major challenges in networking solutions is the DRAM timing challenge. To resolve this, Micron is introducing a solution which will reduce the timing challenge from 35ns to 30ns. On top of the speed component, the solution will also reduce the power requirement and will produce the necessary bandwidths a variety of computing devices available today. On top of the macroeconomic environment which is favoring the industry, its drive for game changing solutions will back Micron up as it forge ahead.
Disclosure: I have no positions in any stocks mentioned, and no plans to initiate any positions within the next 72 hours. I wrote this article myself, and it expresses my own opinions. I am not receiving compensation for it (other than from Seeking Alpha). I have no business relationship with any company whose stock is mentioned in this article.