Advanced Micro Devices, Inc. (NYSE:AMD) has performed beyond expectations this year. Despite the 10% decline in traditional PC sales in 2013, AMD still managed a remarkable 44.27% YTD increase in its price.
The $3.65 price it now has is also 162% higher than its 52-week low of $2.25. AMD even hit $4.65 last July 18.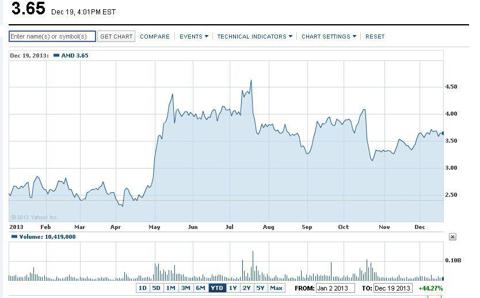 AMD experienced a huge 1-day sell-off on July 19 after a disappointing Q2 2013 financial report. Even though AMD went back to profitability last October, the stock has so far failed to post a new or even equal its $4.65 52-week last July.
Investors are still wary about AMD's future viability. Oppenheimer downgraded AMD to Underperform from Perform four days ago. Razor-thin profit margins and intense competition from Intel (NASDAQ:INTC) and Nvidia (NASDAQ:NVDA) are obvious reason why AMD may not sustain its upward trajectory in 2014.
However, I believe that AMD can dispel these doubts by maintaining its focus on regaining its lost share in the server market and strengthening its existing PC and graphics business. The company's low cash flow means it cannot afford to fight many battles at once.
AMD Should Stay out of Tablets for Now
I believe that AMD's low-power Beema and Mullins APU can offer performance and TDP ratings that are better or equal to Intel's Bay-Trail CPU. Unfortunately, Intel is Microsoft's (NASDAQ:MSFT) preferred partner for the last two decades. Mullins-powered Windows 8 tablet may not be able to compete with Intel and Microsoft's subsidized efforts to win tablet market share.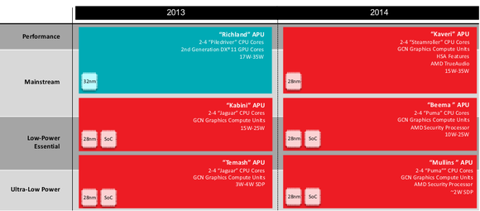 The precarious financial situation of AMD should not be exposed to a loss-leading entry in the tablet market which is already dominated by Android OS and iOS products. Microsoft and Intel have huge cash reserves to offer discounted Bay-Trail Windows 8-powered tablet computers.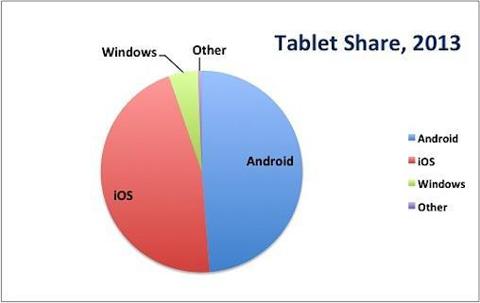 Instead of spending money on developing and marketing the Mullins and Beema APUs, AMD can use the money instead on improving its SeaMicro micro server and AMD Seattle 64-bit ARM-based server-grade processor.
Focus on SeaMicro and Freedom Fabric
The acquisition of SeaMicro gave AMD a strong foothold in the rapidly rising micro server market. The Freedom Fabric is the perfect ASIC technology for universal micro server solutions. The severe competition between cloud computing companies means they need to minimize their overhead to have meaningful net incom. SeaMIcro's expertise in building high density and compact 10u micro servers make AMD a formidable player in the cloud server business.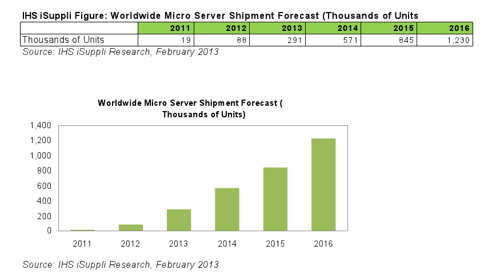 AMD has a top-notch high density micro server technology in SeaMIcro's Freedom Fabric ASIC. It allows the company to build compact and low-power consuming server racks containing hundreds of processors. These micro servers are often cheaper to buy and maintain than the traditional Intel Xeon full scale servers.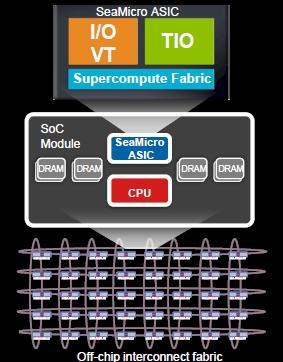 AMD "Seattle" Has Less Competition
AMD's scheduled release of Seattle in 2014 will face less competition. Calxeda, a pioneer in ARM-based micro server chip design recently went bankrupt. This welcome development eases AMD's entry to the microserver market. One of the world's top server companies, HP (NYSE:HPQ), has been working with Calxeda to build energy-efficient ARM-based Moonshot servers.
AMD can convince HP to use Seattle as its replacement for HP Project Moonshot microservers. In my opinion, AMD should keep its Seattle chips entirely for SeaMicro's use. The only serious competition it has to contend with next year is Dell's Copper System which uses Applied Micro's X-Gene 64-bit ARM processor.
Qualcomm (NASDAQ:QCOM) and Samsung (OTC:SSNLF) have not made any announcements that they too are entering the ARM-based micro server chip competition. AMD and Dell (NASDAQ:DELL) are the only two major players vying for the low-power ARM-equipped micro server business.
Conclusion
AMD's 2014 prospect is much better if it delays its tablet ambitions with Mullins and Beema. Like a great chess player, this company should focus only on attacking one side of the enemy where it has the best pieces to make a powerful series of moves to checkmate.
Instead of wasting time and resources in developing an attack via tablets, AMD's best major pieces, SeaMicro (Queen) and Seattle (Rook) are in connected positions for a possible checkmate on Intel's server market share.
I recommend a Hold for AMD. Buy on the dip if you have the money, the share has great potential if only AMD starts focusing on its strengths.
Disclosure: I have no positions in any stocks mentioned, and no plans to initiate any positions within the next 72 hours. I wrote this article myself, and it expresses my own opinions. I am not receiving compensation for it (other than from Seeking Alpha). I have no business relationship with any company whose stock is mentioned in this article.