The U.S. economy grew at 4.1% in the latest fiscal quarter thanks to increased consumer spending over the summer on healthcare, recreation, and other services. Worryingly, though, construction played a peripheral role in surpassing the expected growth rate. Across the globe, leading developing countries are showing slowdowns in the construction industry's contribution to the output expansion. At a time when mining's shrinking margins are validating layoffs and cut-downs on capital, agriculture production is growing both globally and in the U.S.
In the Department of Agriculture's latest crop production report, corn and soybean production is up 30% and 7%, respectively, on a year-over-year basis. Crop prices have been dipping after setting record highs, so farmers have less money in their pockets. Corn prices have plunged 44% in the past year. Internationally, India's agricultural sector grew by 4.6% in the latest quarter, primarily aided by strong output numbers for rice, wheat, and corn -- in line with the harvest numbers across the world. Agricultural output is expected to continue growing over the coming years, which will depress crop prices and consequently depress profits of the agriculture sector. Is now the right time to move away from the farm and construction equipment industry to find greener pastures?
The Contenders
Caterpillar (NYSE:CAT) is ranked as the world's 60th most valuable brand by Forbes and is arguably the largest heavy equipment maker in the world. Its products are largely construction and mining industry-based. On the other hand, Deere (NYSE:DE) is the largest agricultural manufacturer in U.S. and is currently expanding into developing markets like Brazil and India. The two companies provide accurate estimates of their respective industries' performance.
| | | | |
| --- | --- | --- | --- |
| Indicator | Caterpillar | Deere | Industry Average |
| Market Cap | $56.6 billion | $33.6 billion | - |
| Price/Earnings ttm | 16.9 | 9.9 | 13.0 |
| PEG Ratio | 4.6 | 2.3 | |
| Net Income Growth (3 Yr Avg.) | 85.2 | 23.8 | 106.5 |
| Revenue Growth (3 Yr Avg. | 26.7 | 13.3 | 20.3 |
| Dividend Yield, % | 1.93% | 2.21% | - |
| Return on Equity | 19.4 | 41.4 | 23.7 |
| Current Price | $88.93 | $89.56 | - |
The three-year average net income and revenue growth throws a veil over the two company's contrasting fortunes. The P/E ratio shows Deere to be undervalued in comparison to Caterpillar and industry average P/E figures, while the PEG ratio underlines the company's cheap valuation and growth prospects. Low dividend yields offered do not make the stocks attractive for the stream of stable return that they might provide for investors. The two companies have increased their dividend payout annually for the past five years; their payout ratio lingers between 25% and 30%. The ROE metric sorts Deere into the profit-creating category due to its ability to generate more profits from its assets, as signified by the price hike its farmland products this year. Deere's insistence on maintaining previous levels of profitability and ROE suggests there is a larger willingness to pay for Deere's equipment.
Caterpillar has not been setting the world alight with its balance sheet and quarterly results -- sales of its machinery were down 12% in the latest quarter due to a steep decline in orders from mining companies and sluggish demand for construction equipment in many parts of the world. The company's largest customer is the Asia-Pacific region, where its machinery sales fell 24%. Caterpillar's lingering problem is of high inventory levels in its distribution warehouses due to the significantly lowered demand for its products amid a global slowdown.
While Caterpillar has been throwing in consecutively disappointing quarters, Deere's quarterly numbers are on the up. Against a slowing farm economy, Deere's net income grew by 17% as the company increased prices for its products. The company's earnings per share (EPS) grew by 20% on a year-on-year basis, while its long-term EPS growth forecast is about 8%. For 2014, Deere expects sales volumes and net income to fall by 3% and 7%, respectively, after the record-setting crop prices return to normal. Deere's growth is shrinking due to unfavorable farm prices and Mahindra's fast-expanding farmland operations.
Future Prospects
The graph below illustrates stock price performance of Caterpillar and Deere over the past five- and one-year time series. Furthermore, the two stocks are also compared with the Dow Jones Industrial Average and Standards & Poor's 500 Index.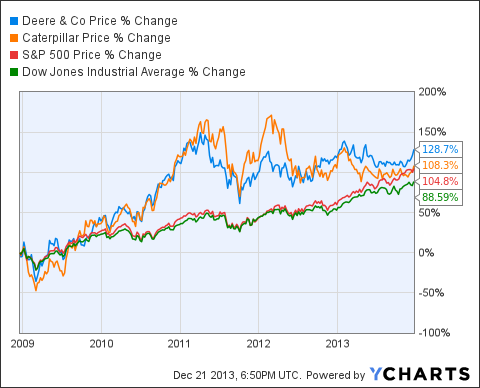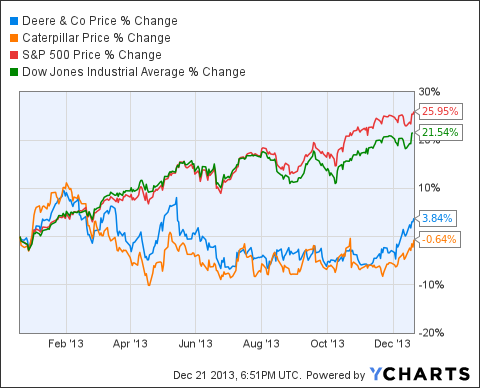 Over the last five years, the two stocks largely outperformed the market averages until 2013. Since the start of the year, Deere and Caterpillar have largely underperformed as is shown by the one-year time period illustration. The market has grown at an average pace of 26%, but Deere and Caterpillar have lagged far behind -- so much so that the price chart witnessed negative growth until November. The two cyclical stocks have their fates depending on mining industry and global crop prices.
Caterpillar's recent price appreciation can be attributed to reports of built-up inventories being destocked; as a result, fewer orders are being picked up by the company for its machinery and equipment. The global mining industry has reduced overall capital expenditures by almost 10% in 2013, and analysts expect further reductions of almost 15%-20% next year. The Big 4 miners -- BHP Billiton, Vale SA, Rio Tinto, and Glencore Xstrata -- all cut their capex during the year. The company is creating efficiencies and introducing cost-cutting measures, but it will face pressure at least through the first half of 2014. Mean estimates for CAT's earnings per share for 2014 have dropped from $15 in September 2012 to $8.3 currently.
Deere announced a share buyback program in the first week of December worth $8 billion, which has provided impetus to spur the stock price upward. The buyback program is worth $9 billion in total since $1 billion of a previously imitated buyback program remains to be executed. Deere also has the added advantage of expansion into developing countries -- e.g., Brazil where it has a 21% market share of farmland equipment. A decline in borrowing costs has seen tractors sales jumping up in Brazil, which has added to the company's momentum on the stock market.
It is well-documented that the Chinese construction boom was on a level not witnessed before. It was because of this growth that analysts and managers over-estimated the required inventories for Caterpillar's equipment in the Asia-Pacific region. Perhaps the estimates would have stood true, had global recession not kicked in. Because of this, the inventories piled up and consequently sales of the following years and the stock price remained depressed. As the inventory pile up continues to clear up now, Caterpillar should be expected to start operating at the "new normal" of a lowered demand and equivalent supply. China is a big geographical customer of Caterpillar, and slow growth is anticipated for the country over the next years as it deals with industrial overcapacity and market reforms.
Deere's share buyback undoubtedly makes it a good time to buy into the stock, especially due to the cyclical nature of the industry. Furthermore, The National Oceanic and Atmospheric Administration (NOAA) put forward its 2014 drought outlook -- the drought is expected to persist throughout southwestern U.S down to the Florida peninsula. If the outlook proves correct, one should expect a significant price hike of crops due to a shortage of available produce. Farmers stand to benefit from the drought due to higher income, which will be reinvested into buying farmland equipment. Consequently, shareholders of Deere will benefit from higher sales as well.
Summary
Caterpillar's 2014 performance is based on the company's inventory management and expectations about increased demand for its products. I am more inclined toward investing into Deere because the threat of a drought and promise of share buyback are far more lucrative and certain possibilities than the inventory management unknown at Caterpillar.
While the construction industry has not shown significant signs of intrinsic growth, the cyclical nature of agricultural industry opens up opportunities for investment. Caterpillar's improved fortunes are only down to its intrinsic correction. Deere, on the other hand, is expanding its market and also giving shareholders a welcomed buyback. Given a choice, Deere's expanding horizons and earnings prospects make it a superior option than Caterpillar. Reward yourself this Christmas and buy Deere.
Disclosure: I have no positions in any stocks mentioned, and no plans to initiate any positions within the next 72 hours. I wrote this article myself, and it expresses my own opinions. I am not receiving compensation for it (other than from Seeking Alpha). I have no business relationship with any company whose stock is mentioned in this article.