As we conclude a stellar investing year and head into 2014, I think it is time to revisit some of the high yield sectors that have underperformed the market since the Federal Reserve started to talk about the "taper" in May when 10 year Treasury yields were ~1.6%.
This especially seems relevant now that the Fed has officially announced it will start to withdraw liquidity in the market starting in January. Surprisingly ten year yields have not moved much since the announcement which seems to indicate most of the taper was already priced into the market.
This should be a positive for these high yield sectors going into the New Year. I particularly like the energy partnership space. The United States is in the early innings of a huge production boom and energy infrastructure build out which should continue for the foreseeable future. Here are two very high yield plays that should do well in 2014 under these criteria.
Eagle Rock Energy Partners (NASDAQ:EROC) has traditionally consisted of both a upstream and a midstream business. The company just announced it is selling the midstream part of its business to Regency Energy Partners (NYSE:RGP) for $1.325B.
This transaction will obviously have huge implications for the Eagle Rock's prospects going forward. Most of which will be positive which is confirmed by the positive market action Monday after the deal was announced.
The deal amounts to almost two thirds of Eagle Rock's enterprise value and should provide several benefits to Eagle Rock and its shareholders. The market should reward the stock with a higher multiple as it will now be a pure play E & P concern with promising properties with an average ~12 years of reserve life. It will reduce the company's leverage substantially. Finally, it will provide Eagle Rock with "dry powder" to pursue 'add on' reserves to its existing base.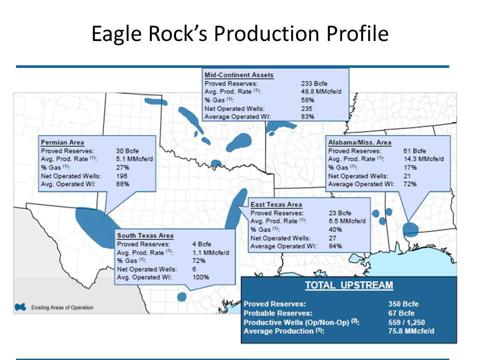 Click to enlarge
This was an over $10 stock earlier in the year before it had to cut its distribution payouts. At $6 a share with a ~11% distribution yield, it is too cheap in light of this game changing transaction.
QR Energy L.P. (NYSE:QRE) is a master limited partnership that develops and produces oil, natural gas and natural gas liquids from a variety of properties in Texas, Mid-Continent and Gulf Coast regions. It has a portfolio of stable, long-lived assets.
The shares almost yield twelve percent at current levels (11.8%) and insiders have been net & frequent buyers of the shares over the past 12-18 months. Earnings are on the upswing as well. After posting just 19 cents as a share in profits in FY2012, the company is tracking to better than $1.10 a share in the black in FY2013. Consensus is for $1.30 a share in FY2014.
The company is also experiencing rapidly rising revenues. Sales should post a greater than 25% increase in FY2013 and analysts believe another ~20% gain in FY2014. The 14 analysts that cover the shares have a $20 a share median price target on the stock. This is ~20% above the current level of QRE, in addition its significant yield.
Disclosure: I am long QRE. I wrote this article myself, and it expresses my own opinions. I am not receiving compensation for it (other than from Seeking Alpha). I have no business relationship with any company whose stock is mentioned in this article.