3M Company (NYSE:MMM) recently announced one of the biggest dividend hikes of 2013. Here are a few quick highlights from the announcement. It is tough to recall another recent conference with so many positives.
The new annual dividend stands at $3.42 per share, up 35% from the previous level of $2.54.
If that is not enough good news, 3M also announced it plans to buyback up to $22 billion worth of its stock through 2017. That represents 1/4th of the company based on current market cap.
The ex-dividend for the new dividend is 02/12/2014.
If you are looking for growth, the company also announced it expects earnings per share to grow at about 10%.
We wrote this article back in 2012 comparing 3M with two other conglomerates, Caterpillar Inc (CAT) and United Technologies (NYSE:UTX) and concluded that 3M had some catching up to do in terms of dividend growth. With 3M's quarterly dividend going from 59 cents a share to 85 cents a share in the meantime, it is time to revisit the story. Let us get into the details.
Dividend history and new yield: 3M has been paying dividends for close to 100 years. Yes, 100 years. No wonder this company is in the "Dividend Champions" list maintained by Mr. David Fish as it has increased dividends for 55 years now. The new yield puts 3M right in between Caterpillar and United Technologies at 2.5%.
Payout Ratio: 3M's payout ratio seems very reasonable, both based on trailing earnings and expected earnings as shown below. This compares favorably with the United Technologies and Caterpillar as well.

(Source: Table compiled with data from Yahoo Finance)
Cash on Hand: 3M has about $3.3 billion as cash and short term equivalents. This has almost doubled from the 2009 lows of about $1.8 billion. 3M carries about $5.8 billion in debt, which is not glaringly high for a company of this size.

(Source: YCharts.Com)
Buyback: While 3M's recent buyback is huge and has caught investors' attention, it doesn't mean that the company has not been buying back shares already. The outstanding shares count right now (673 million) is at the lowest level it has been in the past five years. This is down about 6% from the five-year high of 715 million shares.
Example: Just to put the new buyback into perspective, if 3M retires even 15% of the shares outstanding, the earnings per share instantly jumps up to $7.65. That's 17% "growth" from the current earnings per share of $6.51.

(Source:YCharts.Com)
5 Year Dividend Growth Rate: The average five year dividend growth rate (DGR) has ballooned to 11.45% based on this recent jump. The previous 5 year DGR average was close to 5% before this 35% jump. To 3M's defense, the lowest dividend growth was during the 2008/2009 crisis when a lot of companies slashed their dividends, if not eliminate entirely.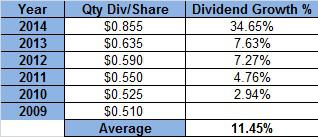 (Source: Table compiled with data from Yahoo Finance)
Extrapolation: The table below shows what future dividend/dividend growth might look like for a patient investor. It assumes a 5% annual dividend growth rate. Maybe the recent increase is a sign of good things to come. Or maybe the company goes through another period where the dividend growth slows down. One never knows.
While 3M is a great company, it is hard to group it with other "stable, staple" stocks like Coca-Cola (NYSE:KO) or Altria (NYSE:MO) when it comes dividend growth and reliability. While we advocate investors to buy value when they see fit and not worry about recent price changes, 3M's cyclical nature needs to be acknowledged. As an example, anyone who bought 3M at $90 during its lows will be looking at an yield on cost of more than 6%. In other words, this is a terrific stock to hold as a long term investment if you manage to buy when there is blood on the street.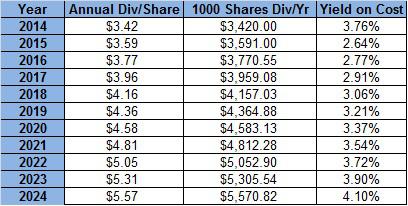 Conclusion (Silencing The Naysayer): "Mea Culpa." As mentioned above, we doubted if 3M could be a good dividend growth stock compared to the other two names mentioned. 3M has come back roaring with this recent dividend hike and other announcements. And it seems to be making it a habit of proving others wrong. JPMorgan (NYSE:JPM) is the latest addition to that list. Check out SA's link about it here.
Disclosure: I am long KO, MO. I wrote this article myself, and it expresses my own opinions. I am not receiving compensation for it (other than from Seeking Alpha). I have no business relationship with any company whose stock is mentioned in this article.