I pray to God that I never share in man's will,
Which widened before me. I saw a chain of men
Linked by wrists to our cavalry. I watched until
they were a line of red ants. I let out a moan
As the last ant disappeared. Then I rode downhill
-Derek Walcott, Omeros
Introduction
Omeros Corporation (NASDAQ:OMER) is a likable entity - for the most part. Even some of the uncomfortable terms tossed around in Joseph Heller's satirical Catch-22 that would seem to be appropriate to a medical firm with an incipient ophthalmologic franchise, such as exophthalmic, do not apply to it. Rather, it is named for an epic poem of a Nobel laureate, and exhibits continued progress at producing medical products that address unmet needs.
A previous article makes use of a report from Cowen & Company to assess its valuation. I find the firm's research overwhelmingly worthwhile. However, some information disclosed results in a sentiment that is not as upbeat as before. Contrastingly, upon careful review, there may also be something to say on the company's behalf. Overall the sensible perspective for anyone who puts his or her own capital at risk might not be as positive.
Yet, unmistakably, the company has several things continuously in its favor. All sell side analysts who cover and purvey the equity recommend it; and their mean target is $18.95, up from $16.33 days ago. Raised valuations may be attributed to FDA recognition of its early stage pipeline's promise.
Omidria
Further, its product that is intended for use during cataract surgery, to be known as Omidria ("O-mid-ree-ah"), is all but approved by the US FDA and Europe's EMA. At any time, there could also be positive news from other products in its pipeline and several of them have exciting potential.
With all the potential catalysts, what is not to like? Earlier in the year, the story surrounding Omidria included an intent for use in regular and premium medical procedures. At the same time, prospects for Medicare coverage seemed realistic, too. However, according to Cowen's November 7th note, Omeros now intends to target mainly the premium patients, meaning those who pay out of pocket for lenses beyond what is covered by insurance, and is not aiming for reimbursement. The product only offers a streamlined way to perform needed surgical procedures that are in increasing demand. Omeros has never sold, marketed, or distributed any biopharmaceutical item. The company's successful recruiting of VP of Sales and Marketing Thomas Mitro, over a year ago, has lent credibility. However, he is part of a team that is poised to offer something that does not clearly sell itself while its commercial potential has shrunken precipitously.
Discussion with an assistant professor of ophthalmology, and director at a regional hospital, has confirmed a report that FDA regulators indeed visit surgical suites. Regarding ensuring use of a separate bottle of ketorolac and phenylephrine on each patient - something a separate staff doctor assures me is their practice - he says "There is a lot of that going on." So while the activity is not new, apparently Wall Street's awareness of it is. In the long term, the market should recognize these truths.
To summarize, the only certainty about the product's potential demand is that its marketplace is reported to be disappearing. Still, if it is approved in the USA or Europe, it is certainly worth something. Further, it should at least be a positive for sentiment, and there is a story that it is also being investigated for reasons involving intraoperative floppy iris syndrome ("IFIS").
However, given the travails and uninspiring quarterly reports that probably lie ahead, due to earnings announcements resulting from underwhelming sales, the company's ability to make back its Weighted Average Cost of Capital might be questioned.
Let me add that it is difficult to predict Omidria's potential in different nations; or within Europe.
Early Stage Pipeline
A November report that Phase II OMS721 has outperformed anti-VEGF treatment "Could be big," according to an eye doctor mentioned previously.
As anyone familiar with the company is probably aware, OMS721 is also under evaluation for thrombotic microangiopathies ("TMAs"), including a rare disease known as atypical hemolytic uremic syndrome ("aHUS"). It has just been designated an orphan drug by the FDA because of potential with TMAs (and interestingly there is no focus on aHUS in the press releases). OMS824 has the same privileged status and is to enjoy benefits if it is successful at treating Huntington's disease. Extended patent exclusivity would be conferred; and an ability to charge high prices is a possibility.
However, the FDA has not awarded Fast Track status to OMS824 as requested several months ago. Also, each candidate designated an orphan drug has required time beyond that of the typical FDA review of recent years. There is a chance that the company's staff is getting better and more familiarized with application processes.
Per a December 16th note issued by Wedbush Securities, reiterating an Outperform rating and stating a Fair Value Estimate of $32, the stage is set "For material data releases starting later this month, with initial Phase 2a results of OMS824 treatment of acute schizophrenia events." The Press Release hyperlinked above merely says Omeros "...could also report Phase 2a data..." There is a chance of imminent news being meaningful to the company's valuation as stated by Wedbush.
In its November 7th research Cowen & Co. does not discuss a Phase II product with two trials underway, proprietary peroxisome proliferator-activated receptor gamma ("PPARỿ") agonists. The drug candidate is intended to tread varied addictive disorders, and is under investigation for problems including nicotine and opiate dependence, as well as other compulsive behavior. Cowen values the early stage pipeline at only $2.77 per share, which appears to be low because of the omission.
Again, there is potential for revaluing of the company due to success or failure of multiple products. Several compounds need no hype. Clinical trials are anything but guaranteed to succeed, and the stock can give back its gains with failure.
Financial Situation
While it should have over $20 million available pursuant to a legal settlement, and approximately enough to get through two quarters, Omeros is incurring added costs because it rents and subleases space within an expansive, eponymous building. The unprofitable company needs to pay $3.2 million in 2014 and rates go up annually thereafter.
There is no CFO; however, the corporation continues to function. It has added VP of Finance and Chief Development Officer, Michael Jacobsen, another person associated with the development of Cialis, a PDE5 inhibitor (Omeros is investigating another PDE compound in addition to OMS824).
There should be roughly $19M on hand; in consideration of a $4M current note. If cash burn rates over the past year are predictive, the ability to pay the bills is probable to resurface as a consideration around the conclusion of Q4. Rent, and the costs of launching a new product, are added demands.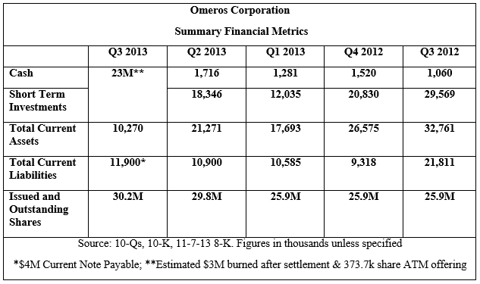 Further dilutive issuances of equity are the most obvious possibility. Year on year, the share count has increased roughly 17%; lower than the 32% increase as of Q1. In the past, a willingness to pursue partnerships in developing pipeline products has been indicated.
G Protein-Coupled Receptors
Amongst assets that are intended to be further monetized are G Protein-Coupled Receptors ("GPCRs"). The GPCR program is funded through an agreement with "Vulcan," who through a lien against it has rights senior to those of shareholders. An agency of the State of Washington ("LSDF") also has supported the program and is entitled to tiered percentages. Omeros's intent is to "Partner or out-license" proprietary rights made available through "…new drug targets made accessible..." There has been no indication or intimation of any internal commercial potential (Source: Current 10-Q).
The company's overall actions in selecting pipeline products appears to have been sound, as evidenced by OMS824's and OMS 721's advancement to Phase II and status as orphan drug. However (in)ability to monetize GPCRs is pertinent to those who follow the corporation. Pertaining to retail investors, questions about GPCRs do go to management's performance.
With that in mind, Chairman and CEO Gregory Demopulos has been with Omeros since inception, the stock recently closed at over $10 per share, and Seeking Alpha lists its capitalization as $318 million. The share price is up 102% on the year. An overall and sensible viewpoint is that leadership has been doing a terrific job; though there may be future issues resulting from an inability to internally raise funds.
It is clear is that any commercialization of newly accessible drug targets is based on need from a hypothetical buyer, who may never surface. Time is required to let things play out. Again, continuous issuances of stock would be a consideration.
Volatility?
Meanwhile, from a day to day perspective, the stock gyrates wildly: from under $4 and to a 52 week high of $13.76 within months. It reached lower prices during the year after a 30% decline during the time of a cash crunch; and its zenith has not been formally attributed to anything save a September, post-NDA report of FDA regulation (and perhaps also the settlement). It generally is not a favorable attribute. However, modest Beta indicates stability; and is an attribute that some other speculative biotech and biopharmaceutical companies lack.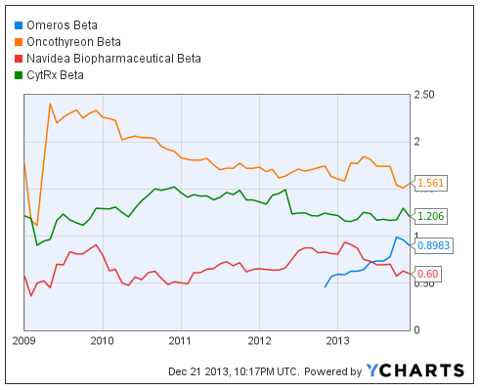 Any future movement is difficult to predict. A believed floor is elusive in light of the stock's current $10.50 price. Due to fiscal problems or a pipeline setback, the share price could go substantially lower.
Conclusion
Dilutive issuances of stock, in amounts consistent with the past, can be anticipated. Concurrent approval of Omidria is a potential catalyst, but the market's pricing of it seems to be the result of batten. With respect to shareholders, the only other obvious source of gainful and internally generated financing would result from any external customer(s) for a drug discovery platform. However, if the past is predictive, there could be another selloff with a fiscal crunch. Figuratively, Omeros needs a cash cow and appears to have two same-sex llamas.
There are remarkable products with the majority of clinical trials remaining ahead of them. Results are unpredictable. With the stock having doubled in 2013, substantial downside can be realized with failure. It is also challenging to view shares of OMER the same way after their price rose so much faster than the improvement in the underlying business. To put it another way, the risk / reward may deserve reassessment; and profit taking could be sensible. Some people liquidate half of their holdings once they are up 100%.
Fortunately for the company, its investors, and those with rare diseases, many important opinions continue to emphasize the business's future prospects.
Disclosure: The author is long ONTY, NAVB. The author wrote this article themselves, and it expresses their own opinions. The author is not receiving compensation for it (other than from Seeking Alpha). The author has no business relationship with any company whose stock is mentioned in this article.