We have seen a nice pullback in many of the small cap oil and gas names since late October. Some have been punished more than others, and these names should be a focus. Stick with quality names, as acreage quality is important, as is management.
PDC Energy (NASDAQ:PDCE) has pulled back over 23% since October. This began after a Q3 miss. This was magnified after the initial resistance seen in the stock was part of an industry wide move. It fell further, after reporting a poor well result in the Utica. Some believe this well result proves the area is not that good, but Antero (NYSE:AR) has had some fantastic results to the north. It is important to note Antero has consistently outperformed in the Utica. I believe this poor result is isolated and does not reflect negatively on the area.
PDCE has produced very good results in all three of its core areas. It has had some average to below average IP rates, but this is due to the use of a very tight choke. Although PDC Energy missed in Q4, it is still a quality name. It has excellent acreage in Wattenberg Field. Much of this has been de-risked, and it has some of the best EURs in the D-J Basin. It is also levered to the Utica. I have provided a list of operators in the Utica below. It shows how levered each company is on an acre/share basis.
| | | |
| --- | --- | --- |
| Operator | Acreage | Net Acres/Shares 000's |
| (NASDAQ:GPOR) | 147350 | 1.9 |
| PDCE | 46000 | 1.29 |
| (NYSE:APC) | 250000 | .50 |
| (NYSE:HES) | 160000 | .47 |
| (MHR) | 80000 | .47 |
| AR | 102000 | .39 |
| (NASDAQ:REXX) | 21000 | .39 |
| (NYSE:CNX) | 80000 | .35 |
| (NYSE:HK) | 142000 | .34 |
PDCE's Utica results are important. It has developed a very good leasehold, and the affect of one poor result can be significant. This is the main reason for the big push downward after its recent well results. I know we all expect our operators to produce results close to the best to date, but this rarely happens and those expectations will ultimately be disappointing. The results do not change the geology, or the value of its acreage. This is one of the reasons the haircut was excessive. The Utica is important to PDCE, but it's business lives and dies at Wattenberg.
PDCE's Q3 was a disappointment. Production came in below guidance due to the timing of production of new wells in the Utica and Marcellus. It also had a production loss in Colorado due to flooding. Average Q3 production was up 29% year over year. Crude oil volumes increased 40% for that period. It's Wattenberg horizontal development is driving this growth. Over 97% of liquids production is from here. Production from Wattenberg and the Utica that missed Q3 will drive Q4 numbers. PDCE reported a $16 million dollar loss or 46 cents/share in Q3. This included $22 million in future unrealized hedging losses and an impairment of $2.3 million on the expected sale of Devonian assets. Adjusted cash flow increased 7% year over year. These hedging losses were the first in 7 years. Much of it's production is hedged in the $80/bbl. range. Adjusted EBITDA per share was $1.38 versus $1.16 year over year. Adjusted cash flow per share was $1.09 versus $.94.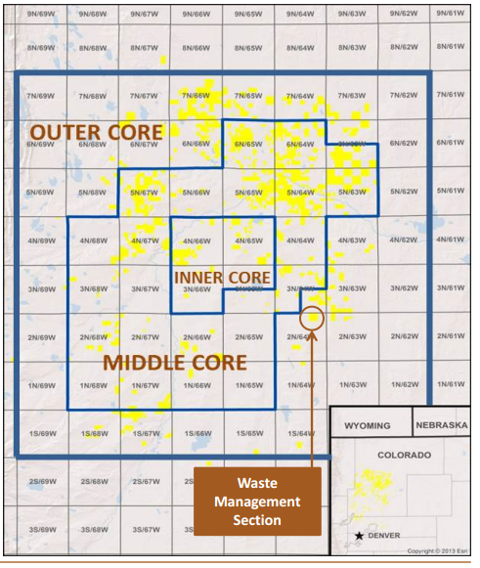 In the Wattenberg, PDCE drilled and completed all 16 wells in its Waste Management pad. The map above shows the location of PDCE's Wattenberg leasehold. As you can see, it is located in some of the best areas. The choice of location for the waste management pad is interesting. It would seem the geology has a nice resource mix balance and depth. More than likely this area has the best overall intervals.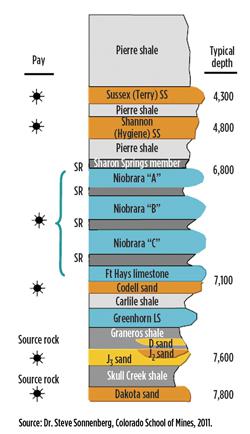 The DJ Basin stratography above shows all of the prospective intervals for PDCE's acreage. Currently the three Niobrara benches plus the Codell are proven. Other operators are testing other pay zones further from Wattenberg Field. All of these wells outperformed existing production curves. It confirms 16 wells per section at the very least in this area of its leasehold. Of the 16 wells, 6 were Codell. These wells are performing above the current 345 MBoe model. Well costs averaged $4.2 million/well. Keep in mind, these wells have very good economics.
The average IRR for the Codell interval is 77% while the middle core Niobrara IRR is 81%. Midstream has began to improve as the O'Connor Plant (was referred to as the LaSalle Plant) started on October 9th. Line pressures have improved. Older well production has improved approximately 12% since. PDCE expects a strong Wattenberg production rebound in Q4, better yet this bodes well for 2014. Wattenberg has very strong IRRs. I have provided PDCE's data from its Niobrara and Codell intervals in the different core areas of Wattenberg Field.
| | | | | |
| --- | --- | --- | --- | --- |
| Area | EUR | Cap Ex | %Liquids | IRR% |
| Inner Core | 500 | $4.2 | 56 | 140 |
| Middle Core | 365 | $4.2 | 69 | 81 |
| Outer Core | 265 | $4.2 | 77 | 50 |
| Codell | 345 | $4.2 | 75 | 77 |
It has drilled 12 total wells in the Utica, 10 this year. It recently drilled its first in Washington County. This is the Garvin 1H. It was placed on a very tight choke after resting and opened up slightly over the first 8 days and it produced 1530 Boe/d. PDCE has choked back Garvin 1H production to protect the hydraulically frac-ed wellbore. If a 36/64 choke was used on Garvin 1H, initial production numbers would have reached 4000 Boe/d. Its production mix was 54% liquids. There are two more Garvin wells planned on this pad. These will be turned to sales at the beginning of 2014. Pipeline constraints also contributed to the miss. In particular Guernsey County, where pipeline delays were encountered on the Stiers 3 well pad. To date, well results have been good in the Utica. Each area is different in initial production rates and production mix. We do not have enough data to give an idea of acreage quality. It is thought, Garvin 1H is in a very good area. As a comparison, I have provided the table below. It consists of single well results throughout the play, with several different operators.
Condensate And Wet Gas Window Well Results In The Utica
Well
Operator
Window
County
Gas
NGL
Oil
Cond
BOE
Stuart Henderson #1H
(NYSE:CHK)
Cond
Harrison
1.9
100
410
Henderson South #5H
CHK
Cond
Harrison
3.8
240
755
Buell #8H
CHK
WG
Harrison
9.5
1425
Athens A 1H-24
WG
Harrison
13.9
1056
Capstone 2H-29
WG
Belmont

2242

Yontz1H
AR
WG
Monroe
33.5
3464
52
Rubel Pad
AR
WG
Monroe
25.3
3170
196
Norman 1H
AR
WG
Monroe
22.4
2323
45
NBL 16A
CNX
WG
Noble
12.0
768
Garvin 1H
WG
Washington
1530
Miley Pad
AR
Cond
Noble
7.3
1114
1300
Wayne Pad
AR
Cond
Noble
10.5
1757
1719
Guernsey 2H
REXX
Cond
Noble
8.1
1200
564
Noble 1H
REXX
Cond
Noble
8.0
1212
392
Detweiler 42-3H
PDCE
Cond
Guernsey
2197
Onega Commissioners 14-25H
PDCE
Cond
Guernsey
1796
BK Stevens 1-26H
GPOR
WG
Harrison
6.1
759
1224
Wagner 1-28H
GPOR
WG
Harrison
14.0
2313
Shugert 1-12H
GPOR
WG
Belmont
25.7
2907
300
Groh 1-12H
GPOR
Cond
Guernsey
1935
Ryser 1-25H
GPOR
Cond
Harrison
2914
Boy Scout 1-33H
GPOR
Cond
Harrison
5.3
1008
1560
The above data is very interesting. Not only do the results vary in production volumes, but also in resource mix. Not only does the mix change significantly from one window to the next, but also from north to south.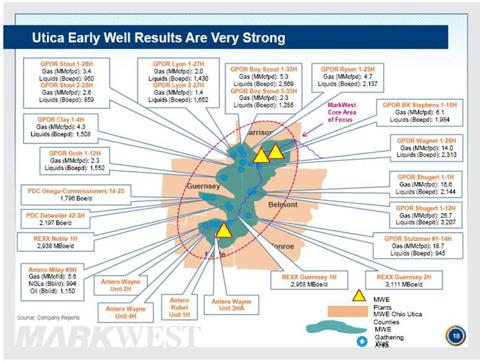 Click to enlarge
The above map provides additional well results, in what is considered to be a core area of the Utica. Note the PDC Energy wells which had good results on a tight choke. Other operators had better IP rates, but keep in mind it is better to use production further out to compare EUR models.
Natural gas volumes will increase in Q4 from its Marcellus activity. It already has four pads on line including the 4 well Armstrong pad completed recently. Production increased 28%. It has 6 horizontal rigs running. Four are in Wattenberg, one in the Utica and one in the Marcellus. It has plans of a fifth operated rig in the Wattenberg starting in Q2 of next year. A second rig will be added in the Utica in the second half of next year.
Q3 price realizations improved significantly year over year. Oil averaged $98.11/bbl. compared to $85.45/bbl. Natural gas improved to $3.13/Mcf from $2.54/Mcf. NGLs sold for $27.70/bbl. versus $24.76/bbl. Considering the entire product mix, a 21% improvement was seen. Production costs improved to $11.12/Boe from $11.97 a year earlier. Gross margins improved to $36.80/Boe from $27.64/Boe. Although Q3 production came in under expectations, PDCE confirmed its annual guidance. It did lose approximately 10000 Boe to the flood where it had 214 vertical wells shut in. PDCE estimates it will spend between $3 and $5 million on the flooding to get back up to pre-flood production. For the first 9 months of 2013, PDCE has brought on line 67 drilling projects. 47 were in Wattenberg, 9 in the Utica and 7 in the Marcellus. It has also participated in 27 non-op projects over that time as well.
In summary, PDCE had gotten ahead of itself going into earnings and was due a pullback. That said, it was excessive and now provides value. Its 2014 production guidance was disappointing, but I think management realizes it will be very important to under promise and over deliver in the wake of recent performance. I believe Wattenberg producers will see a nice increase in production as the O'Connor plant relieves some high line pressures. Additional projects in 2014 should help to maintain this. Its Waste Management pad has performed very well and backs the assertion of 16 wells per section. More importantly, Whiting (NYSE:WLL) has recently stated its Niobrara wells have been producing closer to a 500 MBoe model.
In the Utica, recent well results have been good. Neill 1H has been the focus as this was the one disappointment for PDCE. It looks to have encountered faulting, and a portion of the lateral was drilled outside the zone. PDCE expects initial production to improve as the well continues to clean up. The poor steering of Neill 1H may have provided upside to other intervals. PDCE believes it is getting some production from this part of the lateral. It is possible additional locations could be garnered in this area. Although there was a big miss in Q3, much of this was due to future unrealized hedging losses. Keep in mind that production can be lumpy and this has something to do with the miss as well. In my opinion, little has changed in the PDCE story. The lower production guidance does trim a few dollars off of the price target to $78/share.
Disclosure: I am long PDCE. I wrote this article myself, and it expresses my own opinions. I am not receiving compensation for it (other than from Seeking Alpha). I have no business relationship with any company whose stock is mentioned in this article.
Additional disclosure: This is not a buy recommendation. The projections or other information regarding the likelihood of various investment outcomes are hypothetical in nature, are not guaranteed for accuracy or completeness, do not reflect actual investment results, do not take into consideration commissions, margin interest and other costs, and are not guarantees of future results. All investments involve risk, losses may exceed the principal invested, and the past performance of a security, industry, sector, market or financial product does not guarantee future results or returns. For more articles like this check out our website at shaleexperts.com. Fracwater Solutions L.L.C. engages in industrial water solutions for oil and gas companies in North Dakota. This includes constructing water depots, pipelines and disposal wells. It also provides contracting services for all types of construction at well sites. Other services include soil remediation. Please contact me via email if you are interested in working with us. For more of my articles and other pertinent information on the oil and gas sector, go to shaleexperts.com.