Right now Amazon (AMZN) has a considerable edge over most other traditional big-box retailers. Nevertheless, for all the amazing things which can be said about AMZN, it's not a perfect company. In fact, recently on CNBC, Paul Isaac, a hedgie and founder of Arbiter Partners, recently made a bear case for AMZN and publicly stated his fund is short the stock. While I believe Isaac is misguided in his thesis and don't believe shorting AMZN is a wise analysis, I also don't believe buying it at this price is a good idea either. AMZN, at times, can leave investors feeling it's overvalued as analysts seem to have a field day trying to value to company in untypical fashion, tossing out an array of ratings and price targets. Nevertheless, AMZN's strategy will continue to grab market share from its competitors and eventually will run others into the ground, making its universe smaller and AMZN larger. Thus, on pullbacks of a certain percentage I believe opening a position in AMZN and holding it is the right recommendation.
As an investor recommending AMZN as a buy, I also want to recommend ways it could further create value. One of the ways I believe it could comes from answering one debated question regarding whether or not AMZN would benefit from having a local presence which goes beyond AMZN's distribution warehouse. This article serves to state my position on whether a merger or acquisition made by AMZN of a retailer would create value, but also to begin a conversation and hear from the investment community why AMZN should or should not do so.
I believe AMZN would benefit from having a local presence so long as it utilizes the proper function within its current business operations. AMZN did for customers what no other retailer had done - it revolutionized how consumers purchase items. When it comes to AMZN forming a localized presence, the question isn't simply whether AMZN should or shouldn't form one, but more so, how would AMZN utilize a local presence? How could AMZN alter how retail works? How could AMZN perhaps change an industry again by utilizing physical space unlike any retailers have before? I further believe that a merger or acquisition made by AMZN would be the optimal strategy to form a localized presence instead of starting to build its own "AMAZON" buildings from scratch. With only 49 fulfillment centers throughout 9 countries, AMZN is anything but local and acquiring or merging with a retailer or distributor who currently has a localized presence would more readily create value rather than structuring the financing to build from the ground up.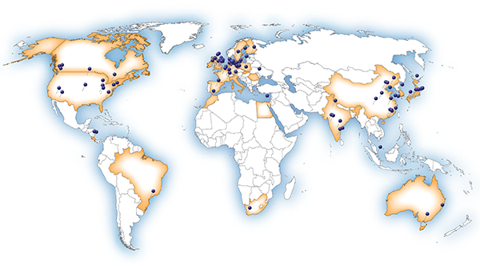 Click to enlarge
Consumers often cry for a more experiential encounter. Best Buy (NYSE:BBY), to give an example, paints a picture on a smaller scale of what I believe AMZN could be on a much larger scale which would ultimately grab market share from competitors more so than they already have.
BBY offers people the ability to come in to a store and demo a product before they decide to purchase it. Some AMZN addicts will say here that BBY may have this, but BBY can't beat the prices found on AMZN. That's not entirely true. As anyone on the street knows BBY has made a roaring comeback through its restructuring efforts and has remained purely competitive in terms of its operational strategy. One thing BBY does which is untypical of other retailers is found in the company's price matching strategy. Nearly all retailers price match, but the companies often require a hard copy document of the ad showing the price for the respected item. In fact, while I was doing some consumer craving research (this is when I walk through shopping malls during the holiday season to see who is buying what and where and if the stores are publicly traded or not), I came into RadioShack (NYSE:RSH). RSH told me it priced match but I must first bring in a valid hard copy ad of the item from another retailer in order for RSH to meet the price. BBY decided that's a horrible idea and offers in-store price matching even with AMZN, with a hard copy of an ad or not. In fact, I have seen with my own eyes a BBY employee look up online in the store to find the price of an item off AMZN for a customer so that it could match AMZN's price and prevent AMZN from receiving the sale. Not a bad strategy and it seems to be working. I'm not suggesting that BBY stands to gain market share upon this alone, it's just one of many examples where people tend to think AMZN has the advantage, but it may not entirely be so.
My point here is simply this: While I don't believe BBY can win against AMZN in the long run, I do believe it can keep the competition lively. Unfortunately for BBY and other competitors, in the retail world where continually narrowing-margin sales and heavy topline revenue are the norm, lively competition leads to many retailers' downfall over time. Companies either are gaining market share or are having it taken from you. And I believe AMZN incorporating some sort of a localized presence can further lead to them gaining more market share.
Why Not Simply Acquire Best Buy?
This deal has been hinted at in the investment community before, specifically by CNCB contributor Herb Greenberg. Unfortunately for AMZN, BBY has made such a roaring comeback that it's far too expensive to transact a sensible deal. Furthermore, the chances are high that BBY would not want to be acquired right now as they are still undergoing their restructuring efforts and are awaiting to see what its bottom line results will be long term. This also would make it riskier for AMZN to acquire them as it has yet to be seen if BBY's newly found strategy will work for them over the long haul. Not to mention, if BBY prevailed even better than it has this year, and if AMZN made the right acquisition of another company, it would further increase AMZN's value as a company if they eventually took more market share away from one of their thriving competitors in the consumer electronics industry, that being BBY.
Why Would Amazon Acquire An Existing Retailer?
But why would AMZN acquire someone at all? Wouldn't this defeat the purpose for which AMZN was created - to avoid the brick and mortar retail medium of selling items? AMZN could offer many more products than a BBY, but I think that would be a waste of overhead costs and eventually equate to poor inventory turnover. What AMZN could do, however, is offer only in store its highest demanded products per given consumer foci, coupled with an array of customer servicing channels similar to BBY's Geek Squad or Apple's (NASDAQ:AAPL) Genius Bar. This is to say, AMZN would have in store its highest sold cameras, computers and other consumer electronics (mobile phones and of course tablets), its highest sold clothing accessories, its highest sold car seats and other infant products, or whichever products AMZN believed would sell the most.
What About Those Drones and Same Day Delivery?
And here's where having a physical presence could further aid AMZN and is another reason why they should acquire an existing retailer. When the 60 Minutes piece with Jeff Bezos aired and he shared that AMZN was experimenting with drone delivery the Street drooled bullishness and the whole world cried out in utter fascination. While I believe there are only a few CEOs who could pull something like this off (Bezos and Elon Musk would be two of them), I nevertheless believe this won't be happening anytime soon. If AMZN, however, had a localized presence other than its warehouses, same day delivery - whether by drone or traditional delivery - could become much more feasible. AMZN could demo high demand products, while also storing other products solely for the purpose of being delivered on the same day. AMZN already does certain things like this when it allows exclusive perks when buying items through Amazon Prime or items over a certain dollar amount. Hence, only certain items could be guaranteed by same day delivery.
AMZN's Amazon Fresh, which in my opinion is one of its most strategic operations, could also benefit from a physical presence. Currently, Amazon Fresh only services the greater Seattle, San Francisco and Los Angeles areas. A physical presence would allow AMZN to enter new markets and further its reach.
Who out there currently has enough synergistic hallmarks to make acquiring or merging with them sensible for AMZN?
Before we jump ahead to actual company acquisition scenarios, there are few core questions which traditionally lay the foundation for a sensible transaction. Some of those would be (with some accompanying answers):
Will an acquisition create further value for the company and its customers? Yes, the right acquisition with the right market timing would create value.
Will it increase brand performance and thus profitability? AMZN's customer loyalty is impressive on a comparable basis. When a consumer sees a deal at Target (TGT) or Wal-Mart (WMT) they often first check AMZN to see if there's a better price. Having a physical presence with added perks for visiting the store would increase brand performance.
What kind of deal structure would be best for AMZN? It's hard to say. Some potentially targeted companies are cheap and an all-stock deal is feasible. Others have stronger synergies, yet offering a premium for them would be less financially feasible for AMZN. Whether a taxable or nontaxable deal using stock for cash or stock for stock/assets could make sense.
What are the objectives of the deal (basically this boils down to the how, why, what, where and who of the process)? E-commerce is where AMZN has made unparalleled success, but it could wane after awhile for the simple fact that AMZN cannot replicate what a physical, localized location can. And if we're honest, AMZN's valuation is mostly based off of future projections as the company is not as wildly profitable as its stock price would lead one to believe.
What are the projected gains to be had both financially and with regards to the overall economics of the buyer's business?
When you compare comps between AMZN and other retailers and distributors you see a stark variance in AMZN's favor. Best Buy, Radio Shack, Bed Bath & Beyond (BBBY), J.C. Penney (JCP), Sears Holdings (SHLD), Target, SpartanNash (SPTN) and Wal-Mart. Of these companies, I believe there are two which make most sense to acquire: BBBY and RSH. At this, I believe a vertical merger between SPTN and AMZN evokes great intrigue.
Hypothetical Scenarios
AMZN To Acquire Bed, Bath & Beyond: On simply a synergistic basis, BBBY offers the most for AMZN, both practically speaking and operationally. Recently I had to visit a BBBY to purchase a wedding gift. I hadn't shopped there in quite some time, and as I walked in I immediately thought this was an inventory case study just waiting to be written. As I began to browse through the aisles it felt as though I was walking through what an AMZN store could look like with some exceptions: no books, consumer electronics, or other eclectic things shoppers often find only on AMZN. Nevertheless, I thought there existed several synergies within an acquisition of BBBY made by AMZN. But financially, with BBBY trading range-bound in the sub eighties, with a EV/EBITDA of ~8, it would make structuring a deal financially difficult for AMZN and therefore, makes little financial sense for AMZN to acquire BBBY as they are simply too expensive.
AMZN To Acquire RadioShack: Now this makes more sense. Throughout 2013 there has been ongoing conversation among bloggers regarding whether or not an AMZN acquisition of RSH makes sense. Others have suggested AMZN engaging in a partnership with RSH to utilize RSH's space for AMZN's Locker and or, same-day delivery (They did partner with RSH for Locker until RSH gave them the boot). RSH with an enterprise value of ~$500 million wouldn't hurt much of AMZN's $8 billion cash pile, making it much more of a financially feasible deal. Furthermore, there's talk that AMZN may not be the only company eyeing RSH as a potential acquisition target. It has been suggested that Google (NASDAQ:GOOG) could likewise benefit from acquiring RSH. But would the ailing retailer want to be acquired? In a word, yes, but a story always makes the point stronger.
A little more than a week ago I went into a RSH near closing time with an RSH coupon. As I arrived at RSH I saw what I normally see at a RSH - a store with a couple employees, but no customers. After I did my shopping and as the employees began to close up the store, I asked abruptly "So is RadioShack going to stick around much longer?" Both employees replied they didn't know, but that they were concerned. In fact, one of the two employees said this verbatim quote: "We receive those updates from the CEO and they always say 'We're good, we have enough money,' but I don't know if it's true because man, things are bad!" I chuckled a bit as they did as well, but sadly, they seemed worried that RSH's demise would be their job's demise as well. One employee then said they had heard inter-company rumors (which are somewhat public now) that RSH was hoping AMZN would acquire them.
So does this potential acquisition make sense? As I reviewed other transactions in the past I realized like any there are some pros and cons. Structuring a deal to acquire RSH would be undoubtedly in AMZN's favor. RSH has lost over 80% of its value in roughly a mere three years time and is worth just north of $300 million on the market. AMZN could offer RSH an all stock transaction with a 50% premium and it would still wouldn't tremendously hurt AMZN (but they obviously wouldn't offer this). At this, RSH shareholders would utter the loudest "Hallelujah!" the street has ever heard if this happened as they have been left holding the bag for the longest of time with seemingly no light at the end of the tunnel.
One thing I like about AMZN acquiring RSH is that it would give AMZN an opportunity to sell off several of RSH's some 7,000 properties worldwide, many of which are in terribly unprofitable locations, allow AMZN into new overseas markets, acquire a historically known brand name (collecting goodwill in the process), and then have a presence in more localized areas which goes beyond renting a vendor's space within a mall as BBBY does. Financially this makes sense for AMZN and it would come with some perks. But RSH buildings are quite small compared to other retailers. AMZN would need to utilize RSH's buildings strategically either for same-day distributing sites or to offer some sort of customer servicing provision like AAPL's Genius Bar or BBY's Geek Squad. AMZN currently offers Amazon Locker locations wherein a customer can pick up an item. RSH's buildings seem applicable to fill this same utility and then offer customer servicing on products which typically require it (e.g., higher margin items such as consumer electronics). Often times a consumer buys a camera or new smartphone and wants to be shown and taught how to use it formally as opposed to reading about it, playing around with it, or simply watching a video on YouTube. It's the simple psychology here of societal interaction which is what AMZN cannot replicate yet and could eventually hurt its business.
AMZN To Merge With SpartanNash?
Why would AMZN merge with a food distributor? Investors unfamiliar with SpartanNash need to be study this recently merged company. This company is exactly what AMZN Fresh needs to excel: A North American, localized presence to fulfill the function of delivering groceries. What AMZN lacks is business with local customers who prefer the physical interaction in their customer experience as opposed to e-commerce. Merging with a local distributor would allow consumers to retain the usage of a localized grocer while also using e-commerce.
SPTN is the largest food supplier for the military, is in several international markets and is in 44 states at the local level netting over $5 billion in annual sales. AMZN's success comes from their online store. Merging with SPTN would give AMZN a hybrid presence allowing them to keep their focus on e-commerce for most of their items, while also having now a pseudo physical presence through SPTN, allowing AMZN to strategically focus on AMZN Fresh and enter new markets at the local level. Hence, AMZN could retain only its original e-commerce presence, and only utilize Amazon Fresh to offer a localized presence.
Consolidation Will Take Place: Amazon Is The Retailer To Watch
Retail is such a difficult and ever changing industry regardless of consumer foci (be it clothes, electronics, food, etc.). Time and again we will continue to watch clothing retailers such as American Apparel (APP) and others such as JCP come and go. We will continue to see more Circuit Cities and RadioShacks bite the dust. If you've been in this game long enough, you've seen it time and again. In the end, the pond will only feel bigger for most fish as they believe there's more competition than ever before. The truth is, other fish will actually have simply become bigger and have more market share. At some point there will be a gust of consolidation efforts similar to that of the telecom industry and simply by default to attempt and stall the impending doom of companies against others. When this time arrives, I see companies doing this out of default not to try and thrive against AMZN, but to try and simply survive. It's already begun and will continue to become more evident. Will AMZN strike first upon a company which others such as Google may already be preying upon? Will they redefine how to use physical, localized space for consumers as they did with e-commerce? Whichever comes first, AMZN will continue to gain market share and any of the aforementioned scenarios will be but the nail in the coffin for competitors.
Disclosure: I have no positions in any stocks mentioned, and no plans to initiate any positions within the next 72 hours. I wrote this article myself, and it expresses my own opinions. I am not receiving compensation for it (other than from Seeking Alpha). I have no business relationship with any company whose stock is mentioned in this article.
Additional disclosure: I may open a position in AMZN through 2016 LEAP calls.