Recently, switching and routing giant Cisco (NASDAQ:CSCO) hosted its 2013 Financial Analyst Conference, and management's commentary during the meeting wasn't encouraging. The firm's fiscal first quarter 2014 results, released mid-November, had showcased significant order weakness and commentary on the company's fiscal first-quarter conference call indicated that the firm did not anticipate material improvement in its order growth during the second quarter, but CEO John Chambers' reiteration of his view that emerging markets remain "extremely challenged," particularly in Brazil and Russia, has sent shockwaves across much of the networking industry. It appears the market had been building in expectations that some order stabilization would occur at this point during the quarter, and Chambers comments may have mitigated this enthusiasm. Though it may take some time to right the course, management thinks emerging countries will grow at a nice 6%-10% annual clip.
Image Source: Cisco
Adding fuel to the fire was a slide from CFO Frank Calderoni's presentation that showed future revenue growth at Cisco is now expected to be in the range of 3%-6% during the next 3-5 years. This is down from 5%-7% annual growth expectations it set during its conference in 2011 on headwinds ranging from macroeconomic uncertainty to conservative customer budgets. Though a percentage point or two of growth may not seem like a lot, it can have significant implications on smaller players within the networking space and speaks to a growth trajectory that is moving in the wrong direction. Services revenue expansion is expected to grow at a 7%-10% pace during the next 3-5 years, down from 9%-11% previously. Services gross margins are a few percentage points better than product gross margins and were 66.6% on a non-GAAP basis in the fiscal first-quarter. Lost revenue in this area will have a greater impact on profits than weakened growth in product sales.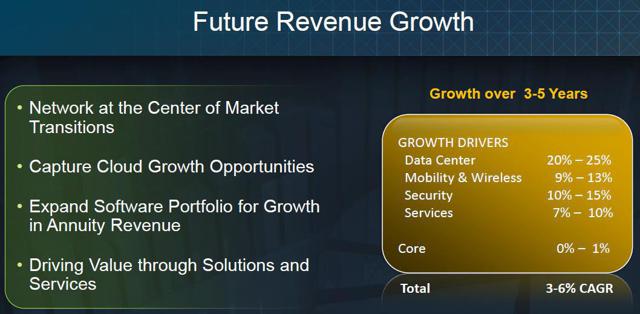 Image Source: Cisco
Valuentum's Take
Cisco's revenue growth trajectory continues to shift lower, and it appears business has not turned upward thus far through the current quarter at the networking behemoth. Still, the company's free cash flow generation is astounding, and its dividend remains solid. We fully expect the company to use its newly authorized share buyback program to aid in earnings-per-share expansion in coming periods. If the firm misses bottom-line numbers, we'd grow more and more concerned about a loss of focus at the executive suite of the networking behemoth. Shares are cheap at current levels, but consistent with our stock-selection methodology, we're waiting for an improvement in the firm's technical/momentum indicators before considering opening a position in either of our actively-managed portfolios. The opportunity may come sooner than later; we're keeping a close eye on shares.
Disclosure: I have no positions in any stocks mentioned, and no plans to initiate any positions within the next 72 hours. I wrote this article myself, and it expresses my own opinions. I am not receiving compensation for it (other than from Seeking Alpha). I have no business relationship with any company whose stock is mentioned in this article.