IMF predicts global GDP growth will reach 3.8% in 2014. It is believed that this growth will be fueled by the somewhat similar economic conditions of 2013. The main drivers of this anticipated growth will be the recovering US economy, positive trends in the Eurozone and further growth in emerging markets. Moreover I think that this positive trend in most of the developed world and the emerging markets will expand the discretionary disposable income of the consumer and will lead to an increase in spending.
This trend has helped cyclical auto manufacturer companies in 2013 and will continue to support them throughout the next year. I have decided to analyze North America's largest and the world's second largest auto manufacturer, General Motors (NYSE:GM), to see whether it is a profitable investment opportunity for investors hoping to take advantage of this positive trend.
Stock Performance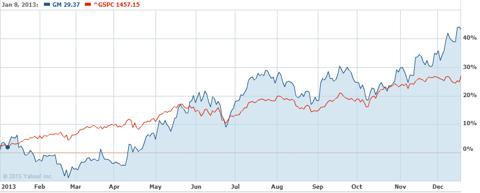 After receiving a $50 billion bailout package from the US Government in 2009, General Motors has earned $22 billion in the last three years. Year to date, General Motors' stock has gained 41.68%, clearly outperforming the broad based S&P 500 index and is currently trading at $41.27
Growth Opportunities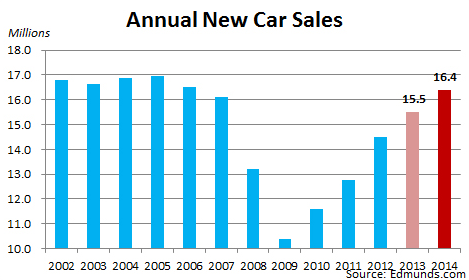 According to research conducted by Edmunds.com annual new car sales are expected to reach 15.5 million light vehicle sales in 2013 and this figure is projected to reach 16.4 million by the end of 2014. There are two major developing trends which will lead to increased unit sales in 2014. The first one is the average age of all light vehicles on the road which has increased from 11.2 years to 11.4 years meaning there are more vehicles that need to be replaced The second trend is the expected surge in lease returns.
Other developments that will eventually support the anticipated trend are the elevated prices of used cars and supply demand mismatch of these vehicles.
Recent Initiatives and Announcements
During the current fiscal year General Motors has made some important decisions. The most significant among them was the decision to sell the remaining 8.5% of its stake in ALLY Financial, the decision to sell-off its remaining 7% stake in PSA Peugeot, the company's plan to cease its manufacturing operations in Australia by 2017 and lastly the announcement to increase its production capacity in China.
The deal to sell the Ally Financials stake for $0.9 billion will add approximately $0.5 billion to the bottom line earnings during the last quarter of fiscal year 2013 and will continue to support net income beyond 2014. With this cash the company will be able to provide additional support to its core operations. Moreover Ally Financial will continue to provide financing to the company's dealers and customers in the US.
In addition to this, the company made an excellent move to sell off its 7% stake in PSA Peugeot. This deal will provide immediate liquidity and will not affect the existing partnership. Both companies will continue to work together to build new products. Moreover the synergy achieved due to this strategic partnership will increase to $1.2 billion by the end of fiscal year 2018.
The company has also announced its plans to relocate its manufacturing plants from Australia to a place with cheap labor and lower operating cost by the end of 2017. After the successful execution of its relocation plan the company will eventually be able to realize significant cost saving.
Lastly, the company realized excellent growth in China as it sold approximately 1.6 million cars during fiscal year 2013 and expects to increase this number to 5 million units by the end of the decade. To achieve this goal the company's management announced that General Motors and its joint venture partners will invest $11 billion to add four new plants in China within the next three years.
Company History
During the most recently ended quarter of fiscal year 2013 the company reported revenues of $39 billion reflecting an increase on 3.72% year over year. This increase is primarily attributed to increased unit sales and prices in the US and Asia partially offset by lower unit sales in Europe.
During the third quarter of fiscal year 2013 the company reported net income of $0.7 billion, reflecting a 53% decrease year over year. The decrease was primarily attributed to an adjustment of net loss from special items of $0.9 billion and an increased incremental tax expense of $0.5 billion. Normalized earnings were actually $2.1 billion reflecting an increase of 40% year over year.
The most significant achievement for the quarter was the fact that General Motors squeezed its losses from Europe by more than 50 percent to $214 million. The previous year's losses amounted to $487 million. Therefore, I think there is a potential for past headwinds to become future tailwinds. General Motors has been losing money in Europe for many years. It has lost approximately $17 billion since 1999. A big turnaround effort launched in late 2011 has led to some improvement and narrowing of losses. In its last quarter the company was close to breakeven which means that profitability in Europe is just around the corner.
Valuation

The table above shows the fair value of General Motors derived through a multiple based valuation approach. The company's per share earnings, book value, sales and cash flows have been calculated using the company's trailing twelve month figures. Moreover, the weights to P/E, P/B, P/S and P/Cash Flow have been assigned on the basis of survey estimates.
Based on the given multiples of the industry and the company, the fair value of the stock should be $38.56 reflecting a slight overvaluation of 6.56%.
I think the company has grown at a reasonable rate year to date and is expected to perform above average in the coming periods. Therefore, I see the stock improving.
Conclusion
General Motors is enjoying the upturn in the US auto sector, is well positioned in the Chinese market and its operations in the European region are also recovering from the heavy losses incurred in the past. Although the current stock price is a bit overvalued I think that paying a small premium for a bright future is a fair trade. In light of the above arguments, General Motors is an attractive investment opportunity and I offer this stock a buy rating.
Disclosure: I have no positions in any stocks mentioned, and no plans to initiate any positions within the next 72 hours.
Business relationship disclosure: The article has been written by a Blackstone Equity Research research analyst. Blackstone Equity Research is not receiving compensation for it (other than from Seeking Alpha). Blackstone Equity Research has no business relationship with any company whose stock is mentioned in this article.