Lightstream Resources's (OTC:LSTMF) CEO John Wright and I are in a similar boat.
For years now Wright and I have been telling people that Lightstream is a compelling investment opportunity. And for a long time the stock market has been telling us that we are very wrong.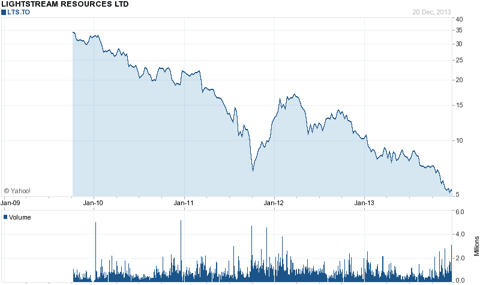 Now in the defense of Mr. Wright, he has (despite this awful chart) over the past 13 years taken a company that initially had a $50 million market cap and turned it into a couple of billion dollars of shareholder value. So it isn't all bad for him.
I don't have as much to offer in my defense except that I didn't get any exposure to this company until the share price dipped under $20 and I have been averaging down constantly for the better part of three years. I suppose that is not so much a defense as an observation.
Despite where I currently sit with this investment, I still do feel that the long prospects for Lightstream are very good. Importantly so too apparently does Wright who has been aggressively buying shares in the open market:
| | | | | | | | |
| --- | --- | --- | --- | --- | --- | --- | --- |
| Security designation: | Common Shares | | | | Common Shares | Price | Total Holdings |
| | | | | | | | |
| 2368481 | 11/25/2013 | 11/25/2013 | Direct Ownership : | 10 - Acquisition or disposition in the public market | 20,000 | 5.6142 | 4,300,355 |
| 2369469 | 11/26/2013 | 11/27/2013 | Direct Ownership : | 10 - Acquisition or disposition in the public market | 20,000 | 5.65 | 4,320,355 |
| 2369460 | 11/27/2013 | 11/27/2013 | Direct Ownership : | 10 - Acquisition or disposition in the public market | 20,000 | 5.52 | 4,340,355 |
| 2370965 | 11/29/2013 | 11/29/2013 | Direct Ownership : | 10 - Acquisition or disposition in the public market | 40,000 | 5.595 | 4,380,355 |
| 2374075 | 12/5/2013 | 12/5/2013 | Direct Ownership : | 10 - Acquisition or disposition in the public market | 130,700 | 5.58 | 4,511,055 |
| 2378244 | 12/12/2013 | 12/12/2013 | Direct Ownership : | 10 - Acquisition or disposition in the public market | 509,300 | 5.46 | 5,020,355 |
| 2384063 | 12/16/2013 | 12/20/2013 | Direct Ownership : | 10 - Acquisition or disposition in the public market | 288,600 | 5.4425 | 5,308,955 |
By my math that is 1,028,600 shares at an average price of $5.48 which means Wright has spent over $5.6 million of his own money.
I'm not going to say that this insider buying by Wright marks a bottom for the share price or that I have any idea when the share price may start going up.
What I am willing to say is that it is refreshing to have the CEO of a company that I own a significant number of shares (for me) in not just say that the market is dramatically undervaluing his company, but instead actually put a meaningful amount of his own money where his mouth is.
In fact Wright investing this amount of cash isn't simply refreshing for me, it reassures me that my long term view of this company has merit.
What I Think The Market Is Missing About Lightstream
A friend of mine recently suggested that I am obstinate. To completely appreciate that comment I went to the dictionary to make sure I could be properly offended:
Obstinate - stubbornly refusing to change one's opinion or chosen course of action, despite attempts to persuade one to do so.
I raise these accusations of obstinance so that you can bear that in mind when I tell you that I still believe in Lightstream for the long term and think the market is missing a couple of key points.
Point Number 1 - Decline Rates Are Dropping Steadily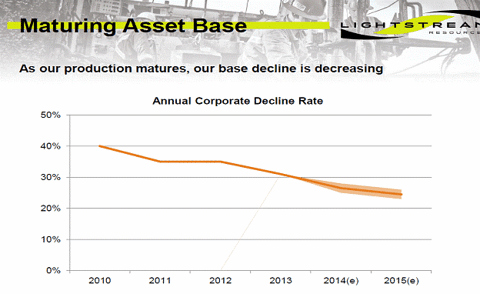 When I discuss Lightstream with other investors a common criticism that I hear is that its decline rates are very high. My response has always been yes of course they are, this is a young company focused fully on horizontal oil plays.
In the early years of production these horizontal plays have very high decline rates. But as that production ages the decline rates lessen steadily.
As those decline rates come down, less capital is required to maintain production and therefore more free cash flow is generated.
That means that with each passing year Lightstream's free cash flow generating ability increases significantly.
Where the market sees a high decline rate at Lightstream today, I see a company that is going to have its circumstances improve simply with the passage of time.
Point Number 2 - Young Assets With Lots Of Life In Them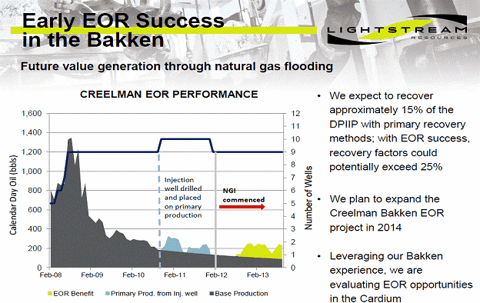 The reason I've been investing in Lightstream, Bellatrix (NYSE:BXE), Long Run Exploration (OTCPK:WFREF) and other horizontal oil producers is that I think these companies are long term fat pitches.
The simple point I'd like to make is that these companies are in the middle of the first phase of development of tight/shale/carbonate plays. This first phase of production is going to recover only a tiny amount of the oil in place in the land these companies control.
I believe that over the next couple of decades, these companies will through EOR (enhanced oil recovery) techniques and improvements in drilling recover a lot more of that oil. That means current estimates of reserves and present value of future cash flow for these companies are likely both being greatly underestimated by the market.
The example I like to use is Lightstream's position in the Saskatchewan Bakken light oil play. This land in the Bakken that Lightstream controls contains 1.8 billion barrels of oil. Currently the company has been credited with 90 million barrels of reserves that assumes only a 5% recovery factor.
Lightstream believes that 15% of this oil can be recovered using primary techniques and up to 30% can be recovered using enhanced oil recovery. That would take reserves from 90 million barrels to 540 million barrels.
That is clearly a big increase, and it is important to note that all of this land has already been paid for as has much of the spending needed on pipelines, oil batteries and road access. That means that future barrels of oil are going to require less capital investment and be more profitable.
Simply put, I believe that a very successful investment strategy for the next twenty years will be owning companies like Lightstream that have tied up huge parcels of land that contain billions of barrels of oil.
I like it when time is my friend, and I believe in the case of Lightstream that is the case.
My favorite fund investor is Bruce Berkowitz. He has said that in applying his concentrated investing style there will be periods that he looks to be spectacularly wrong....until he is right.
I don't look too bright with respect to Lightstream right now, but I'm optimistic that ten years from now my long term perspective and patience will be rewarded.
If nothing else I'm invested alongside a CEO who has put a significant amount of his own money into the company and is in the same boat as I am.
Disclosure: I am long OTC:LSTMF, BXE, OTCPK:WFREF. I wrote this article myself, and it expresses my own opinions. I am not receiving compensation for it (other than from Seeking Alpha). I have no business relationship with any company whose stock is mentioned in this article.