A few days ago one of my favorite Seeking Alpha writers, Tim McAleenan Jr., wrote an article titled Federal Realty Trust: Time To Sell Now. As I read over the article I was perplexed by the title. With a Price to Funds from Operations (P/FFO) multiple of 22.3x I can understand why folks would be jittery about buying Federal Realty (NYSE:FRT) today, but why would anyone sell? As McAleenan wrote:
Unless you know the future, investing is a probabilistic exercise. You try to stack as many of the cards in your favor as you can before placing your bet. None of that is the case with Federal Realty right now.
That's perplexing because I have all of the cards in front of me and I would not sell Federal Realty if I owned the shares today. In fact, I have been waiting patiently to buy Federal Realty and unfortunately I haven't seen the opportunity yet. I cannot fathom how I would feel if I owned Federal Realty and I suppose it would be like owning any other "blue chip" stock - I would feel secure in owning long-term winners, especially if I paid careful attention to investing with a "margin of safety."
I few weeks back McAleenan wrote an article titled, How To Put Your Retirement Strategy On Autopilot. In that article he wrote:
But the important thing is this: once you acquire an ownership stake in a productive asset that shares its annual profits on a regular basis with you four times per year, you continue to receive funds to deploy elsewhere even if something happens in your personal life that prevents you from adding more funds to the market at the moment.
Wouldn't that also apply to Federal Realty? After all, no one can argue the fact that the Maryland-based REIT is one of the "most productive" companies in the history of publicly-traded real estate. Translating that to numbers, Federal owns 94 properties containing approximately 20 million square feet located primarily in strategically selected metropolitan markets in the Northeast, Mid-Atlantic, and California. In addition, the REIT has an ownership interest in approximately 1.0 million square feet of retail space through a joint venture in which the company has a 30% interest.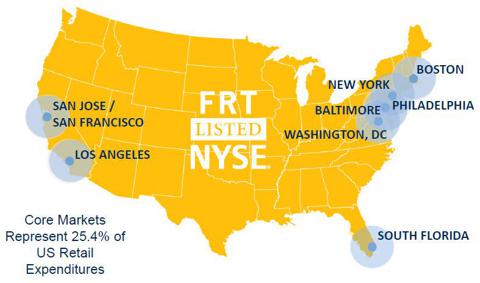 Driving the earnings productivity is not just "real estate where you tend to see at L.A. Fitness, The Gap, Bed Bath and Beyond, or TJX Companies" (as McAleenan described) but a strategically-formulated portfolio where core "gateway" markets represent around 25% of US retail expenditures. Translation: Federal has the greatest concentration of assets in the nation's top 20 markets: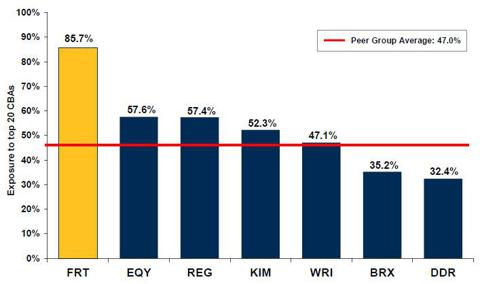 Federal's demographics are unequalled with incomes that exceed the peer group by 27% and the national average by 49%. Federal has the highest concentration of "SuperZips", those zip codes representing the 95t percentile and above in income and education.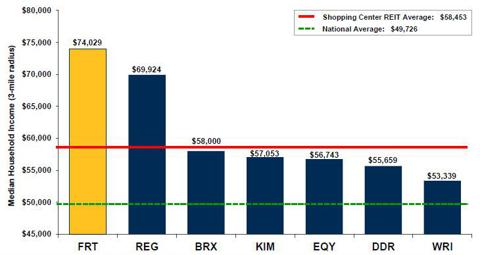 As further evidence of Federal's premier operating portfolio, the company's portfolio has 57% greater household density and 134% greater than the national average.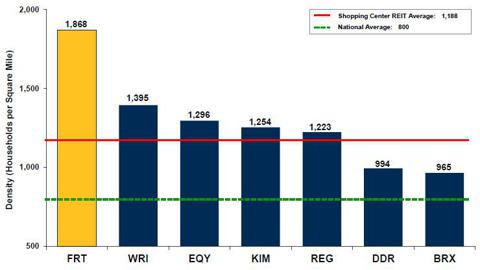 When plotting the demographics (below), you can see that Federal has unmatched density and the affluence sets Federal apart from the peer group.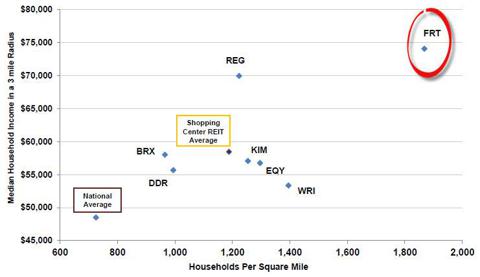 In McAleenan's article he states that "the problem with Federal Realty is entirely valuation driven" and as evidenced below, Federal has the highest cash rents in the sector - 62% higher than the peer group average.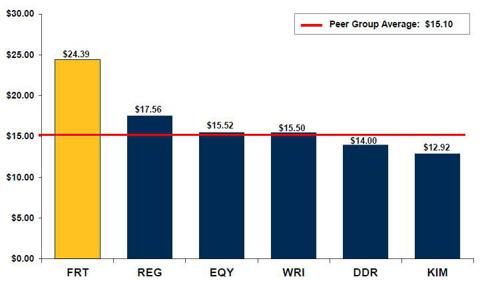 Federal has proven history of outperformance and as illustrated below, the company has significantly higher rollover growth than the peer group: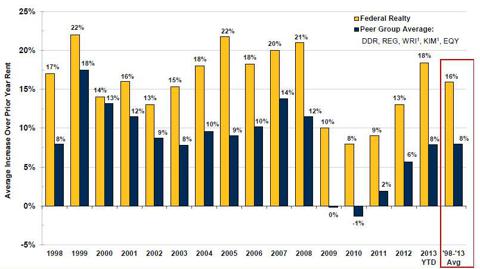 As evidenced by the same store growth comparison below, Federal has the ultimate business plan - being the best in class business model with a clear path to adding value.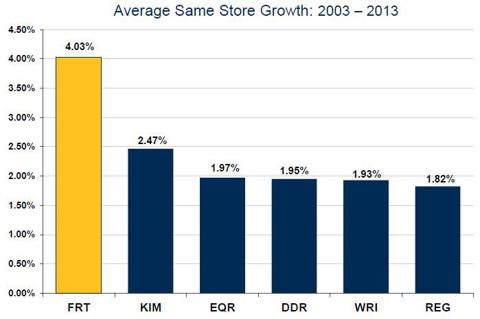 Seeking Alpha with Federal Realty
One the most important pieces of the puzzle missing from McAleenan's article was the fact that Federal has a tactical development platform. With over $500 million of mixed-use investments underway, Federal has an equaled development pipeline. McAleenan's arguments gave no credit to the 3 primary projects that are projected to deliver an additional $35 to $40 million upon stabilization.
Assembly Row in Somerville, MA has a pipeline of around $200 million committed that should generate around 5% to 6% and the retail phase is 81% leased. The grand opening is in May 2014 with the office phase opening in 2015. The massive project has another $800 million or so planned with remaining entitlements of around 1.9 million square feet, 1,650 residential units, and a 200 key hotel.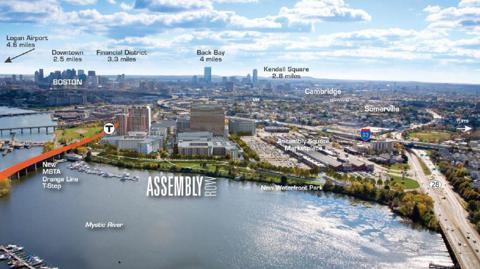 Pike & Rose in North Bethesda, MD has a pipeline of around $250 million committed that should generate around 8% to 9% and the retail phase is 76% leased. The grand opening is set for the Fall of 2014 and the residential preleasing will start in the first quarter of 2014. The mixed use project includes an additional $750 million consisting of 1.5 million square feet and 1,090 residential units.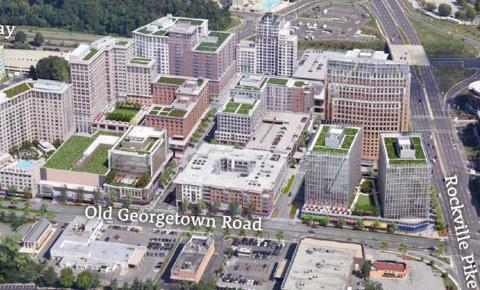 Santana Row in San Jose, CA has a pipeline of around $75 million committed that should generate around 7% to 8% and the opening in November (2013) generated preleasing of 95%. Future entitlements include 348 residential units and 305,000 square feet of commercial space.
In addition to these robust mixed-use generators, Federal has a shadow pipeline that supports considerable value creation.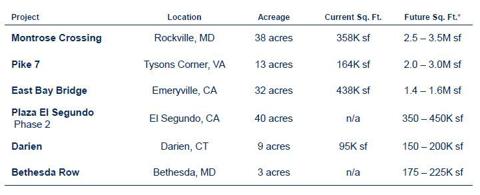 A Company That Grows 7.2% a Year is a Rock Star
Any company, REIT or non-REIT, that grows by 7.2% a year is a "rock star". As I stated above, I concede that Federal's share price is moderately valued (more on that later) but for current investors, it's important to examine the potential over the next 10 years.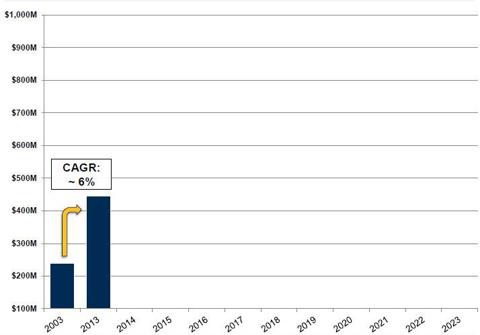 Now with the above base line NOI established, let's add the Same Store NOI: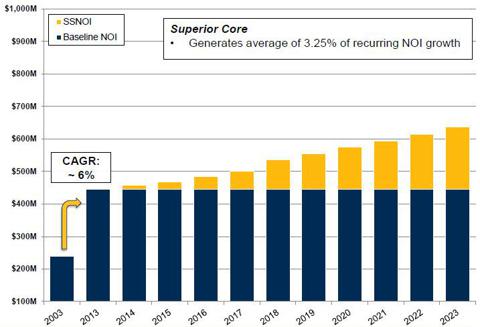 Now add the tactical redevelopment revenue projected to increase by around $50 million a year (at a yield of 8%):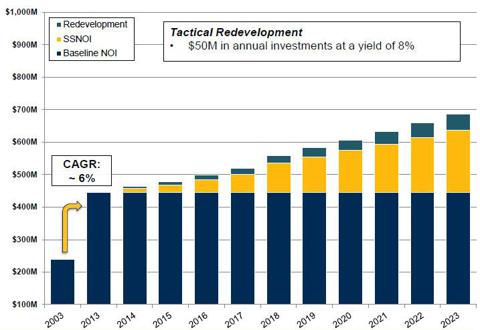 Now add the mixed-use pipeline (referenced above).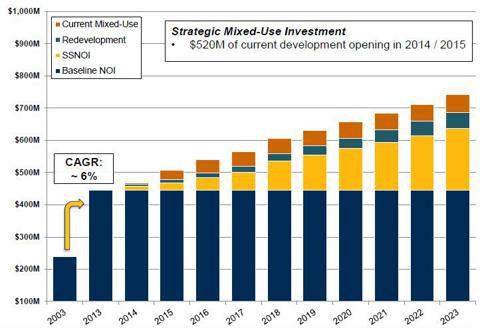 Now add the future mixed-use phases (referenced above).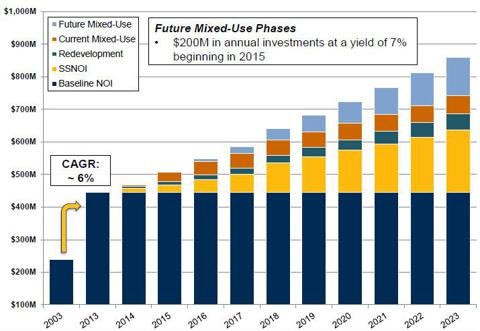 Finally, add selective investments of around $125 million (at a yield of 5%). In total, you can see that Federal ha the potential to generate 7% annual growth over the next 10 years.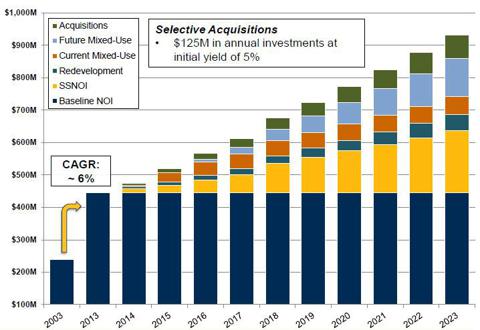 So How is Federal Realty Like Coke?
I know McAleenan like Coke (NYSE:KO). Here is what he had to say in a recent article (Welcome To Fair Valuation, Coca-Cola):
Coca-Cola, the signature example of dividend growth investing, and a staple of long-term portfolios for men like Charlie Munger and Donald Yacktman has found itself fairly valued at under $39.26 per share as of Friday's close. Ideally, investors would like to buy excellent companies at a discount, but for a company like Coca-Cola, that is not particularly a feasible option.
He went on to say:
The reason why Coca-Cola never seems to go on sale is because a company's growth prospects and earnings quality are the two primary drivers of a company's fair value.
Hmm. Maybe we should compare the earnings history for Coke and Federal Realty. Let's start with Coke: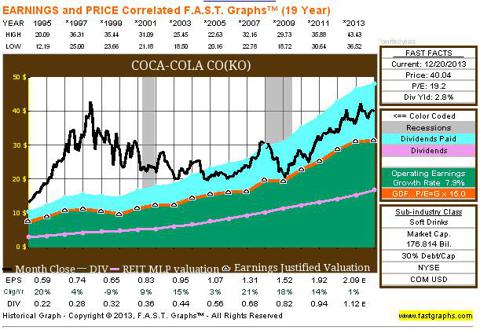 Now, I'll admit. I'm no expert at Coke investing (I love to drink Cherry Coke though). However, here's what McAllenan had to say about Coke:
When things are going poorly in the economy, the price of Coca-Cola tends to hold up quite well because investors then choose to focus on the high earnings quality of Coca-Cola instead. Instead of focusing on its growth, investors focus on the safety inherent in a company that maintains profits in all economic conditions, has over 500 brands under its corporate umbrella, has been raising dividends every year for over half a century, and does so with such predictability that investors know they will be getting an income increase declared by the Board of Directors in February of each year.
That sounds fair. Now let's take a look at Federal Realty. Consider the similar earnings trends and the fact that like Coke, Federal has increased its annual dividend for over 46 years in a row.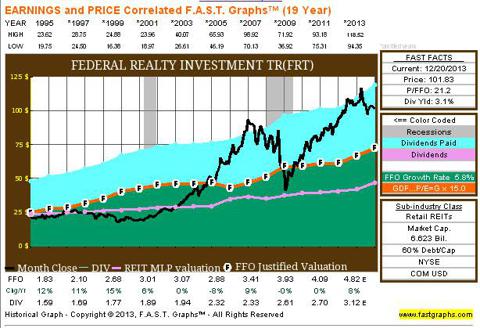 Now to stress once again; my argument is not that Federal is a "table pounding" buy. It's not. However, my argument is that Federal Realty is a table pounding "keeper". Clearly, there is value in the consistent divided record and the fact that the "blue chip" has managed to weather recessions and many other economically challenging periods. McAleenan's argument that "the valuation of the stock is clearly influenced by low interest rates" is foolish (in my opinion). I would argue that the valuation of Federal Realty is more influenced by consistent profit margins over a span of time. Ben Graham once remarked that earnings are the principal factor driving stock prices.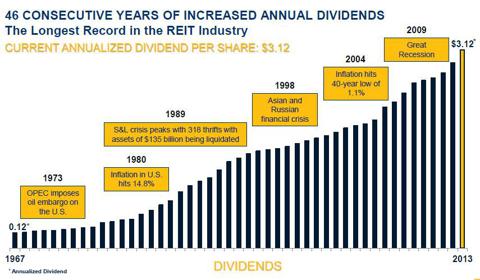 When comparing Federal Realty with other peers you can see that the stalwart REIT has consistently outperformed the others. There is a good reason that Mr. Market values Federal as a premium REIT.

The Bottom Line: Federal Realty is a "keeper" and the "blue chip" REIT has a proven history of outperformance. There's no way in the world that I would sell this stock today, especially given the solid fundamentals and more recent property level performance. Of course, I can only dream that I will one day own the shares and I accept the fact that when I get in at the bottom the shares will produce a much better return than getting in at the top. As the legendary investor Ben Graham prescribed:
An investment operation is one which, upon thorough analysis, promises safety of principal and satisfactory return. Operations not meeting these requirements are speculative.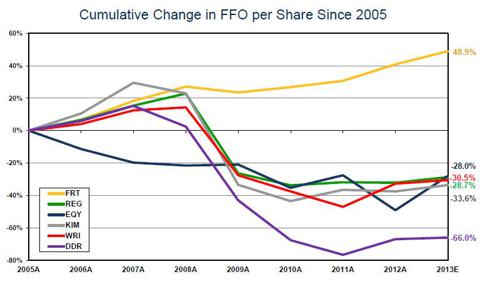 Check out my monthly newsletter (The Intelligent REIT Investor) and my NEW 3D (durable disciplined dividends) portfolio.
Source: SNL Financial, FAST Graphs, and FRT Investor Presentation.
REITs mentioned: (NYSE:UBA), (NYSE:EQY), (NYSE:REG), (NYSE:AMRE), (NYSE:KIM), (NYSE:WRI), (NASDAQ:ROIC), (NYSE:DDR), (NYSEMKT:WSR), (NYSE:RPAI), (NYSE:EXL), (NYSE:IRC), (NASDAQ:WHLR), and (NYSE:BRX).
Disclaimer: This article is intended to provide information to interested parties. As I have no knowledge of individual investor circumstances, goals, and/or portfolio concentration or diversification, readers are expected to complete their own due diligence before purchasing any stocks mentioned or recommended.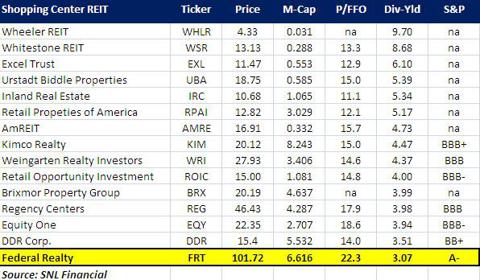 Disclosure: I am long O, ARCP, VTR, HTA, UMH, CBL, ROIC, STAG, HCN, DLR, GPT, CSG. I wrote this article myself, and it expresses my own opinions. I am not receiving compensation for it (other than from Seeking Alpha). I have no business relationship with any company whose stock is mentioned in this article.