Twitter (NYSE:TWTR) is currently trading at 46.30 price to book value. This represents the market's positive evaluation of Twitter and certain expectations are priced in to the current stock price. Newly listed stocks are subject to volatile stock price swings as bulls and bears fight over the perception individual investors will have over the stock. Twitter management's willingness to make hard decisions based on a long term vision, improving advertising platform and substantial user engagement point to Twitter being a long-term value stock that also provides short term stock price growth opportunities.
Management has shown a willingness to upset the few in order to protect the company itself. Limiting third party Twitter client tokens caused a brief uproar that has since died down. This provides evidence that the company is willing to not easily bend to the will of short-term stock traders and stay focused on a long-term vision. Two tech companies that have also shown that capability are Apple (NASDAQ:AAPL) and GOOG (NASDAQ:GOOG). Apple has held firm with their plan to slowly buy back shares of the company despite high profile investor Carl Icahn applying both public and private pressure on management to speed up the process. Google has remained committed to the Chrome OS platform as a driving force into the educational market despite many calling for Google to rally its massive resources around the already entrenched Android OS. Both companies have managed to grow in targeted ways lessening the pressure to bend to short-term investor whims. It is now up to Twitter to do the same. The addition of multiple features designed to more effectively target ads to users is a great start to showing that Twitter is serious about staying focused to its vision. It also shows it understands the need to provide an effective platform for advertisers to allocate more of their spending budgets.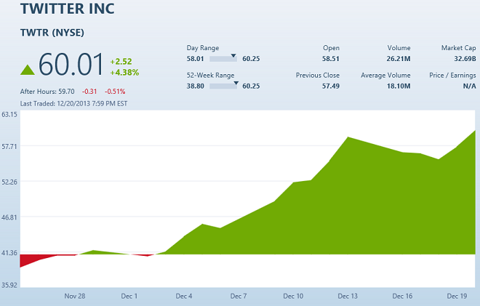 Click to enlarge
Image credit: Bing Finance / December 6, 2013 Twitter introduced Cookie-based targeted advertising
Positive results and new features are already priced in to the stock. Twitter's stock price was $44.95 on December 6, 2013. It has gained 15 points since the announcement of the cookie-based targeted advertising. That presents significant risk for the short-term investor. Investors are looking for positive results from the newly introduced targeted advertising. One bad quarterly report reflecting either slowed user engagement or ineffective targeted ad results can send investors running for the hills while other investors play the blame game. The good news is that ad spend is shifting to mobile and Twitter has positioned itself as a major platform that can help advertisers reach a large number of fans with minimal investment. Twitter's retweet feature also helps to reel in advertising accounts as each retweet effectively turns every follower into a brand ambassador.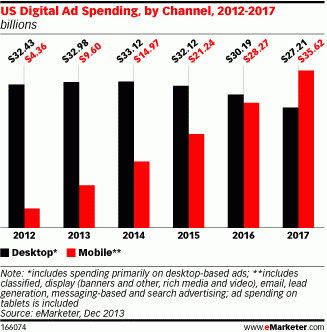 One of the hottest and highest rated new TV shows since its debut is Scandal. Scandal trends every week as new episodes are aired and fans of the show have hosted live tweet sessions that have generated millions of retweets and favorites. ABC television network has recognized the power of Twitter and has enlisted the show's cast to participate weekly in live tweets. This effectively allows ABC to generate interest with targeted ads placed in the show's trending hashtag weekly. That is targeted marketing that has helped Scandal gain an audience that is not only fans but brand ambassadors willing to retweet adverts without a second thought. This is a significant advantage for Twitter over other social sharing platforms like Facebook. Though you can share on Facebook the social network limits the audience that sees your share. Advertisers are more apt to spend and focus more on the platform that doesn't place restrictions on exposure of targeted ads.
I am firm in my belief that Twitter is a phenomenal stock to own long term. Yes, any hiccup in the growth of their advertising platform can produce a significant swing south for the stock price. The listed positive factors will show themselves to be an effective mix of solutions that will serve investors well in the long term. Shorts may cover in the very near future as investors get antsy but investors who have recognized the staying power of systematically improving on a focused platform for advertisers know the value that Twitter will bring. Just take a look at how Google has managed to generate billions in profit each quarter because they have stayed committed to a long term vision of providing the absolute best advertising platform.
Disclosure: I have no positions in any stocks mentioned, and no plans to initiate any positions within the next 72 hours. I wrote this article myself, and it expresses my own opinions. I am not receiving compensation for it (other than from Seeking Alpha). I have no business relationship with any company whose stock is mentioned in this article.
Additional disclosure: Though I do not have any plans to initiate positions in Twitter in the next 72 hours I do plan on initiating positions within the next 30 days.