Another morning of premarket mark up...
Yesterday I had not mentioned that Skyworks Solutions (NASDAQ:SWKS) had pre-announced guidance to the upside.
From the company's press release:
Skyworks Solutions, Inc., an innovator of high reliability analog and mixed signal semiconductors enabling a broad range of end markets, today raised its financial outlook for the second quarter of fiscal 2010 driven by strong demand for mobile Internet, smart grid and new, high growth analog applications.
For the current quarter, Skyworks now expects revenue in the range of $230 - $235 million and non-GAAP diluted earnings per share of $0.22 - $0.23.
Analysts were expecting earnings of 21 cents a share, on revenue of $225.7 million.
This area continues to be an oasis of organic growth in a very cyclical domestic economy. The stock yesterday reached, and slightly surpassed, mid January highs. (Click to enlarge)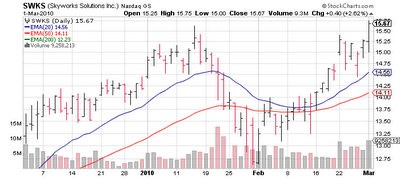 Disclosure: Long Skyworks Solutions in fund; no personal position