Small-cap exchange traded funds have outperformed the broader markets this year and could continue to generate attractive returns, at least through the next couple of months if historical trends pan out.
Small-cap U.S. stocks have historically outperformed the S&P 500 Index from mid-December to the end of February in the so-called small-cap January effect, writes Don and Jon Vialoux for The Globe and Mail.
Over the past 25 periods, the Russell 2000 Index has outperformed the S&P 500 Index 19 times by an average 3.24% per period, according to EquityClock data.
Small-cap stocks typically come under fire in October and November each year as tax-loss selling pressures rack up.
However, during the traditional Santa Claus rally, period in the last weeks of the year, small-caps start to strengthen. Additionally, institutional investors start browsing riskier equities, such as small-caps, to set the stage for the next investment year.
Regardless of seasonality, small-caps are in a good position as the U.S. leads economic growth among developed countries and earnings benefit from the low-rate environment. In contrast, S&P 500 companies have exposure to slower growing developed countries. Seasonal strength in the U.S. dollar could also weigh on as foreign-denominated revenue abroad is converted back into USD.
Instead of trying to cherry pick small-cap stocks, investors can consider a diversified ETF to gain exposure to a broad selection of U.S. small-caps. For instance, the iShares Russell 2000 ETF (NYSEARCA:IWM), which is the largest available, tracks about 2,000 small-cap U.S.-listed stocks that are part of the broadly defined Russell 3000 Index. IWM has gained 34.2% year-to-date, compared to the 29.5% rise in the S&P 500.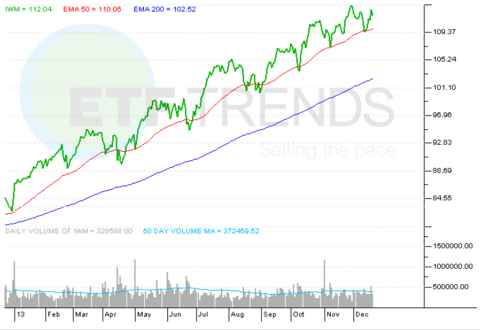 Max Chen contributed to this article.
Full disclosure: Tom Lydon's clients own IWM.
Disclosure: I am long IWM. I wrote this article myself, and it expresses my own opinions. I am not receiving compensation for it. I have no business relationship with any company whose stock is mentioned in this article.