PennyMac Mortgage Investment Trust (NYSE:PMT)
December 20, 2013 Stock Price: 22.68
Rating: Buy
Company Summary: (Company website)
I wrote an article on PennyMac back in February you can find here.
PennyMac is an externally-managed specialty finance company that invests primarily in residential mortgage loans and mortgage-related assets. The company is taxed as a real estate investment trust (REIT).
"The company's objective is to provide attractive risk-adjusted returns to its investors over the long term, primarily through dividends and secondarily through capital appreciation." - PMT, Corporate Information.
Management:
Insider ownership is under 2% and there have been no notable insider transactions recently. On a positive note, PMT has great earnings presentations and presentations at financial conferences. The downside is they offer no Q&A period after their earnings conference call which seems strange to me. Just like many other companies, PennyMac has continually done secondary offerings. What sets PMT apart though, is they are issued at above book value, and after doing these public offerings, the company's book value per share increases.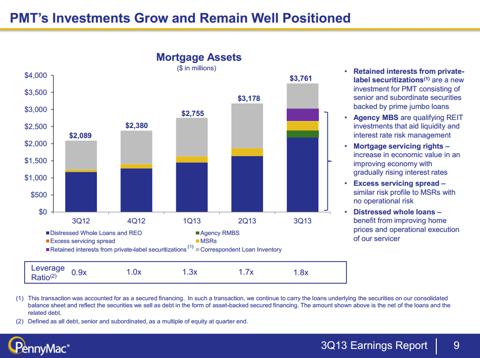 I really like the portfolio composition of PMT as opposed to other REITs. Due to their large holdings of distressed whole loans, the company has performed great throughout 2013. I see housing prices continuing to increase in 2014, and believe PMT will have another terrific year!
Valuation: (Explanation of Graphs)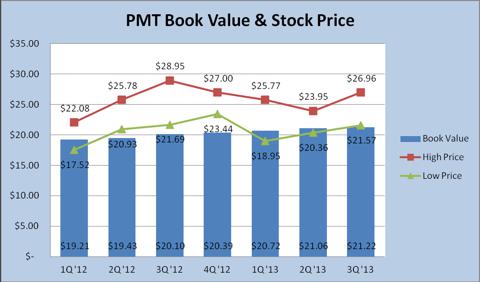 I find the movement of PMTs share price to be very intriguing. Although they have only increased their book value per share since March of 2011, you can see the stock price has followed the rest of the mREIT industry. However, I think 2014 will be a strong year for the mREIT industry, and I think we will see PMT return to trading well above book value. Also, I think we will see PMT announce a book value per share above $21.60 in their fourth quarter earnings report.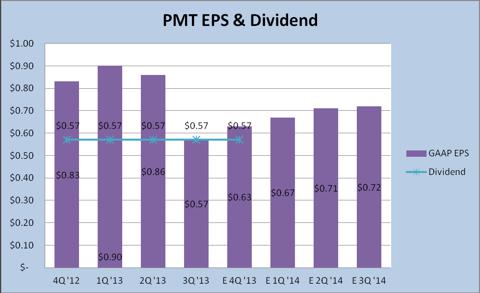 PennyMac, unlike many other mREITs this year, did not cut its dividend. In fact, look for an increase in the first quarter dividend for 2014. My estimate for their dividend is $.60 or possibly even more.
Rating:
It is important to note, PennyMac does have more risk than other mREITs due to their exposure to both interest rate and credit risk. However, I think PMT management has knocked the ball out of the park in 2013. They are positioned well going into 2014. I foresee an increase in both the book value in the next earnings report, and an increase in the first quarter dividend. For this reason I rate PennyMac a Buy.
I am currently long PMT. My position was initiated December 9, 2013 @ $22.44.
Disclosure: I am long PMT. I wrote this article myself, and it expresses my own opinions. I am not receiving compensation for it (other than from Seeking Alpha). I have no business relationship with any company whose stock is mentioned in this article.
Additional disclosure: These ratings are my opinion only and shouldn't be construed as advice to buy or sell securities. Recommendations don't take into account individual reader's investment risk or return objectives and constraints. They are for information purposes and you are encouraged to do your own research before making any investment decisions. All information here in this article is accurate to my knowledge.