The Nokia (NYSE:NOK) of today is a far cry from its 2007 version when it grossed €51.13 billion and earned a net income €7.21 billion. Six years ago, Nokia was the undisputed champion with 49.4% share of the global mobile phone market. Nokia's complacency or incompetence has turned it into a sell-off loser of the phone wars. Nokia's big mistake on the Windows Phone system was the last nail in the coffin which sealed its exit from the phone business.
The chart below shows the rise and fall of Nokia. Its success and decline are largely due to its phone products.
Nokia's revenue and net income went downhill after 2007 when Apple (NASDAQ:AAPL) released the iPhone. The company's share of the mobile phone market got worse by 2011 when Android OS-powered phones started to become ultra popular. The company's tragic €1.1 billion loss in 2011 was followed by an even bigger €3.1 billion net loss in 2012. Nokia's swift fall from glory was caused by its smartphone missteps.
Hindsight is always correct: the mighty Nokia of the olden days would still be a champion today if it joined the Android OS army. Using Windows OS turned Nokia's once popular phones into Android's and iOS' punching bags. Nokia's fortune is greatly diminished without the power of its phone uppercut.
However, the company's still got a knockout punch to make it competitive again … it's called the NSN left hook.
This chart shows NSN has a significant presence in the global wireless infrastructure business.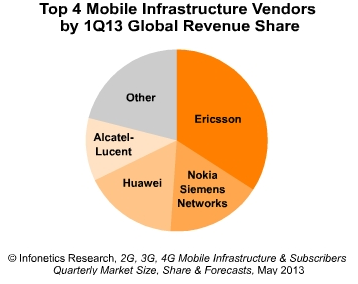 NSN is also one of the top heavyweight LTE vendors.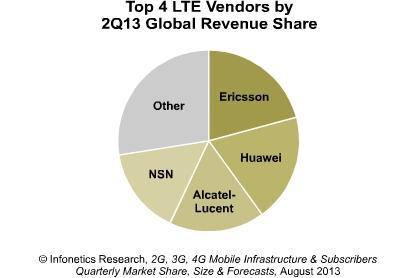 NSN Benefits from Cisco's Current China Problems
Just like Alcatel-Lucent (ALU), Nokia's NSN (Nokia Solutions and Networks) subsidiary is reaping great rewards from the political backlash that Cisco (NASDAQ:CSCO) and other U.S. companies are experiencing in China, Brazil, India, Russia and other emerging markets. NSN just won an important LTE contract with China Telecom, China's third largest network operator. China Telecom has picked NSN as a major partner for its nationwide LTE roll-out. NSN will install Flexi Multiradio 10 Base Stations for China Telecom's more than 100 million mobile phone and broadband internet customers.
The terms of the contract were not disclosed but China is becoming the biggest market for 4G LTE. It is projected that 440 million Chinese subscribers will be on LTE broadband by 2017 and 700 million subscribers by 2019. The China Telecom deal also includes NetAct, Nokia NSN's cloud based operations support system (OSS) solution. NetAct will help China Telecom manage its entire complex core, radio, and transport networks. NetAct provides a simplified web-based approach to 4G LTE network management which will reduce China Telecom's operational costs.
The biggest operator, China Mobile, is predicted to have 114.4 million 4G subscribers by 2017. NSN also won a TD-LTE contract with China Mobile last October. NSN was the non-Chinese company which received the largest 11% market share of this particular 4G deal. NSN will install TD-LTE infrastructures in six provinces covered by China Mobile's TD-LTE network.
NSN will install radio network elements for China Mobile's 1.9 GHz, 2.3 Ghz, and 2.6 GHz frequency bands. Like the new China Telecom deal mentioned above, NSN will provide NetAct network management services in addition to the deployment of Flexi Multiradio 10 base stations.
These two recent wins by NSN indicate that Nokia is becoming a preferred foreign supplier for China's massive TD-LTE infrastructure projects. Unlike Alcatel-Lucent which is half-American, Nokia is 100% non-U.S. and is therefore safe from Chinese suspicions. Cisco, Jupiter (OTC:JUPIF), IBM (NYSE:IBM), and other American technology companies are facing hostile discrimination for their products in China and other parts of the world. The anti-American business climate in China has little chance of going away soon.
Huawei and ZTE (OTCPK:ZTCOF) are still the preferred choice of Chinese government organizations and private companies but they cannot do all the LTE deployments. NSN, Ericsson (NASDAQ:ERIC), and Alcatel-Lucent are the ones enjoying the bonanza from the LTE broadband boom in China and other emerging markets.
China Mobile and NSN have more than two decades of close business relationship. NSN helped install China Mobile first GSM network and TD-SCDMA 3G technology. They are also partners in researching the next generation 5G technology, Cloud-Based Radio Access Network ((C-RAN)), LTE optimization, and Nanocell small cell deployment. This tight bond between the NSN and China's largest telecom company makes me believe that NSN enjoys long-term preferential treatment from China Mobile.
Other Emerging Markets Where NSN Won LTE Contracts
Taiwan's Chungwa Telecom (NYSE:CHT), with 10 million mobile subscribers, also awarded NSN. The deal requires NSN to deploy LTE Radio Access Network (RAN) using its Flexi Multiradio Base Stations. NetAct's OSS cloud-based network management is also part of the package.
Chungwa Telecom is also paying NSN for its Circuit Switched Fallback (CCSB) solution which lets LTE phones automatically switch back to 3G CDMA for high quality voice services. Chungwa Telecom paid around NT$39.1 billion or $1.3 billion for the 900 MHz and 1800 MHz bands. The Taiwanese operator plans to spend NT$40 billion to install 7,000 base stations within five years. This is a juicy contract for NSN, a knockout solo deal.
Oi Brasil picked NSN to install base stations for its LTE infrastructure. The contract also calls for NSN to upgrade Oi Brasil's existing GSM and 3G networks. Nokia's subsidiary will also provide Oi Brasil with its Liquid Core Evolved Packet Core cloud-based automatic core network management platform and One-NDS Subscriber Data Management Platform (SDM).
This win by NSN is very important because Oi Brasil agreed to merge with Portugal Telecom last October - creating a new company that has over 100 million subscribers. Other South American countries are also potential clients for NSN. There are several Latin American countries that are suspicious of the U.S.
All these LTE wins contributes to Nokia's great run in the stock market this year. NOK has a 97.71% YTD increase for 2013.
LTE Infrastructure Roll-out is a Cash Cow
Nokia/NSN is well-positioned to ride the upcoming boom for LTE infrastructure roll-out. Carriers around the world are predicted to spend as much as $50 billion/year by 2016 to upgrade their networks to LTE.
iGR Analysts estimates that between 2012 and 2017, total global LTE roll-out capital expenditures will be at $162.9 billion and total operating costs to be at $221.7 billion. NSN is strongly positioned to benefit from this $385 billion LTE infrastructure spending.
Nokia has Rights to 31% of Important LTE Patents
Nokia has a deep stack of patents. The company has 16,000 issued patents and 4,500 patents still pending in the U.S. It also has 20,000 issued and pending patents outside the U.S., with the majority of them in Europe. These patents generates around €500 million annual royalty income for Nokia.
According to Thomson Reuters, Nokia owns almost 19% of the most important LTE patents, making it the biggest owner of LTE patents. Nokia also entered into a 15-year licensing agreement with Qualcomm (NASDAQ:QCOM) in 2008. Qualcomm is the second biggest LTE patent holder with 12% of the most important LTE patents. This deal gives Nokia access rights to 31% of the most vital LTE patents.
Conclusion
Nokia has NSN to help it survive for the next five years. Even without the revenue from its mobile phone business, Nokia's turnaround prospect is vastly improved by Cisco's unfavorable status in China and other emerging countries. NSN's favored supplier status in China gives it a very strong tailwind. China is the biggest market for LTE roll-outs.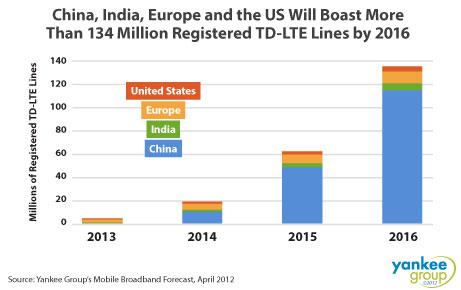 I am not giving up on this old Finnish champion: NOK is a safe BUY for long term returns. I believe in NSN and I'm also counting on the company's powerful right jabs from its many patents.
Here's a 'lights-out' jaw breaker uppercut - Some of Nokia's map patents may predate Google's (NASDAQ:GOOG) existence. I can smell a technical victory: Google might do what Samsung (OTC:SSNLF) did ...
Disclosure: I have no positions in any stocks mentioned, but may initiate a long position in NOK, QCOM over the next 72 hours. I wrote this article myself, and it expresses my own opinions. I am not receiving compensation for it (other than from Seeking Alpha). I have no business relationship with any company whose stock is mentioned in this article.