A few months back, Apple (AAPL) was first to hit the 64 bit architecture with the launch of its new iPhone 5s, powered by its A7 chip. This move came as a punch to leading chip manufacturer Qualcomm (QCOM), which has a rich history of dominating the integrated circuits markets and has first-mover advantage over its competitors in LTE technology. Apple's 64 bit A7 chip started a new race among chip manufacturers to enter this new market. Apple 5s has been received well, with first weekend unit sales, including the figures of 5c, topping 9 million. An anonymous Qualcomm employee was recently quoted in an interview that Apple's 64 bit launch has stunned market leader Qualcomm. Though this interview has not been officially confirmed, this launch has created a new war among companies to launch their respective 64 bit chip.
Going with its market-leadership image, Qualcomm has finally unveiled its first 64 bit chip under the Snapdragon 410 brand, which also provides LTE support. Built on 28 nanometer, or nm, technology, this chip supports 4G LTE and 3G for all major modes and frequency bands across the globe. This multiband and multimode chip is expected to power devices in second half of 2014, and will be compatible with major operating systems such as Android and Windows.
So, how is Snapdragon 410 is different from Apple A7?
Qualcomm has adopted a different approach by targeting entry-level smartphones, focusing on emerging regions, especially China. Thus, smartphones priced at less than or equal to $150 will now feature LTE-enabled 64 bit CPU architecture. This strategy is critical for Qualcomm to target the world's biggest smartphone market, China. The country has recently issued 4G licenses to its telecom providers -- China Mobile (CHL), China Telecom (CHA) and China Unicom (CHU). As expected, these licenses were issued in TD-LTE network mode, a technology in which China Mobile will launch its 4G services. Among the three telecom service providers, these licenses will mostly benefit China Mobile as other providers favor the more popular and widely adopted LTE-FDD network, and therefore are considering combining TD-LTE and LTE-FDD networks. Both China Telecom and China Unicom will bid for LTE-FDD license, expected to be granted next year. China Mobile, meanwhile, is the first provider to launch 4G services in China, and expects to sell 100 million 4G handsets in 2014.
China is among the most important markets for Qualcomm. The country's customer based contributed 49% of company's total revenue in fiscal year 2013. Qualcomm's 3rd generation LTE products and market dominance will help capitalize LTE demand in China. It will boost companies' integrated circuits unit volume, which has increased at a CAGR of 21% in the 2010 to 2013 fiscal year period. However, Qualcomm's current antitrust investigation by China's National Development and Reform Commission, or NDRC, may act as a headwind for the company's royalty revenue from China. The timing of this antitrust case synchronizing with the 4G LTE launch shows that this case may affect the Qualcomm royalty negotiation between Qualcomm and China-based handset makers. Though there is no official announcement, the company may be slapped with a fine of more than $1 billion if found guilty (as estimated by Beijing Times).
Qualcomm has a strong license base in China for its intellectual patents covering 3G and 4G technologies.

Source: Qualcomm's 2013 Analyst Presentation
Looking at the bigger picture, Qualcomm's market opportunity in China dwarfs the expected fine in the antitrust case, and therefore, in the long run this case will not affect the company's growth plan.
Competitors' initiative for China's 4G LTE market opportunity
China's 4G LTE rollouts next year in TD-LTE mode have persuaded the launch of the compatible TD-LTE modem or integration into its family of SoC. This will help trim Qualcomm's extensive lead in the LTE modem market. Qualcomm's biggest competitor, Intel (INTC), made its first XMM 7160 LTE modem commercially available in October. Samsung Tab 3 (10.1) is the first design that will use 15 LTE bands and voice-over LTE, or VoLTE, supportive modem. Though the most significant launch is pegged for next year, when Intel will introduce XMM 7260, which adds carrier aggregation features and support for both TD-LTE and TD-SCDMA network modes. Both these modes are used for 4G and 3G, respectively, by China Mobile. Therefore, this product will be a key initiative for capturing China's market opportunity, and targeting China Mobile's huge subscriber base.
Another Qualcomm competitor, Marvell (MRVL), recently introduced ARMADA Mobile PXA1088LTE Pro SoC, which will support the TD-LTE network in China. The SoC powers an ARM Cortex A7 quad-core processor and supports five communication standards -- TD-LTE, FDD-LTE, HSPA+, TD-SCDMA, and EDGE/GSM. Like Intel, Marvell is also targeting China Mobile's subscriber base. Marvell is a leading provider of advanced TD-SCDMA technology (used for 3G) for China Mobile. Earlier this month, Marvell announced use of its ARMADA PXA1802 platform in Yulong Coolpad's 8736 smartphone. This model is among the first 4G LTE smartphones to be certified by China Mobile for its TD-LTE mode. Marvell's TD-LTE solution and powering of its chip in China Mobile's registered TD-LTE smartphone will help establish a strong foothold in the market.
Conclusion
Qualcomm's growth looks solid, as mass deployment of LTE across different geographies will fortify its market leadership. Qualcomm's total addressable market, including handset and non-handset devices, is expected to grow at a healthy CAGR of 16% from 2013 to 2017. Thus, Qualcomm's growth momentum will be maintained in future. In addition, China's 4G LTE market opportunity will boost its revenue from this region.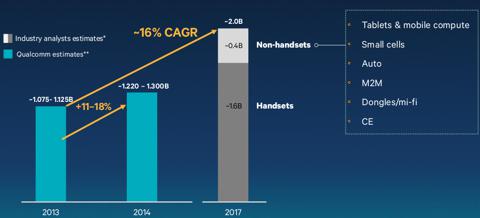 Source: Qualcomm's 2013 Analyst Presentation
Qualcomm's strong top-line growth will be important for shareholders as the company has a history of good returns to them. In past 10 fiscal years, Qualcomm has returned $26 billion cumulatively via share repurchase and dividend.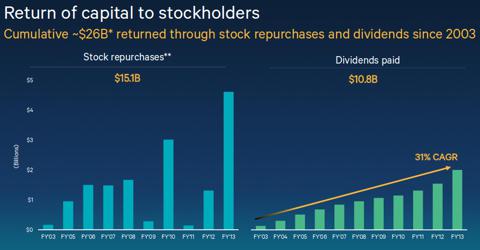 Source: Qualcomm's 2013 Analyst Presentation
In fiscal year 2014, Qualcomm plans to execute at least $4 billion in a stock repurchase program. I recommend buying this stock.
Disclosure: I have no positions in any stocks mentioned, and no plans to initiate any positions within the next 72 hours.
Business relationship disclosure: Fusion Research is a team of equity analysts. This article was written by Rohit Gupta, one of our research analysts. We did not receive compensation for this article (other than from Seeking Alpha), and we have no business relationship with any company whose stock is mentioned in this article