The market continues to march towards its best performance in over a decade. The S&P is up over 27% and the NASDAQ is up by a ~third for the year. Most of this rally has been driven by multiple expansion and not by earnings growth which is only growing in the mid-single digits year over year.
Moreover, the bulk of this rise has been fueled by the "Risk On" sectors such as biotechs and small caps. IPOs and buyback activity are at their highest levels since 2007 (just before the crash) as well.
Social media stocks have been on fire recently and stocks like Facebook (NASDAQ:FB) and Twitter (NYSE:TWTR) look like they are going through blow off tops over the last six months. As we head into the New Year and as the Fed finally starts to withdraw liquidity from the market; I don't believe this exponential rise can continue in 2014 for long.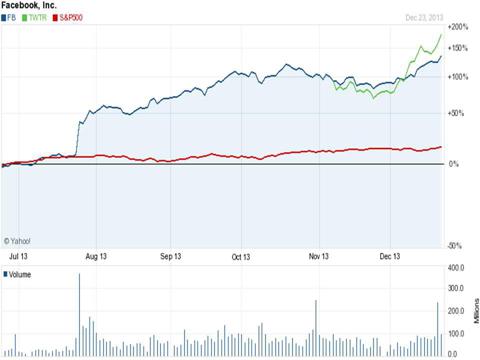 Holders in this highflyers would be well advised to take some profits. I believe a better play for those who still want to have exposure to the internet, mobile and social media space would do well to plow some of their profits into Google (NASDAQ:GOOG).
This tech giant has a stranglehold on the internet and mobile search market both here and overseas; especially in Europe. In addition, its rapidly growing YouTube business is a major emerging player in the social media space.
Most importantly, the search giant still has a valuation that is still in the realm of 'reasonable' especially in light of the massive valuation being placed on these other social media plays. Let's take a look at a couple of valuation metrics to highlight how overvalued Facebook and Twitter have become over the past half year.
First let's take a look at price earnings ratios.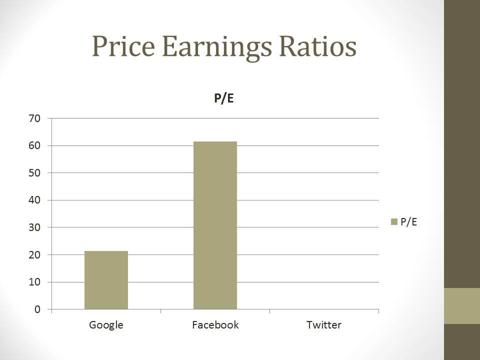 *Note: We need to exclude Twitter as it is not projected to have earnings until FY2015 at the earliest.
A better way to look at the relative valuations of these three tech plays is to look at their respective price-to-sales ratios.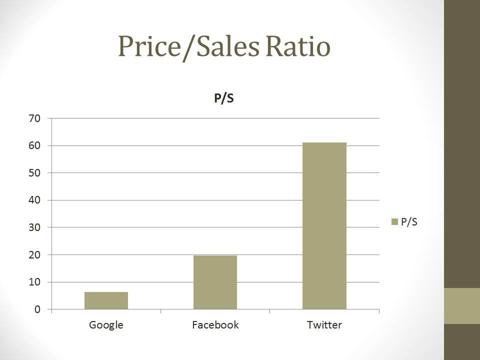 Obviously, Google is selling at the most reasonable valuation of the three. True, it is not growing revenues as fast as either Facebook or Twitter. However, its revenue growth is nothing to sneeze at either. Google will post sales gains north of 35% this fiscal year and analysts believe another ~20% increase is in the cards for FY2014.
In addition, Google does not have as major questions on its business model as its tech brethren has such as "Will Facebook be able to drive significant revenues from video ads without alienating its customer base?" and "Will Twitter ever be able to generate enough earnings to justify its massive $35B market capitalization absent any current earnings?"
2014 should be a more subdued market year as equities consolidate their recent gains and adjust to the Fed's "Taper". Momentum stocks like Twitter and Facebook could be highly vulnerable if the rally peters out or we get a pullback in the market.
I rather play in this place with an established juggernaut like Google with a proven business model, reasonable valuation and a ~$50B cash hoard as well. Twitter and Facebook produced outsized gains in 2013, but I would be very wary of these stocks as we head into the New Year.
Disclosure: I have no positions in any stocks mentioned, and no plans to initiate any positions within the next 72 hours. I wrote this article myself, and it expresses my own opinions. I am not receiving compensation for it (other than from Seeking Alpha). I have no business relationship with any company whose stock is mentioned in this article.