Cubist Pharmaceuticals (CBST), the fast-growing drug stock we've been following, has been on a run and closing in on some of the price targets we were looking at. Using technical and fundamental metrics, I felt the stock was cheap in the mid-teens and could rally into the low twenties. It's now there, having reached attained a high yesterday of $22.
CBST often comes up on the lists of potential acquisition candidates.
There's a minor selloff today, but that's to be expected after a big move. I'm not ready to sell it just in case this rally gains momentum. The stock could easily trade into the upper $20s. The company grew 30% in 2009 and has a Return on Equity (ROE) of 60%. I like growth stocks with an ROE that is higher than its P/E. We started buying CBST with the P/E around 12.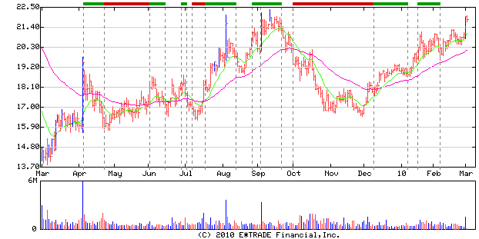 (Click to enlarge)
The valuation has expanded now, giving CBST a P/E of 19. But given its growth rate (30% in 2009, 160% over five years), that's still not too high. If the company lives up to its revenue growth plans in 2010, it can easly grow the valuation. So I'm hanging on to see what this company can deliver.
Disclosure: Author long CBST